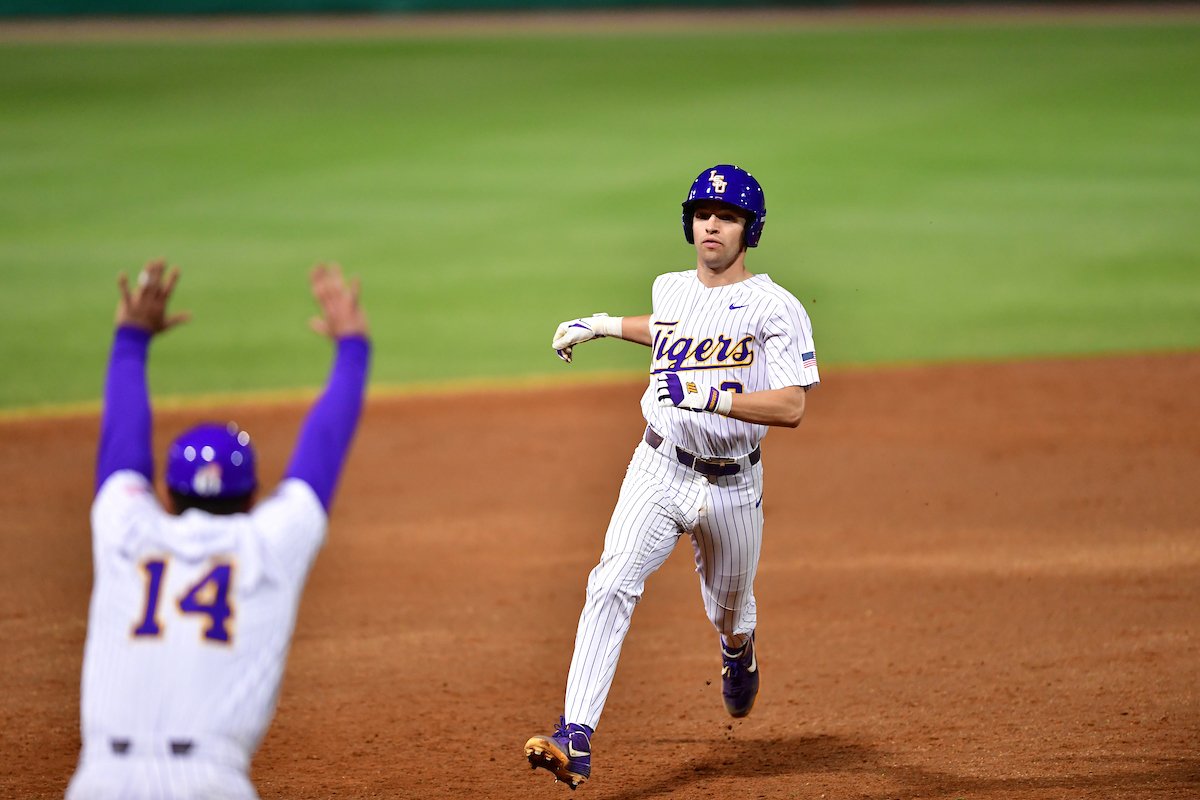 Paul Mainieri often jokes that Chris Reid could roll out of bed and dunk a hit into left field with no practice. The coach put that theory to the test with a game on the line, and he turned out to be correct.
Reid, sitting on the bench with a sore arm, was summoned to pinch hit with two outs in the ninth inning of a 4-3 game. Reid took two strikes and tied the game with a dramatic double to left-center field on his first swing.
"I don't even remember him taking a practice swing, and I know he didn't take a swing in practice on Monday, Tuesday or Wednesday," LSU coach Paul Mainieri said. "That was his first swing and he smokes one in the gap to tie the ballgame. He's an amazing kid."
"He told me 'If anybody is going to be able to do it, it's going to be you,'" Reid added. "He said 'Don't worry about swinging.' So yeah."
That clutch hit pushed the game into extra innings and Daniel Cabrera delivered a walk-off double in the tenth inning as LSU won 5-4 in dramatic fashion to secure a perfect home stand at Alex Box Stadium on Wednesday night.
Cabrera, like most of the lineup, had been having a lousy night to that point. But he saw his chance at redemption once Antoine Duplantis walked in front of him and took second base on a wild pitch.
Mainieri gave Cabrera a vote of confidence in the form of a green light on 3-0. The violent hack that followed missed by a lot, but two pitches later Cabrera smoked the game-winning double off the wall in right field.
"I was ready to hit," Cabrera said. "I was smiling. Honestly I was hoping Antoine didn't walk it off right there, and once he got on base, that's what I wanted to do. I want to hit in those moments."
The Tigers were in need of Reid's off-the-bench heroics after Nicholls State first baseman Adam Tarver took Todd Peterson deep in the top of the inning, his second home run of the game.
LSU wouldn't have been in a position to rally were it not for a career-high three RBI from Hal Hughes. And Reid would've already been the game innings earlier had he not delivered a game-tying hit in the seventh.
LSU (16-5), winners of five in a row, will now try to see if it can figure out how to make that success translate away from the friendly confines of Alex Box Stadium. But they had a dogfight on their hands first.  
"Fortunately we were able to avoid a disappointing loss," Mainieri said. "That's the best way to put it."
Nicholls State ceased the early advantage against Landon Marceaux, who wasn't particularly sharp after battling an illness all week. The freshman allowed two runs — including a long solo shot to left — in two innings of work before the bullpen took over.
LSU didn't have a baserunner until the fourth inning but got the game tied in the fifth. A walk, an error and a sacrifice bunt put the tying runs in scoring position, and Hughes came through with a two-run single back through the box.
Saul Garza made his first start at catcher since undergoing knee surgery for a torn meniscus in the fall. He caught three innings and allowed one stolen base before being lifted for Brock Mathis.
On the subject of returning to action, Chase Costello made his first appearance since March 1 at Texas. Costello has been dealing with a "strange soreness" in his arm.
Costello appeared sharper than at any point before the arm issues. His fastball sat at 93-94 mph and he mixed in a tight slider. He struck out two in a 1-2-3 fifth inning before giving up a solo home run to begin the sixth. The freshman right-hander did recover to complete his second inning of work.
"I thought Chase threw the ball really well," Mainieri said. "I was extremely pleased with that. That was one of the highlights of the evening."
LSU got that run back in the bottom of the inning thanks to some small ball. Giovanni DiGiacomo beat out an infield single and stole second base. That put him in position to score on another clutch single up the middle from Hughes.
Nicholls had a golden opportunity to retake the lead against Matt Beck in the eighth inning, but Beck wiggled out of it. There were Colonels at second and third base with one out, but Beck got a strikeout and induced a fly ball to right to escape.
The Tigers will depart Thursday afternoon for a three-game series at Georgia. First pitch is set for 6 p.m. CT in Athens.