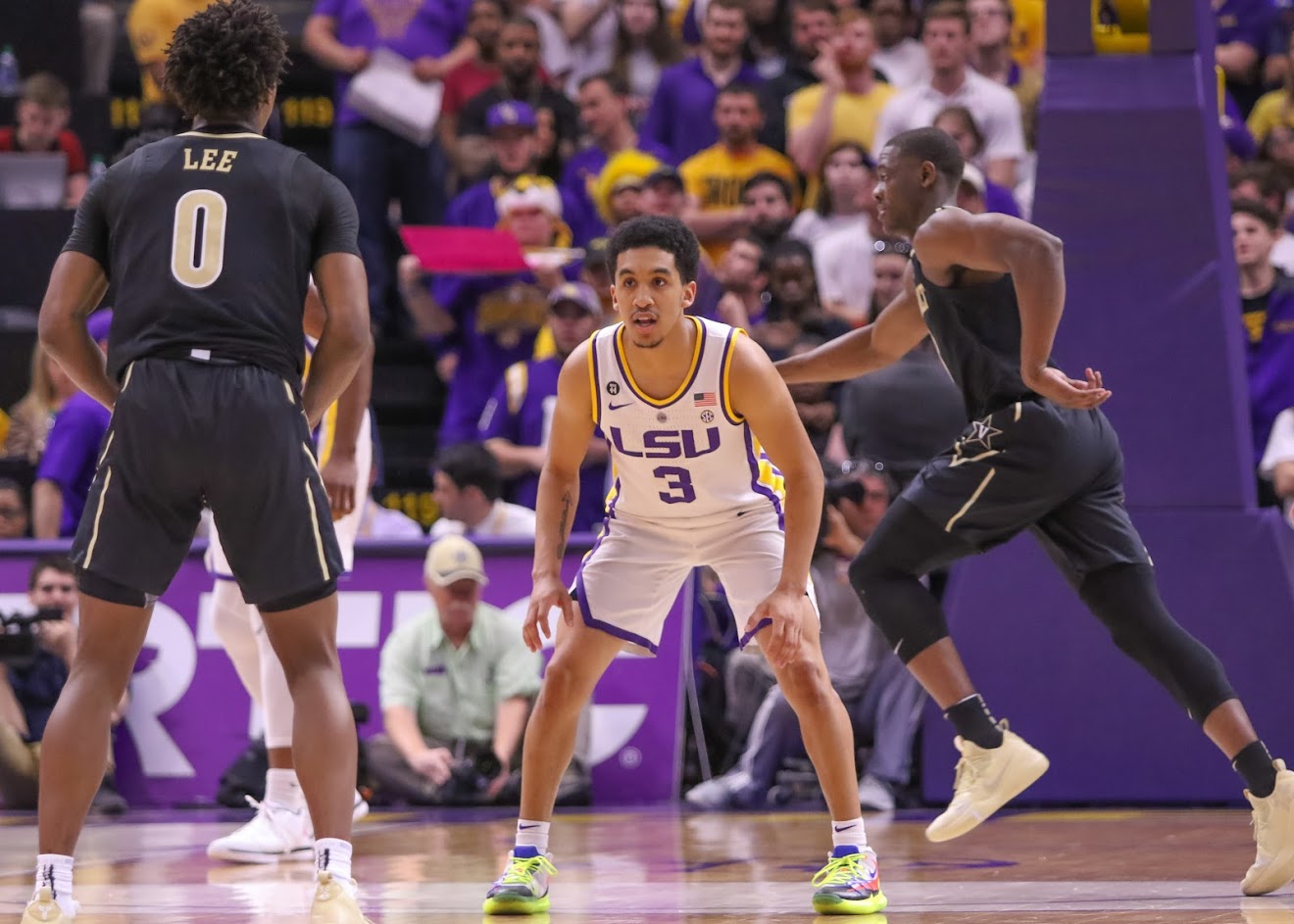 JACKSONVILLE, Fla.— After months of preparation, practices, games and controversy, the LSU basketball team has finally reached the moment all the work was for.
The Tigers (26-6) are playing in the NCAA Basketball Tournament.
For the first time since 2015 and the second time in a decade, LSU will participate in one of the country's most-watched and most celebrated basketball tournaments, and the Tigers are hoping to get past the first round for the first time since 2009.
LSU enters the tournament with it's best seeding since the tournament expanded to 64+ teams. The last time the Tigers were ranked so high was when the earned a No. 1 seed in a 48-team field in 1981.
But there's little expectation LSU will have it easy, even in their first game Thursday at 11:40 a.m. in VyStar Veterans Memorial Arena where they will play in the Tournament's first opening round game against 14th-seeded Yale (20-7), a scrappy and experienced, senior-laden squad that can shoot and score with any team in the country, including LSU.
"Yale is a quality team, winning the Ivy League," said LSU interim coach Tony Benford. "Those guys are talented and they play hard. The one thing that I think helps us is, you look at our non-conference schedule, it prepared us for our conference schedule.
"Playing Florida State in Orlando at the neutral site, playing Oklahoma State there prepared us for what we would be facing at Houston and against Saint Mary's. We played different styles in non-conference and then we played teams with different styles in conference play. It really helps you, playing in the SEC, prepare for any type of style of play that you'll come up against."
Two of those teams — Houston and Florida State — mounted second-half comebacks against the Tigers to steal early wins from LSU, a problem that seemed to persist throughout the early part of the season.
Even after the Tigers seemingly figured things out, they continued to have a tendency to let teams hang around.
That served as their ultimate downfall in the Southeastern Conference Tournament in which they got bounced by a hungry and upset-minded Florida group after giving up a 13-point lead and letting the Gators hang around for too long.
But LSU won far more of those close battles than it lost, hopefully preparing them for the battles that are assuredly headed their way in their search of a national title.
"That Florida game was a big lesson," said LSU guard Skylar Mays. "I'm happy it happened in the SEC Tournament so we can learn from it and not let it happen in the most important tournament."
The Bulldogs enter the Tournament no stranger to pulling off upsets. Just three seasons ago Yale went up against a third-seeded Baylor squad, famously (or infamously depending on which team you were rooting for) out-rebounded the bigger Bears and ultimately ended the Power 5 staple's season.
The freshmen on that team are seniors now, and they're looking to bookend their careers with successful Tournament appearances.
The Bulldogs are led by Miye Oni, who averages 17.6 points, 6.3 rebounds and 3.5 assists per game, stats that earned him the Ivy League player of the year and the interest of NBA Scouts.
He's extremely athletic, much like LSU swing guard Marlon Taylor, the most likely athlete to match up with Oni on defense.
The Tigers will notably be without the head coach that got them there, Will Wade, who was indefinitely suspended by the program after failing to meet with University and NCAA officials regarding a report linking him to a potential play-for-pay scandal being investigated by the FBI.
Benford has stepped up, but so have upperclassmen like Mays and Tremont Waters.
Waters makes the offense go with 15.1 points, 5.9 assists and three steals per game, stats that earned him a spot on the All-SEC squad as well as the league's co-defensive player of the year.
Benford gave Waters the keys in LSU's first two games without Wade, which worked spectacularly in the regular season finale against Vanderbilt.
But mistakes from the players on the court to even Benford who picked up a critical technical foul late against Florida, haunted LSU in the SEC Tournament.
Benford said he and the team have been in somewhat regular contact with Wade, and they plan on doing him proud with a cleaner performance in a game that matters a whole lot more Thursday afternoon.
"He trusts all of us – myself, coach (Greg) Heiar and Coach (Bill) Armstrong. We're going to do what we always do and we're just going to worry about Yale. Coach Heiar will have the scout and he'll prepare us. I'll look at some film on them. We may talk to coach again, but we'll prepare. We're all co-coaches and we're doing this together. We'll lock in on Yale and our guys will be prepared to play on Thursday."
WHO: No. 3 LSU vs. No. 14 Yale
WHEN: Thursday, March 21, 11:40 a.m. CST
WHERE: VyStar Veterans Memorial Arena, Jacksonville, Fla.
BROADCAST: TruTV
THE STAKES: Everything. Winner Goes home.