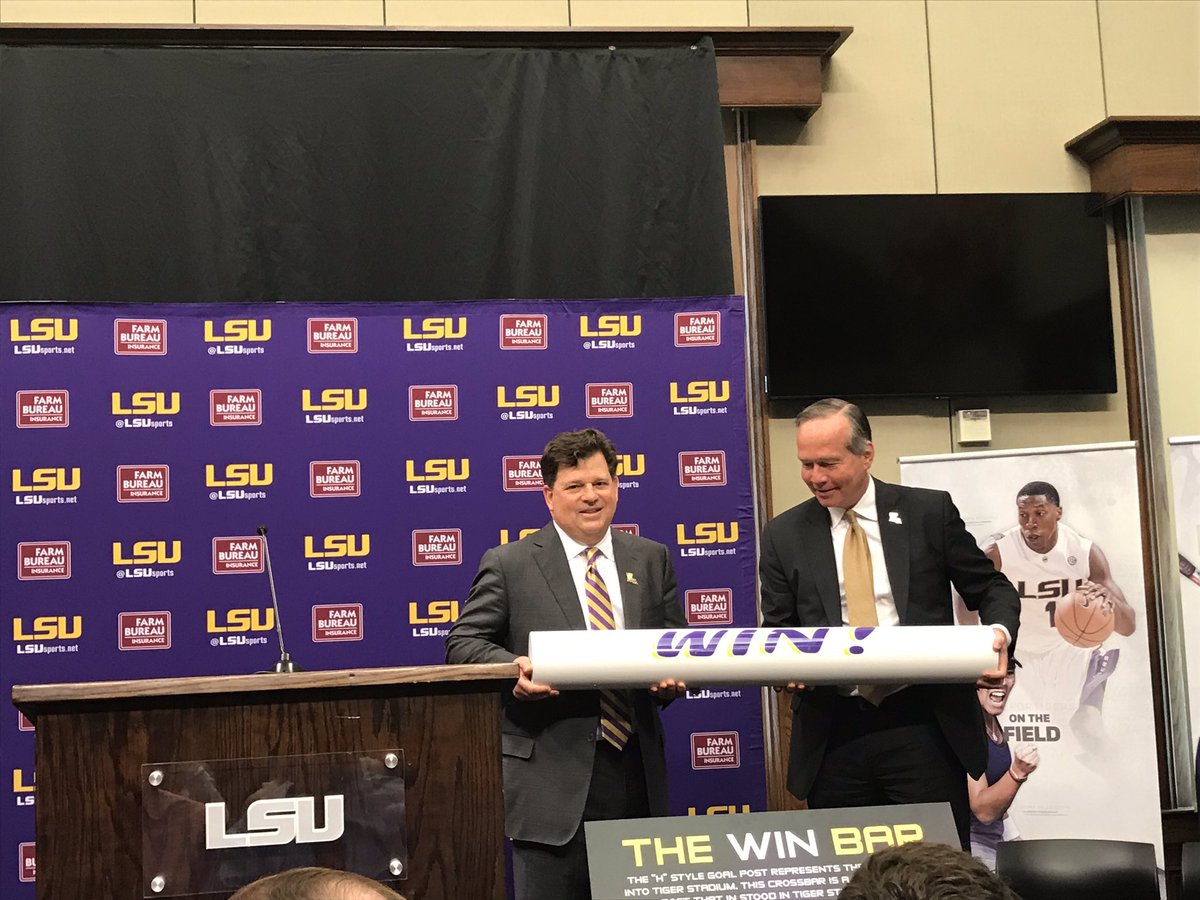 Scott Woodward's ascension to the athletic directorship of LSU is the most well received hire for that position since another LSU graduate snagged the post 32 years ago. Joe Dean fought political winds at the Ole War Skule to get the job in 1987 amid a personal media pitch from the charismatic Dean and his many admirers. The lobbyists included Curry Kirkpatrick, who politicked for Mr. String Music in the pages of Sports Illustrated, then the most valuable real estate for that kind of thing.
Woodward's arrival was saluted border to border in the Bayou State after LSU lured its alum from wildly wealthy Texas A&M. Scott has a substantial record as an AD at two major universities and succeeds a man never revered by LSU fans. Joe Alleva rarely sought the attention of cameras and microphones. Woodward is more likely to "love the roar of the crowd," which is how Dean described Scott's mentor Mark Emmert, former LSU athletic director and now head of the NCAA.
When Dean completed a decade long quest to become AD, he inherited a remarkably stable athletic program. In February of 1987, Dean was installed as captain of ship with football capturing its first SEC title in 16 years, a basketball team that had advanced to the Final Four in '86 and was on its way to an Elite Eight finish in '87, a baseball squad that had won the SEC Championship and journeyed to its first College World Series appearances in '86 and '87, plus a track and field juggernaut that was on the brink of emerging as the most successful program in SEC history. The Tiger women's track team captured its first national honors a few weeks after Dean came aboard.
Woodward inherits more challenges on the field with football aiming to snap an eight-game losing streak against Alabama, a basketball coach under the NCAA microscope amid a conference title run and a baseball program that has dipped since its last CWS title ten years ago.
Like Dean, Woodward must get a grip on basketball. After Dale Brown's infamous "Crazy Days at LSU" S.I. cover story written by Gary Smith, many professors wanted Daddy Dale to take a one way train back to the plains of his native North Dakota. Dean answered all questions about his allegiance to Brown when he appeared before the Baton Rouge Rotary Club in his early days as AD and compared his longtime friend to ballet legend Rudolph Nureyev and composer Peter Tchaikovsy. It was intended as a supreme compliment despite the delicious irony of putting Daddy Dale in the company of two Russians at the height of the Cold War.
Brown's issues with the faculty were tame compared to the controversy surrounding Will Wade. Brown survived feuds with Athletic Council members Billy Seay and Carolyn Hargrave after the academic disqualification of Nikita Wilson may have cost LSU the 1986 national title. Brown's wife, Vonnie, became a victim of her husband's verbal battles when her folk dancing classes were canceled by the university. Dean acknowledged that there was a misguided perception by some of the LSU brass that the fast talking basketball coach was running the campus.
Wade is contrite about allegations of wrongdoing and dodged a bullet when he was not called to the stand in a trial where middleman Christian Dawkins was center stage. Unlike Brown, who operated a sophisticated electronic taping system from his office, Wade was caught on tapes of others spouting incriminating statements about his pursuit of top recruits.
Wade has reportedly delivered a plethora of personal financial documents to his bosses to prove that he is not a criminal, but that has not been the concern of his LSU handlers. The university's credibility now rests on the coach's insistence that pay for play charges against him are bogus.
If Wade survives to coach another game at TigerTown, his stock may be determined the old-fashioned way, by his standing on the court. No LSU basketball coach has enjoyed a more auspicious start than Wade, but his predecessor proved that one bad season is all that is necessary to lose a job in the current climate. Johnny Jones did not have a losing season overall or in the SEC until his fifth and final campaign in which his troops posted a 2-16 league record. Wade now has the unenviable task of recruiting with a cloud hanging over his every move.
LSU has posted 43 NCAA championships in its storied athletic past. Most of those championships occurred when Joe Dean was athletic director.
Here is a list of team titles in the eras of Dean, Skip Bertman and Joe Alleva as LSU athletic director.
Joe Dean 25: Women's Indoor Track (1987, 1989, 1991, 1993, 1996, 1997) Men's Outdoor Track (1989, 1990), Women's Outdoor Track (1989, 1988, 1989, 1990, 1991, 1992, 1993, 1994, 1995, 1996, 1997, 2000), Baseball (1991, 1993, 1996, 1997, 2000).
Skip Bertman 10: Football (2003, 2007), Men's Indoor Track (2001, 2004), Women's Indoor Track (2002, 2003, 2004), Men's Outdoor Track (2002). Women's Outdoor Track (2003, 2008).
Joe Alleva 3: Men's Golf (2015), Women's Outdoor Track (2008), Baseball (2009).
Athletic Directors are often judged by the coaches they secure in major sports.
Here are grades of hires in revenue sports for the last three athletic directors.
Sport Coach Athletic Director who hired Coach Grade
Football Curley Hallman Joe Dean F
Football Gerry DiNardo Joe Dean C
Football Nick Saban Joe Dean A
Football Les Miles Skip Bertman B-
Football Joe Alleva Ed Orgeron B
Basketball John Brady Joe Dean C+
Basketball Trent Johnson Joe Alleva D
Basketball Johnny Jones Joe Alleva C
Basketball Will Wade Joe Alleva C
Baseball Smoke Laval Skip Bertman C
Baseball Paul Mainieri Skip Bertman B+
Woodward has benefitted enormously from opportunities presented in his career by Emmert. Despite his Madison Avenue image, Emmert is more than a bit of the riverboat gambler. This was evident when he opened the vault at Thomas Boyd Hall to accommodate the desires of Saban, who demanded to become the highest paid coach in the land after posting a 34-24-1 record in five years at Michigan State.
Emmert likes the bold stroke and has confided that he has viewed every James Bond movie multiple times. It may take a 007 type leader for LSU to return to its greatness in baseball, retrieve the magic of the Dale Brown years in basketball and stymie Saban's reign in SEC football.
Woodward has a blueprint with an unlimited budget to accomplish his mission. Dean was always looking to save a dollar, but do not expect Woodward to operate on the cheap.
The good news is that LSU will likely never endure another period of eight losing football seasons in eleven years. The bad news is that if it were ever to occur again, the collapse would break the Ole War Skule.