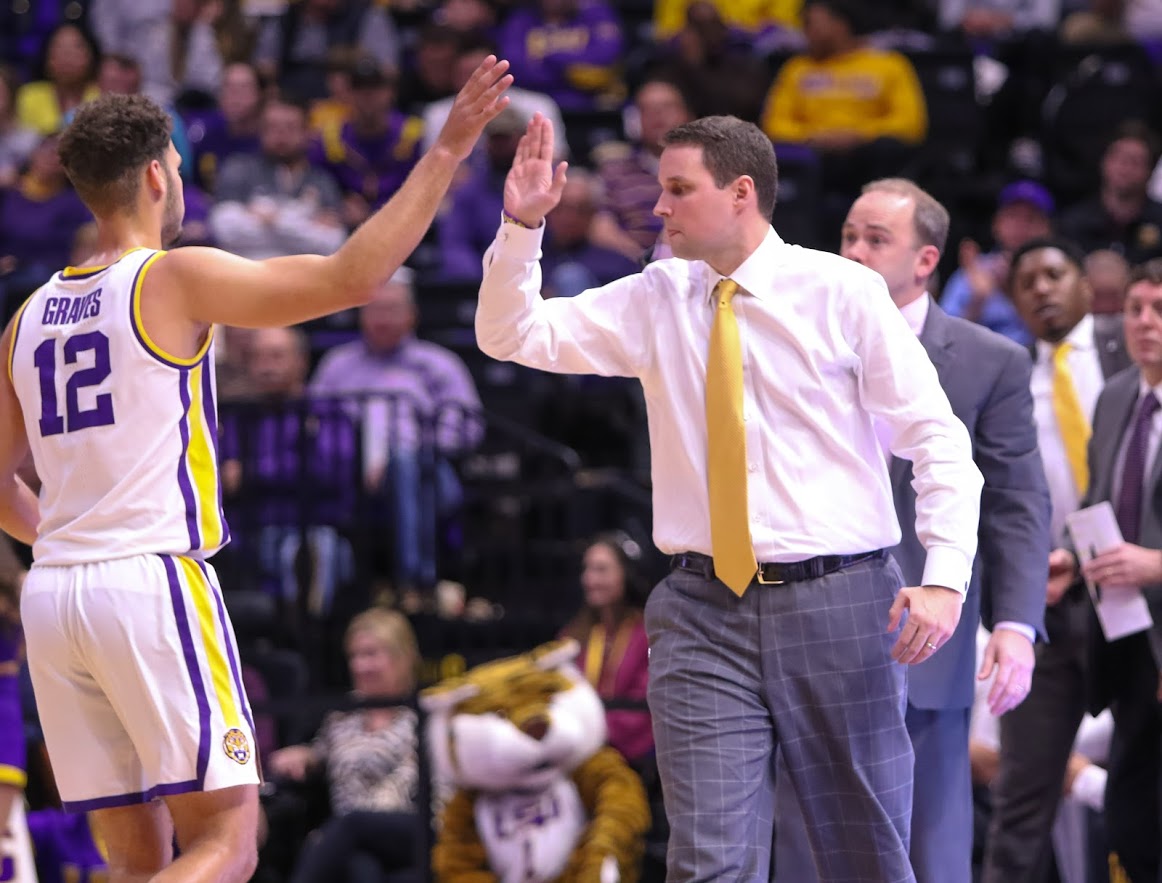 LSU, along with the other 13 Southeastern Conference programs, took part in the annual SEC Media Day festivities in Birmingham, Ala., on Wednesday, previewing the upcoming 2019-20 season.
Head coach Will Wade and the Tigers' backcourt duo of Skylar Mays and sophomore Javonte Smart — now being dubbed "The Bayou Backcourt" for their ties to Baton Rouge — participated and spoke about the upcoming season with the crew covering the event for the SEC Network.
Wade continued to heap praise on incoming freshman and former five-star prospect Trendon Watford, who led LSU in scoring with more than 18 points per game during the Tigers' offseason trip to Spain.
He also reiterated what he expects to see from forward Emmitt Williams.
"Emmitt Williams is somebody who's been able to… he's kind of a lunch-pail, blue-collar, hard-working guy," Wade said. "He's somebody that could could (make gritty plays) for us."
But even at a basketball event, LSU couldn't escape questions about the Tigers' football team and its newly-prolific offense.
Wade joked that he was worried the football team my outscore the basketball team, but later in the interview, he made it abundantly clear that was a joke.
"We averaged 82 points per game last year," Wade said. "I think we'll be better than that this year. I'll be disappointed if we're not better than that this year. We've got a really good offensive team. We shoot the ball better than we did last year. … We've got an elite offense."
Despite losing point guard Tremont Waters aws well as forwards Naz Reid and Kavell Bigby-Williams, the Tigers seem confident going into next season.
The defending SEC regular-season champs return five of their top eight athletes from last season, and with Watford, fellow freshman James Bishop and junior-college transfer Charles Manning entering the program with high expectations, Mays said he feels LSU is poised for another run in the NCAA Tournament.
"I think we have every reason to be confident based on the work we put in," Mays said. "That starts from the top down, how coach Wade carries himself and how he instills that confidence in us. I feel like if we stick to that confidence and focus everyday I think we'll be in great shape."
The entire team will play through the backcourt of Mays and Smart, who will play the role of co-quarterbacks for this new-look, small but movement-filled offense.
With Waters gone, Wade pointed directly at Mays when asked who would take big shots for the Tigers this season.
Mays is no stranger to big shots, as he he a couple in LSU's historic run last season, including one that set up Waters' game winner in the Second Round of the NCAA Tournament.
The entire LSU squad seems to have faith in the senior, who will serve as the lifeblood of this team in his final season.
"(Mays) is a leader," Smart said. "It's his senior year, and we look at him for leadership. We all follow behind him."
The Tigers are just more than three weeks away from their season opener against Bowling Green in the Pete Maravich Center, which will tip off at 7 p.m. on Nov. 8.