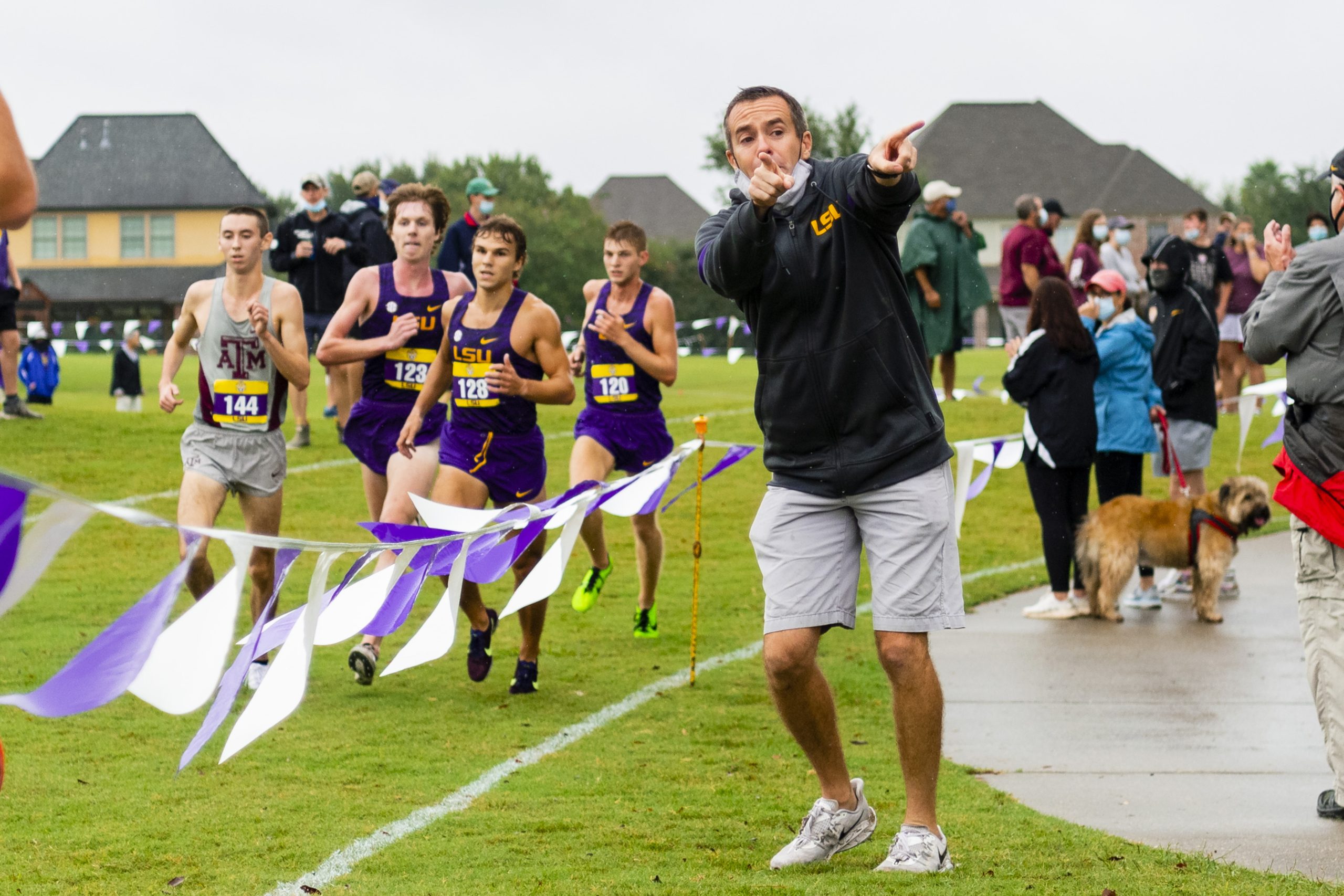 A little over a 1 ½ months after starting the season that covered three meets LSU's cross country teams have arrived at the starter's line for the big event.
The Tigers women's team is looking to build on their best finish in more than a decade, while the men are hoping to make additional progress when the SEC stages its postseason championship Friday at Gans Creek Cross Country Course in Columbia, MO.
The SEC Network will televise the men's 8K race scheduled for 10:05 a.m. with the women's 6K to follow at 11 a.m.
"The season flies by as it often does," LSU cross country head coach Houston Franks said. "We start the season, and it looks like you've got a lot of time and you blink your eyes and you're in the championship part of the season. We're excited. I think we're in a pretty good place."
The basis for Franks' enthusiasm over his men's team is the performance they've turned during the regular season where each runner ran an average of 30 seconds faster this season on the same courses – LSU's University Club, Arkansas and Texas A&M – as they did a year ago.
"That's a massive improvement and is exciting," Franks said. "The men are in a good spot. We're pretty healthy. It will be fun. I like where we're at."
LSU's women were fifth in last year's race, the best finish for the program since 1999. They're ranked seventh in the South Central Region and expected to give chase to No. 5 Alabama, No. 11 Ole Miss, seven-time defending SEC champion and No. 15 ranked Arkansas.
"With the women, we've got a little bit of depth," Franks said. "Most of them are running the best they've been running all year. I think we're in a pretty good spot. Between second and fifth will be a logjam and we're in the logjam."
LSU's men are ranked fourth in South Central Region but face a stern challenge to climb up into the pack awaits behind the SEC's defending champion and sixth-ranked Arkansas, No. 22 Alabama and Ole Miss.
After that, Franks believes Kentucky is next followed by a "logjam" between fifth and 10th, a position he finds LSU to be squarely in the mix after finishing in eighth place last season.
"I would like to see us finish higher, we could run well and not," Franks said. "Because of COVID (eligibility) everyone's back. After Kentucky's it's real tight and we want to get up in that half and see how we can finish."
LSU has six participants with previous experience running in the SEC championships, led by Katy-Ann McDonald who won the LSU Invitational (17:56.75) and was second at Arkansas' Chile Pepper Invitational (16:50.5) before sitting out the final meet at Texas A&M after having her wisdom teeth removed.
This marks the third SEC meet for McDonald who finished a career-best 12th in last year's race, while Alicia Stamey was 46th and Ashley LaJocies 67th. Sophomore Shelby Spoor, who was 37th as a freshman a year ago, redshirted this season because of a foot injury.
LaJocies was second behind McDonald at the LSU Invite, was 12th at Texas A&M, while Stamey was sixth at Arkansas' Chile Pepper meet.
"Katy-Ann has been good in the past and has been even better this year," said Franks, who added Gwyneth Hughes, Adele Broussard, Lorena Rangel, Shanya Luna and Sophie Martin have all improved over the course of the year. "Ashley is getting better and better and as hard a worker as we have. I'm not taking anyone to this meet that won't at least have a chance be a scorer and help us."
Davis Bove has led LSU's men to a first place at the LSU Invite, fifth place at the Chile Pepper Invite and fourth at Texas A&M where he captured his first career individual title (23:38.5).
This marks the third SEC meet where Bove's finished 23rd and 17th the previous two years.
"He's been done some amazing things," Franks said. "He's just know rounding to where we need him to be."
Eric Coston has posted finishes of 20th and 34th in his past two SEC meets, while Will Dart and Cade Martin have both finished 43rd during their careers and Jackson Martingayle 52nd.
This season, Martingayle (19:12.67) and Dart (19:31.62) had their best finishes at the LSU Invite with a third and fifth, respectively, and Franks was encouraged by the finish of Cade Martin at Texas A&M where he took a minute off his personal best.
"We don't have the depth like we do on the women's side," Franks said. "We don't have as much room for error. Everybody's been real consistent and improving at a great rate."