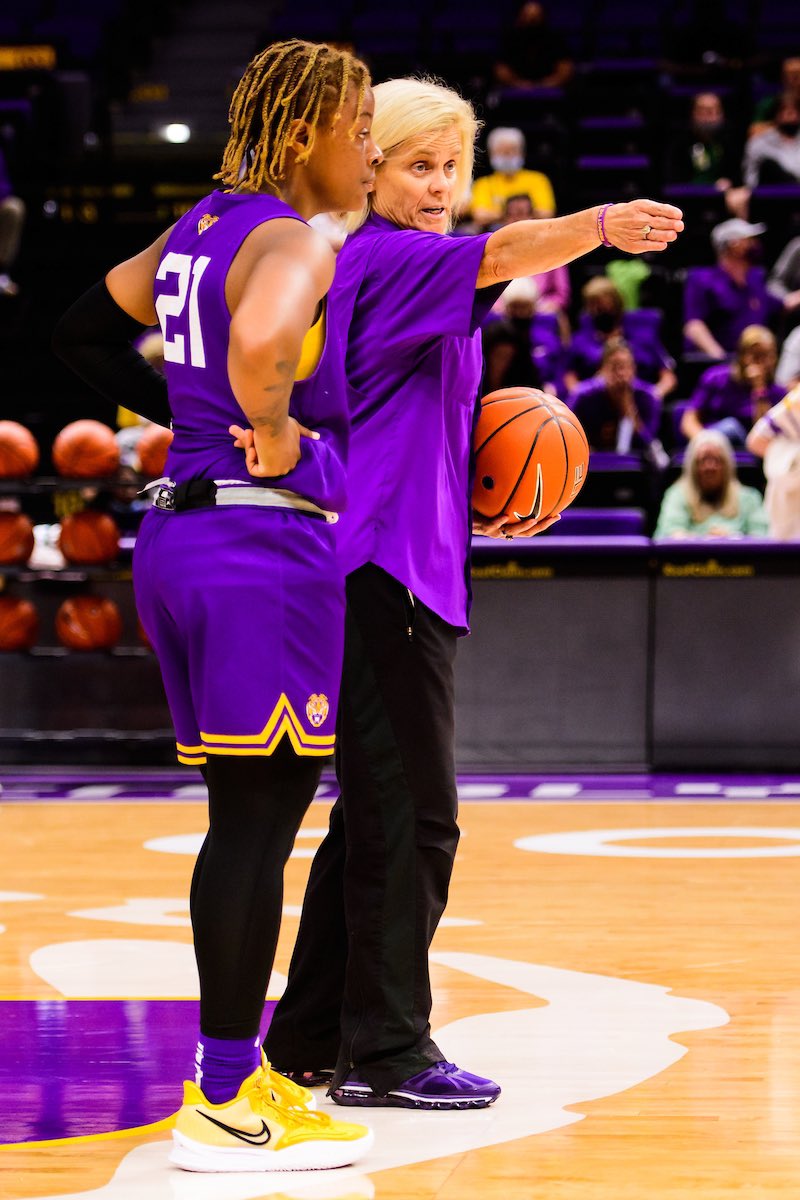 Kim Mulkey has done her best to try and get her message across to anyone who will listen.
Her voice, still tinged with her hometown Tickfaw accent, isn't hard to miss. It can be a booming megaphone
during points of emphasis in her delivery.
LSU's players have discovered it on the practice floor where the mile-a-minute Mulkey moves her team frenetically
from drill to drill, all with the former Louisiana Tech All-America point guard close in tow shouting encouragement or giving careful instruction.
It's still almost surreal eight months later after seeing Mulkey walk into her introductory news conference April 26
at the Pete Maravich Assembly Center where she was announced as LSU's new women's head basketball coach to a crowd that rivaled the attendance at Tigers' games pre-COVID-19.
With a buzz circulating throughout the arena, the place was electric and ready to hang on every word Mulkey had to say. She was appreciative for the opportunity to return to her native Louisiana where she starred at Hammond High before continuing her playing career at Louisiana Tech.
For a sport at the women's level which is generally played below the rim LSU athletic director Scott Woodward's ability to lure someone with the resume' of Mulkey, who is considered one of the giants in the
women's game with three national championships at Baylor, was a slam-dunk hire.
But Mulkey, who drew fellow Tangipahoa Parish native Gov. John Bel Edwards to her introductory news conference, didn't want to talk about her past success at Baylor. She was already discussing the path LSU had to take to regain its footing as one of nation's premiere programs.
"It's a long process to get where you want to go, and it may not happen as quick as we'd like it," said Mulkey, whose team hosts Langston University at 2 p.m. Saturday in the first of two exhibition games. "It may happen quicker than we thought. I don't know, I can't project that. All I know is I can go out and coach those kids I inherited, the kids that came with me and let's see what we can do together."
For someone that spent the past 21 years of her life coaching at Baylor, Mulkey maintained a keen sense of sports history involving her home state and was aware of the road to prominence LSU traveled in women's basketball. During the glory days with such players as Seimone Augustus, Temeka Johnson and Sylvia Fowles, the Tigers advanced to five consecutive Final Fours between 2004-2008.
Mulkey's first national championship at Baylor came at LSU's expense in 2005. Her team overcame a double-digit deficit in the first half at the RCA Dome in Indianapolis to eliminate the Tigers in the national semifinals and her team went on to defeat Michigan State in the title game.
The Bears also reached the pinnacle of college basketball in 2012 and '19.
During her career as a player and coach, Mulkey's been a part of six national championships.
But in taking over at LSU, which hasn't played in the NCAA tournament in three years and won a postseason game since 2014, Mulkey's maintained some perspective in leading her first team that tipped off the
season Nov. 9 at home against Nicholls State.
"We have goals," Mulkey said. "Those goals are realistic. I know how fans are. Everybody wants everything yesterday. If doesn't work that way."
Mulkey was quick to remind anyone that in her first year at Baylor, she took over a team that was 7-20 the year before and finished 12th in the Big 12 Conference. The Bears won their first 12 games of the season under Mulkey, lost to Auburn in the final of the WNIT and finished 21-9.
That turned out to be the fewest number of wins Baylor had under Mulkey who went on to build a dynasty that won 30-plus games 10 times and completed a perfect 40-0 season with a national title in '12. There was a stretch between 2010-19 where the Bears AVERAGED 35 wins with three trips to the Final Four and a pair of national crowns.
For her first LSU team, Mulkey wants to exceed last year's 9-14 record, compete favorably with any ranked teams on their schedule with the goal of putting forth such an effort to topple a ranked opponent.
"We're going to celebrate when we win 10 games, that's one more than they won last year," Mulkey said. "We're going to celebrate when we count up, (when) we're going to have a winning season. We're going to celebrate when we compete and almost beat that ranked team. We're going to celebrate when we do beat that ranked team. Only me and my staff can celebrate (something) that the average fan won't be able to recognize because they're not there every day at practice."
Mulkey said she and her staff, which she moved almost intact from Baylor, are in a rebuilding mode with LSU returning seven players from last year's team, including a key core of veterans that serve as the foundation Mulkey can build around in graduate senior guards Khayla Pointer and Jailin Cherry and center Faustine Aifuwa.
Graduate transfer post player Autumn Newby of Vanderbilt and three incoming freshmen were signed by the previous coaching staff, and Mulkey added a couple of transfers in sophomore center Hannah Gusters and senior guard Alexis Morris, who is still waiting to get cleared by the NCAA to play this season.
Pointer's the headliner of the group, a returning first team All-SEC performer last season that's gained additional accolades in the preseason with a nod from the league's coaches on the All-SEC first team.
The 6-foot-5 Aifuwa has been a capable score and has led LSU in rebounding in each of her previous four years. With the arrival of 6-5 Gusters, a former McDonald's All-American who played in 30 games at Baylor last season, the Tigers have the potential for something special on the interior.
"I enjoy coaching them," Mulkey said of her team. "They're receptive to what I say, they play hard."
The beauty will be watching Mulkey, who has a record of 1,298-183 (for an 88 winning percent) as a college player and college coach, arrange the different pieces over the first two months of the season before the start of SEC play Dec. 30 at Georgia.
Mulkey's credibility has already resulted in LSU being picked to finish seventh and eighth, respectively, in the SEC race in preseason polls conducted by the media and league's coaches.
In addition, in the preseason Associated Press women's Top 25 poll which featured four teams from the SEC in the Top 25 led by No. 1 South Carolina, LSU received 10 votes.
"We're excited. I know it's a tough, long road ahead," Mulkey said. "We have a major rebuilding job to do but you knew that when you took the job."