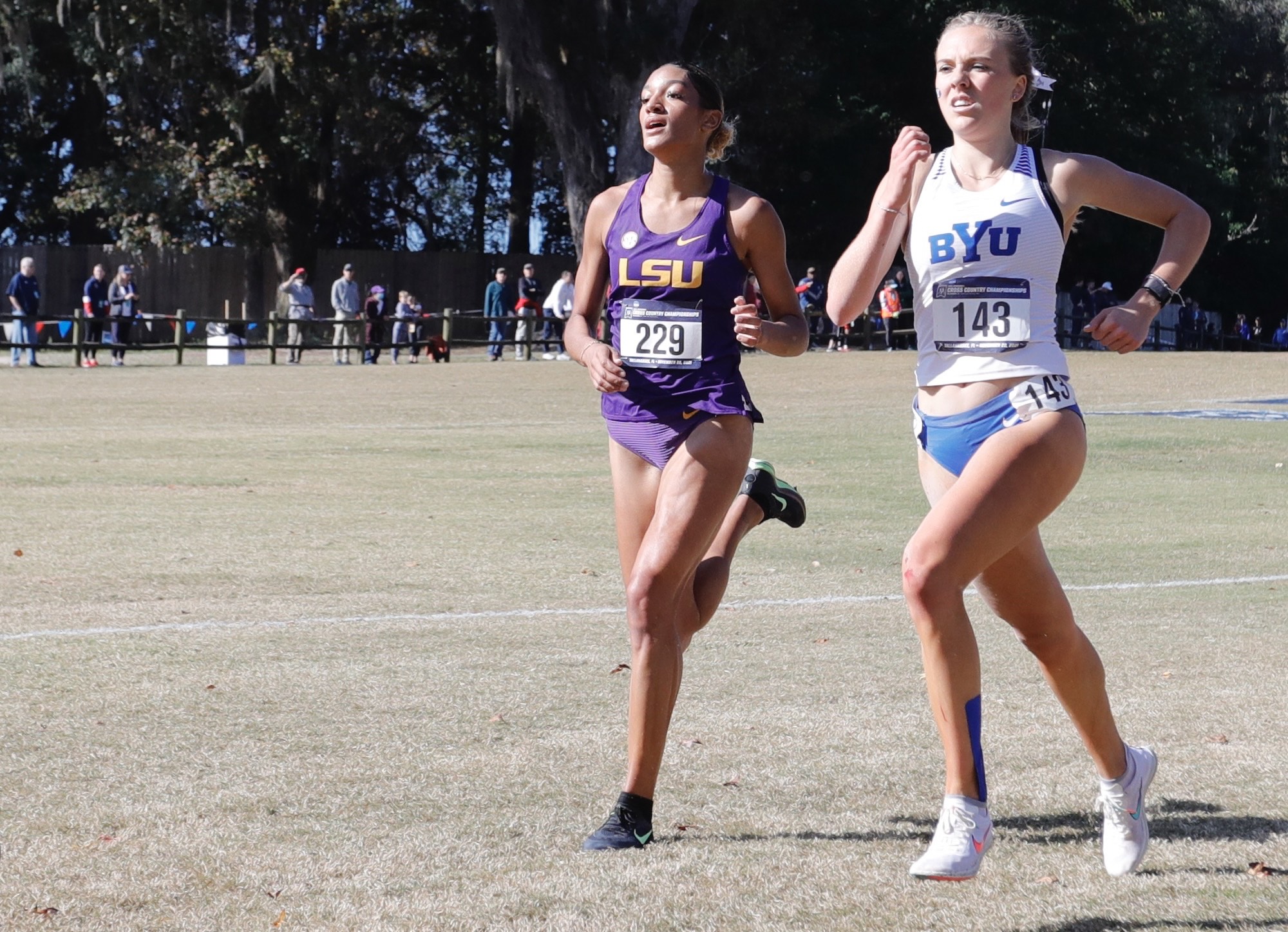 Anytime the season ends with a runner appearing in the school's first NCAA competition in 25 years, it's hard not to underscore that achievement.
That LSU senior Katy-Ann McDonald wound up 163rd in a field of 255 runners during the NCAA cross country championships Nov. 27 in Tallahassee, Fla. mattered little in the end.
"It was a great experience," LSU cross country coach Houston Franks said. "It says a lot about the program that we can get people there. It helps recruiting. When you call a recruit, you've got something positive to talk about. In this case, a little history making topic."
McDonald became the second female cross country in LSU history and first since 1996 (Charlotte Mayock) with a time of 20 minutes, 52.2 seconds.
"When you've never been there before, it's an absolute mass of humanity that never gets separated out," Franks said. "I tried to tell her to get out really hard. She didn't have a great start. She said she couldn't move for 5,000 meters."
McDonald punched her ticket for the national meet with an historic finish at the South Central Regional the week before in Waco, Texas. The London, England native finished a program-best sixth (20:55.0) to spearhead an effort for the Tigers which included a program best fourth-place team finish – just two spots out of qualifying for the NCAA meet.
That performance by the LSU women turned out to be a watershed moment for the program, a building block for the future.
Not only did McDonald earn All-Region honors but freshman Lorena Rangel (21:16.1) was 16th to also earn a spot on the All-Region team by virtue of a top 25 finish. Sophomore Ashley LaJocies (21:39.2) was just edged out of obtaining such distinction with her 26th place finish.
"That's 20 points, that's really close," Franks said of the distance (96-116) separating LSU and region runner-up Rice, who along with Arkansas advanced to the NCAA meet. "That's got to be the goal for next year. We've got to shave 20 points off. That's four places per person and that's not a lot. At the 5K mark, we were withing nine points and Rice closed well. I thought we closed well but they just closed a little better."
McDonald performed at a consistent level throughout the season, finishing as LSU's top finisher in the three meets in which she competed. She claimed the first of her two regular season titles Sept. 1 when she and Ashley LaJocies swept the 5K LSU Invitational where sophomore Gwyneth Hughes was third and graduate student Alicia Stamey was fifth.
LSU's men followed suit where a 2-3 finish from juniors Davis Bove (19:09.60) and Jackson Martingayle (19:12.67) over the 8K course, propelling the Tigers to the team title. They were followed by sophomore Will Dart in fifth (19:31.62) and junior Cade Martin in seventh (19:42.31).
McDonald followed that up two weeks later with a runners-up finish at the 5K Arkansas Chile Pepper Festival (16:50.5), while Stamey (17:07.3) was sixth.
"Katy-Ann was obviously the person who pulled the train all year long," Franks said. "Lorena (Rangel) was our biggest difference maker at the end. I knew she was capable of being a very good cross country runner because she's a great track runner. The regional was her fourth cross country meet of her entire. Every race she was getting a little bit better and quite honestly, I was wanting her to get a lot of better and at the regional meet she did."
With McDonald (wisdom teeth extraction) out of the 6K Texas A&M Arturo Barrios Invitational, LaJoices led the way in 12th (20:56.2).
"Ashley was consistent for us all year long," Franks said.
Bove was the most consistent runner on the LSU men's team throughout the season. He was the team's top finisher across the finish line in five meets and after a 31st place showing at the Chile Pepper Invitational (24:48.4), registered his first career title at A&M's Arturo Barrios 8K (23:28.6).
Coston, a graduate student, was behind Bove in both meets, 31st at Arkansas (24:57.1) and 19th at A&M (24:05.6).
"He was consistently our No. 1 guy," Franks said of Bove. "His good was great but he had a couple of OK races. He made all-region, but it just kind of OK."
There was a great sense of discontent for both programs after the Oct. 29 SEC Championships where LSU's women were 10th and men 12th.
A year after a finishing in fifth, the best in 21 years, LSU's women couldn't duplicate the same success where McDonald was 20th (20:56.7), LaJoices (21:35.4) and Rangel 52nd (21:50.2).
With Bove (24:18.3) leading the way in 26th, Coston (24:47.0) in 37th and Jackson Martingayle in 51st (25:05.1), LSU's men finished 11 points behind Auburn and eight behind Vanderbilt for the last three spots.
"We ran great and were set up in a good spot and we didn't follow it up very well," Franks said of the men's showing two weeks before the SEC meet. "You can put that on coaching. We almost ran so well at that meet we kind of rested on our laurels a little bit and didn't get aggressive at the conference meet. Just underperformed."
LSU's women regrouped at the NCAA South Central Regional to finish fourth over the 6K course or two spots out of qualifying for the NCAA Championships.
It was still a record day for the Tigers who registered the best finish in program history led by all-region performances from McDonald (20:55.0) and Rangel (16th, 21:16.1), while LaJoices was 26th (21:39.2), Stamey 32nd (21:44.0) and Doria Martingayle 44th (22:04.5).
"The women had a great year all the way up until conference," Franks said. "They had a subpar performance there and then really came back and performed at regionals and made ourselves better because of the experience. You never want to have a bad championship meet but we did get better from that experience and learned from our mistakes. There's at least a little silver lining there."
Franks commended the efforts of Stamey and Martingayle, a graduate transfer from Virginia and younger sister of LSU men's runner Jackson Martingayle.
"Alicia had some illness during the year but had a great middle of the year and rebounded after being sick at the regional meet," he said. "Doria got better every single meet and when we needed her, she came up big for us at the end."
Bove provided a shining light for LSU at the regional meet where the Tigers had two runners drop out of the race because of injury and were unable to finish, contributing to the team's 16th place showing.
Bove earned all-regional honors with his 25th place (31:44.7) over the 10K course. Jackson Martingayle (32:19.8) was 42nd.
"At the end of the day, we're one of these sports the regular season really doesn't matter," Franks said. "It's preparing for the championship meets and those are all-or-nothing type events."