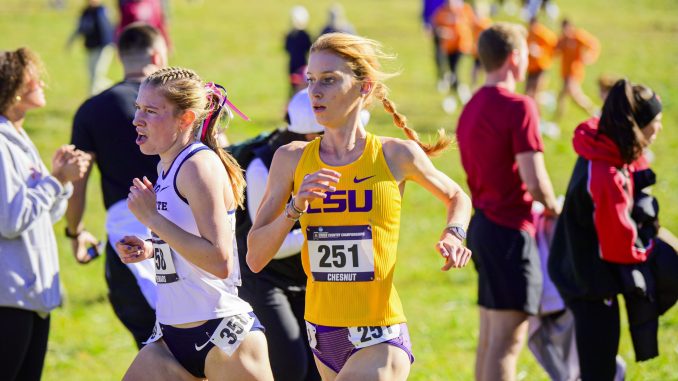 CHARLOTTESVILLE, Va. – LSU sophomore Ella Chesnut closed out a stellar season on Saturday finishing 196th overall at the NCAA Cross Country Championships, hosted at the Panorama Farms Cross Country Course in Charlottesville, Va.
"This meet is so different than every other meet because you have around 250 elite folks, and if you don't get a really good start, it's hard to fight your way back into the race," LSU cross country coach Houston Franks said. "She fought and fought but could never get out of the churn, so-to-speak, with so many runners of high quality. It happens often the first time people run at this meet, no matter how many times you warn them."
Chesnut got out to a time of 3:07.9 through 1000 meters to start the race, good enough to put her at 181st. Halfway through the race at the 3000-meter mark she was sitting at 182nd, proving Coach Franks' point of how hard it is to fight your way through the highly-talented pack of athletes that make this meet so special.
"Really proud of how she competed and I'm hoping next year she will be back," Franks said. "She's had just an amazing year and has come so far since she joined the program a year and a half ago. The future is nothing but very bright."
Chesnut finished the race with a time of 21 minutes, 28.7 seconds. The race made her just the third in program history to compete at the women's NCAA Championship.
Chesnut, a native of Houma, will head into the 2023-24 track and field season with plenty of momentum. Last season she reached the NCAA East Preliminaries in the 3000-meter steeplechase, finishing 41st in a packed field.
"We'll give her a little bit of time off and start prepping her for track," Franks said. "Indoors I think she'll be more focused on the 3k and 5k this season. Outdoors, we will see how she progresses, but I see the 5k and 10k being really good events for her."