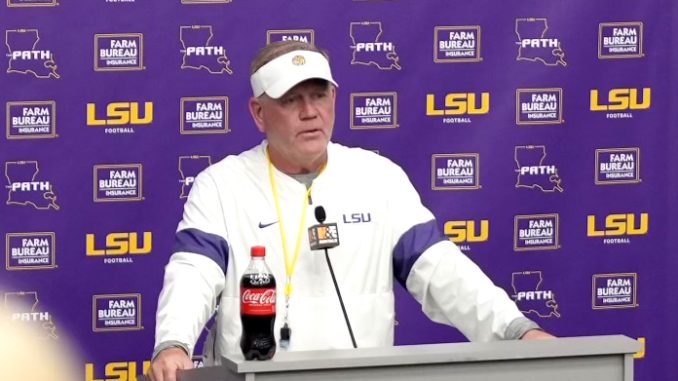 Brian Kelly addressed the Baton Rouge Rotary Club at the end of a sweltering July to unofficially kickoff the 2023 season. His predecessors, Nick Saban, Les Miles and Ed Orgeron have been doing this chore every summer since LSU began its 21st Century march to three titles.
The lords of the college gridiron sometimes are not known for their megawatt smiles. Yet they enjoy adulation from a bevy of business titans, who lose their inhibitions when it comes to the football fortunes of the Ole War Skule. Their passions for the Purple and Gold are for life, but they never lose sight of the bottom line. The devotion to the coach is exclusively tethered to the number of wins per season.
Orgeron was sent packing after averaging 9 wins in 5 full seasons. Miles, before he lost 37 W's due to cheating, averaged 10.2 wins per season, and that was insufficient in these hyper-competitive times. Kelly is basking in the glow of a 10-win campaign highlighted by a triumph over Alabama. As of now, he is in good graces with the patrons. At least until his season opener on Sept. 3 against Florida State.
Coaches go to great lengths to avoid making news at these events, which are now hosted by LSU instead of previous stops by Saban and Miles at the Rotary Club location at Boudreaux's on Government Street. The BR Rotary now meets at Drusilla Seafood, much too far to trek for regal leaders of the LSU brand.
The club is treated to an afternoon at Tiger Stadium with an alumni band, and Coach Kelly answered a handful of questions without saying much other than he believed LSU is striving be an elite program in every way. "Elite" has replaced "great" as the top level of achievement as fans salivate about the prospect of a fourth national title in 22 seasons and its fifth overall.
Kelly is the savviest coach LSU has featured in its signature sport since Saban. The program regained the Intelligence Quotient points lost when Saban skipped town in January of 2005 when Kelly arrived almost 17 years later. Much like his 71-year-old rival, the 61-year-old LSU boss is no nonsense. Kelly won the crowd's approval as he announced he was joining the fourth largest Rotary group in the world as member No. 462. This columnist is also a member of the club. I am not a member of the Baton Rouge Country Club where Kelly is prone to relax away from the frenzied throng.
Unlike some sadistic members of the football fraternity, Kelly says his troops will not be working out at noon each day when camp ensues. The coach, who resides on Lakeshore Drive, mused that he finds it "crazy" that runners cascade by his home each day at 12 p.m. when the blazing sun and oppressive humidity are at fever pitch on the LSU Lakes.
Unlike Miles, who in 2008 brought Snoop Dogg, the well-known rapper, as his guest to the Rotary appearance, Kelly prefers to run solo. He is a private man in a public fishbowl, and Louisiana is a state where word travels about sightings of the LSU football kingpin. Kelly is reported to enjoy an occasional martini at the Four Seasons in New Orleans, and it's good for him to savor the good life at a 5-Star hotel in the city which remains the crown jewel of Louisiana. To the victor, go the spoils.
Jerry Stovall, who was fired 40 years ago Dec. 2, 1983 in a 13-5 vote by the LSU Board after being named National Coach of the Year eleven months earlier, once noted that LSU fans are with you win or tie. With overtime, wins are the only barometer of popularity. As he embarks on his second season, Kelly has been a sophomore coach four other times in his career.
At Grand Valley State, he was 8-3 in his second year; at Central Michigan, Kelly went 6-5 in year 2; at Cincinnati, he was 10-3 in his second season and at Notre Dame, the record for Kelly in his sophomore odyssey was 8-5.
Notably, Stovall was the lone former LSU maestro present at the Rotary function. Stovall, 82, is one of 10 living current or former Tiger head football coaches. This group features Stovall, Kelly, Orgeron, Miles, Saban, Gerry DiNardo, Curley Hallman, Mike Archer, Hal Hunter (one game) and Brad Davis (one game).
Stovall knows the perils of directing a sport that is an integral fabric of the culture of the state and the identity of its residents, most of whom did not attend LSU, graduate from any university of higher learning and never bench pressed their weight.
The mental and physical health of many of the state's 4.6 million residents' ebbs and flows with the outcomes of LSU football. It may be insane to race across Lakeshore Drive at high noon in July, but it is arguably nuttier to have our personal well-being determined by a team of kids a few years past puberty.
Kelly is a veteran, who knows the score. He deftly handled wild expectations at Notre Dame with adequate success to last 12 years at the storied school where tradition is palpable. But as USC All-American Brad Budde commented when he visited LSU for the Trojans' memorable clash with LSU on Sept. 29, 1979. "Compared to LSU, Notre Dame is Romper Room."
https://www.loc8nearme.com/florida/the-villages/tarpon-boil-executive-golf-course/7663313/
Will Daniels follow Manziel and Burrow to Heisman Glory?
LSU's seasons hinges on the productivity of quarterback Jayden Daniels, who enjoyed a masterful debut season as a Tiger. Daniels was born in December of 2000 while his LSU counterpart Joe Burrow was born in December of 1996 and Heisman winner Johnny Manziel of Texas A&M was born in December of 1992.
Manziel was 19 when he won the Heisman Trophy as a freshman, Burrow was 22 when he guided LSU to the national championship and captured Heisman honors in 2019. Daniels was 21 last year as he thrived after transferring from Arizona State.
Here is a comparison of their debut seasons at A&M and LSU.
Manziel, 2012: 295 of 434 passing (68.0 pct.) 3,706 yards, 26 touchdowns, 9 interceptions…201 rushes for 1,401 yards (7.0 avg.) 21 touchdowns.
Burrow, 2018: 219 of 379 passing (57.8 pct.) 2,894 yards, 16 touchdowns, 5 interceptions….128 rushes for 399 yards (3.1 avg.) 7 touchdowns.
Daniels, 2022: 206 of 328 passing (68.6 pct.) 2,913 yards, 17 touchdowns, 3 interceptions….186 rushes for 885 yards (4.8 avg.) 11 touchdowns.