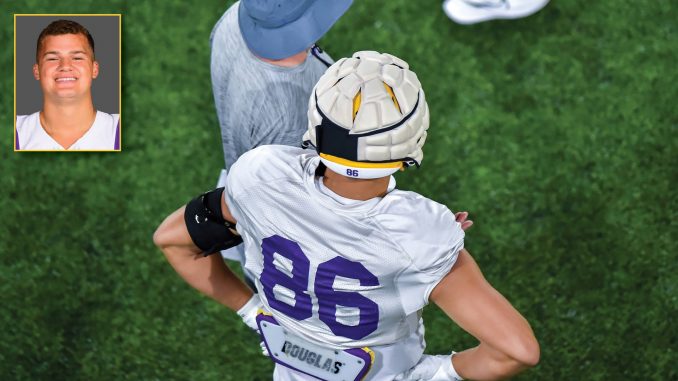 LSU starting tight end Mason Taylor spoke with the media following Monday's practice.
LSU's 2022 freshman all-SEC tight end, Mason Taylor, is confident in the tight end room's depth despite the number of new players joining the position.
Taylor is projected to be the starting tight end for the offense going into the season, but the position goes deeper beyond just himself. There are currently seven tight ends on LSU's roster, and they have shown why they were recruited to come to play for the team.
"All of them just had their attributes and they can perform when they're putting the game into what they do best," Taylor said after Monday's practice. He continued by going through certain teammates and listed skill sets on what they bring to the offense.
Taylor led all tight ends on the team with 38 catches for 414 yards and three touchdowns. He was the third overall on the team in receiving yards, but he is not worried about how the tight end position looks when he is not on the field.
"We got depth there and rotate like crazy, so we keep fresh legs. They all know what they're doing. They know to a high level," he said.
Taylor will continue to catch passes from returning quarterback Jayden Daniels.