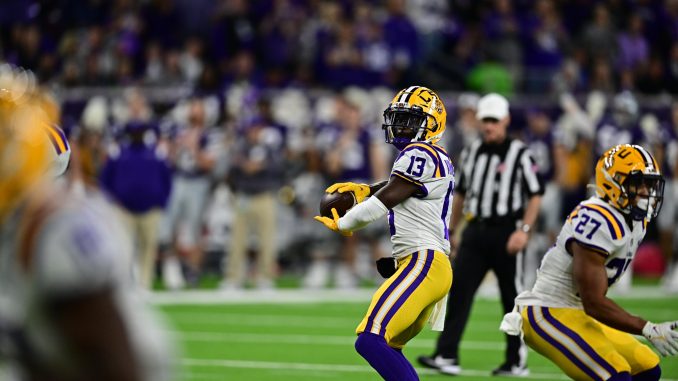 LSU's massive offensive linemen Ed Ingram and Austin Deculus were carrying
teammate Jontre' Kirklin in their arms Jan. 4 after the TaxAct Texas Bowl when the senior asked to be let down to the turf at NRG Stadium.

Kirklin walked toward what remained of LSU's crowd that witnessed the Tigers' 42-20 setback against Kansas State. He waved and blew kisses to a group that included his mother, then clasped his hands and bowed his head in reverence with the Tigers' band working its way toward the end of the school's alma mater.

He wanted to soak it in for what proved to be the last time, announcing on Jan. 9 that he would declare for the 2022 NFL Draft instead of returning for an additional year of eligibility.

"Was giving all of my thanks to all of the fans who stayed and finished out the game," Kirklin said afterward. "I was so honored and blessed. I dropped a few tears. I heard the last alma mater song of my college career."

Teammates such as freshman running back Corey Kiner and senior defensive end Soni Fonua came over to embrace Kirklin and in a sense say thanks.

To that point Kirklin, who passed for 138 yards and three touchdowns against Kansas State, had spent a rather indistinguishable five seasons at LSU, a player that with plenty of promise coming out of Lutcher High School, found himself parked on the Tigers' depth chart, waiting his turn behind other talented players.

Former LSU head coach Ed Orgeron long sung the praises of Kirklin's character because of his ability to be a team leader despite less than desirable playing circumstances. He did what was asked of him, moved from defensive back to wide receiver, even looking for opportunities on special teams and during his team's preparation for the CFP national championship, gave the defense his best version of Clemson quarterback Trevor Lawrence at scout team quarterback. He contributed a tackle on special teams in the Tigers' 42-25 victory that earned him a national championship ring.

It was consistent with Kirklin's character to put the team first, not his own interest. He took that to another level with LSU's literally staggering into its final game of the season – a 6-6 team on fumes with little to play for other than pride.

Because of injuries, opt-outs and transfers the Tigers' roster had been reduced to a scant 38 scholarship players or 47 players under the NCAA maximum, including zero quarterbacks and none that had ever thrown a pass in a college game.

The reset on LSU's quarterback quandary went something like this: Sophomore Max Johnson, who started the entire season and passed for 2,815 yards and 27 touchdowns, transferred to Texas A&M after the regular season.

True freshman Garrett Nussmeier, who passed for 329 yards and 2 TDs in four games, did not receive a waiver from the NCAA that would make him eligible to play in the bowl game and still retain his redshirt year.

Preferred walk-on freshman Matt O'Dowd, who was listed as Johnson's back-up for the Texas A&M game, was injured in practice and unavailable to play.

That left LSU interim coach Brad Davis with few options to consider at the most important position on the field. While there was chatter that no one would have blamed the Tigers for bowing out of the Texas Bowl, Kirklin was a player willing to make the ultimate sacrifice for his team, to make sure the game went on and that 10 seniors had one final opportunity to represent the purple and white.

"He is the epitome of a selfless kid," Davis said. "What I mean by that is he probably didn't have the career that he expected coming out of high school, and yet, he never complained. He never wavered in his commitment to LSU. He never thought of transferring or quitting. He was the polar opposite. He was positive, selfless, and giving. He was encouraging to his teammates."

Kirklin was the catalyst in back-to-back Class 3A state championships at Lutcher in 2015-16, combining for 10,500 total yards and 147 touchdowns. When he arrived at LSU, Kirklin was behind future NFL players Donte' Jackson and Kevin Toliver at defensive back where he played in 12 games. He asked to move to the offensive side of the ball in 2020 after standout wide outs Justin Jefferson and J'Marr Chase were gone from the '19 title game, and played in the shadow of Terrace Marshall, catching 13 passes for 184 yards and 3 TDs.

Two games into the COVID-19 impacted season, Kirklin returned to the end zone for the first time in five years. He turned a short, tunnel screen pass into a 28-yard touchdown in a 41-7 win Oct. 3 at Vanderbilt – the first of his college career.

Kirklin's career didn't continue on such a trajectory, serving a four-game suspension to the start of '21 season for an undisclosed violation of team rules. He wound up playing in nine games with four catches for 49 yards and would have served in a reserve role for the bowl game until embracing the opportunity of a lifetime.

"I had one last chance to play with my brothers," he said.

Because Davis conducted most of LSU's bowl preparations in the dark to conceal his plans at quarterback, there wasn't any buildup of Kirklin in the days leading up the game. If he wasn't already a team favorite, Kirklin further endeared himself to his teammates with his selfless act, enabling the Tigers play a game that got out of hand early.

Kansas State led 21-0 and converted a pair of interceptions from Kirklin into touchdowns and a 35-7 advantage on the first play of the fourth quarter. Kirklin rushed 11 times for a team-high 61 yards that included a long of 16 yards. He connected with Jaray Jenkins right before halftime on a 22-yard TD\ that made it 21-7.

Trailing 42-7, LSU kept playing and Kirklin passed for touchdowns of 15 and 81 yards, respectively, in the final 3 ½ minutes of the game – including the final score on the last play of the game.

The 5-foot-11, 185-pound Kirklin, who had 199 total yards, became the eighth player in LSU history to throw for at least three touchdowns in a bowl game, making him an unlikely entry into the school record book in a tie for fifth with household names such as Tommy Hodson, Bert Jones and Rohan Davey.

"I wasn't really nervous," Kirklin said. "I was just out there having fun and trying to win this game."