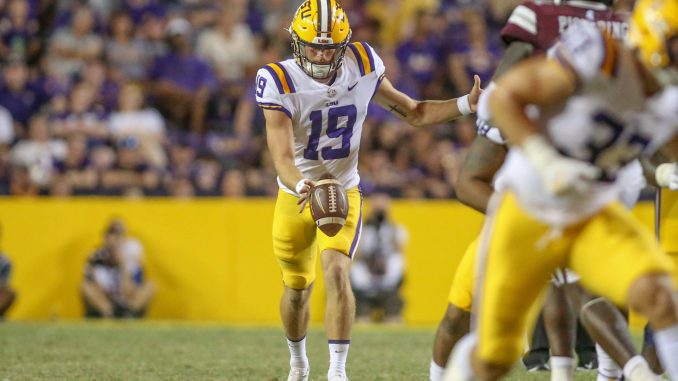 It was always one of the sweetest views on Jay Bramblett's ride home during his career at Hillcrest High School in his hometown of Tuscaloosa, Alabama.
For those aspiring young football players with dreams of playing for the University of Alabama, Bramblett's eyes lit up at the site of the gargantuan-sized Bryant-Denny Stadium, a symbol of hope for those with such ambitions.
Bramblett played for his father Mike at Hillcrest with visions of following in his father's footsteps of not only attending Alabama, like his mother and two brothers, but playing for the Crimson Tide. He envisioned such a scenario, running out in a red and white uniform to the roar of more than 100,000 faithful at Bryant-Denny.
Five years after graduating approximately five minutes away from the venue, Bramblett will get his first opportunity to play in his favorite stadium as a child – as the opposition – when the fifth-year senior punter accompanies LSU into the annual SEC grudge match on November 4.
"I want to try and have the approach that every game is that game," Bramblett said. "I want to perform as well as I can in every single game. Since I've been at LSU and been home, I drive right by the stadium heading home. You can see it from the interstate. I've kind of been dreaming about that for as long as I can remember.
"To get to go home and play in that stadium you grew up watching games in … and knowing how many people I know will be there," Bramblett continued. "To go there and have a chance and play them and hopefully figure out a way to win that one, too. That would be super special."
Scholarship offers didn't flow in abundance once Bramblett concluded his career at Hillcrest. He was the team's quarterback and an established punter ranked No. 2 nationally with a 45.1-yard average and signed with Notre Dame and head coach Brian Kelly. The best the hometown Crimson Tide could do was a preferred walk-on offer and off Bramblett went more than 10 hours and 675 miles away.
Bramblett immediately won Notre Dame's starting position his freshman year and never let go. He steadily increased his punting averages each year, reaching 43.1 yards with a long of 72 yards in 2021, but decided to enter his name into the NCAA transfer portal with the hopes of getting closer to home.
He settled for the south when Kelly, who had become the new head coach at LSU, appealed to the 6-foot-2, right-footer to be part of a rebuilding project where the Tigers headed into the offseason with 39 scholarship players after a 5-6 season.
Bramblett, the only player from Notre Dame to reconnect with Kelly at LSU, provided the Tigers' new coach with more than just an experienced punter. He was also a terrific teammate and part of the foundation Kelly was looking to shape a new culture with.
He was the team's No. 1 punter and holder on all extra points and field goals. He improved for the fourth year in his career with a 44.5-yard average on 49 attempts – ranking him seventh on the school's single-season list and fourth in the SEC.
Bramblett had 15 punts that traveled 50-plus yards with a season long of 66 against Tennessee with 18 of those landing inside the 20-yard-line.
"One thing I've prided myself on, I've gotten better every single year numbers wise," Bramblett said. "I was happy with it, but I know that I can still do more and be better. There's not a lot of perfect punts on the stat sheet from last year. There's always things I can do better in terms of direction and hang time."
Bramblett had a season-high 10 punts with four punts downed inside the 20 in a 21-17 road win over Auburn and had a season-high 51.5-yard average in a 63-7 Citrus Bowl win against Purdue.
There was no debate, though, when it came to time to name the season's most memorable moment: a 32-31 overtime home win over Alabama.
Bramblett played a key role in that win, having three of his six punts downed inside the 20-yard line and limiting the Tide's return game to zero yards.
"We ended up getting into some good situations and kept them pinned deep," Bramblett said. "Whenever you've done that, against Auburn as well, it's always a huge deal. Getting to be a part of that was super special," Bramblett said. "I felt like was able to help a little bit in terms of keeping their returner (Kool-Aid McKinstry) hemmed up, not giving him an opportunity to return the ball."
Bramblett can't wait for the rematch.
First, he decided to return to LSU for a fifth year and will complete work in December on his master's in leadership and human resource development. He's also looking forward to the Tigers defending their SEC West title, a development that will likely hinge on the LSU-Alabama winner.
"I'm already telling people don't count on it (tickets)," Bramblett said. "You better start buying them because you're probably not getting them from me."