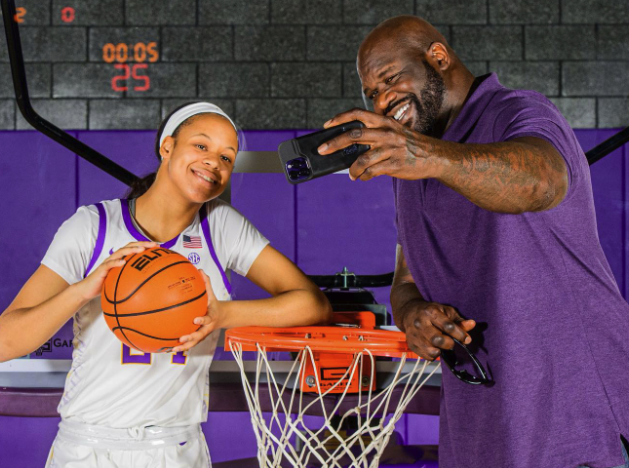 Six months after taking an unofficial visit to LSU with her famous father, Class of 2024 four-star forward Me'Arah O'Neal has included the national champion Tigers among her eight finalists.
Six-foot-four Me'Arah O'Neal, the youngest daughter of former LSU All-American and NBA legend Shaquille O'Neal, said LSU is part of a group of schools she will pick from this month. She also included Arizona State, Baylor, Cal, Florida, Georgia Tech, Kentucky and Tennessee.
"I'm definitely big on relationships," O'Neal said in a July interview with the Lexington Herald Leader. "So whichever school is most invested and where I'll have a successful career is definitely where I will end up."
Me'Arah O'Neal was accompanied by her father during LSU's Senior Day in February. The Tigers defeated Mississippi State, 74-55, to cap a weekend with Me'Arah spending time with head coach Kim Mulkey and the entire team that included her appearing in a TikTok video with LSU All-American Angel Reese.
She received a scholarship offer from the Tigers in April.
O'Neal, who can handle the basketball with the ability to knock down the perimeter shot, helped Episcopal High of Bellaire, Texas (20-10) to the final of the Southwest Preparatory Conference state championship in 2022-23. She was voted to the Private School All-State first team by the Texas Association of Basketball Coaches.
She moved up seven spots in the ESPN HoopGurlz national rankings to the 35th best prospect. She averaged 11.7 points, 7.0 rebounds and 2.3 blocks for the CyFair Elite EYBL summer team – including a monster double-double with 21 points, 12 rebounds with five assists and three blocks against the Sports City Angels.