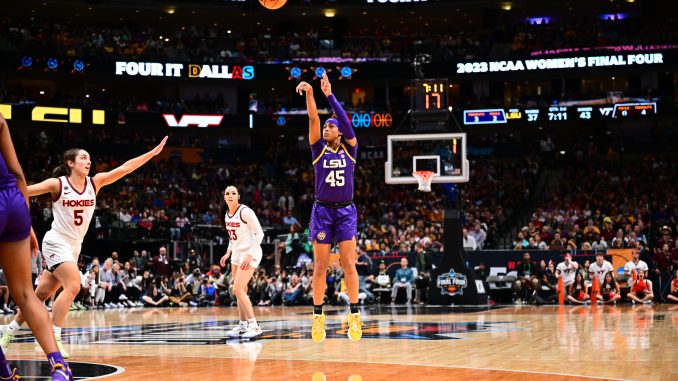 Before there was the program's first national championship, a 102-85 victory over Iowa, the LSU women's basketball team had to complete the comeback to get there.
The Tigers (36-2) of coach Kim Mulkey trailed 59-50 to Virginia Tech through three quarters in the national semifinals two days before when fifth-year point guard Alexis Morris and All-America forward Angel Reese combined for 21 of the team's 29 points in the crucial fourth quarter for a 79-72 victory at American Airlines in Dallas.
Many of the same headliners from both teams are back to highlight a blockbuster non-conference matchup when LSU hosts Virginia Tech at 8 p.m. Nov. 30 at the Pete Maravich Assembly Center in the SEC/ACC Challenge.
"We had to play defense," Reese said then of her team's fourth-quarter rally . "We had to come together and believe in each other and play defense. The game wasn't over. We've been in situations like this before. Just trusting and believing in each other."
Because of the amount of experience that will be back on both sides, coupled with an infusion of new talent, the game figures to be a top 10 matchup.
In ESPN's Way-Too-Early Top 25, compiled by national women's basketball writer Charlie Crème, LSU is the nation's preseason No. 1 ranked team and Virginia Tech is No. 9.
The Hokies of coach Kenny Brooks will have one of the nation's top combinations in 6-foot-6 center Elizabeth Kitley, who returned for her fifth season, and senior guard Georgia Amoore.
Both players were prominent figures in Virginia Tech (31-5) leading 34-32 at halftime and by as many as 12 points over LSU in the third quarter before taking a nine-point lead into the final quarter. Kitley had a double-double with 18 points and 12 rebounds, to go with seven blocked shots, and Amoore had four 3-pointers to fuel her 17 points.
Another player returning for her fifth season, guard Cayla King, had 14 points. The Hokies also signed 6-2 forward Alanna Micheaux from the transfer portal where she averaged 13.8 points and 7.9 points last year at Minnesota.
Morris led LSU with 27 points and Reese had a double-double with 24 points and 12 rebounds and graduate student LaDazhia Williams 16 points in the win over Virginia Tech.
SEC Freshman of the Year Flau'jae Johnson, who scored seven points and had five rebounds, gave the Tigers the lead for good on a steal and layup with just under five minutes to play. The Tigers, who shot 61% in the fourth quarter, went on a 15-0 run and opened a 72-62 lead with 3:05 left.
Reese and Johnson return along with guard Kateri Poole as starters from the Final Four team along with guards Last-Tear Poa and forward Sa'Myah Smith. The Tigers bolstered their roster this offseason with the singings of All-America guard Hailey Van Lith of Louisville and Aneesah Morrow of DePaul, to go with the nation's No. 1 recruiting class led by top-rated prospect Mikaylah Williams of Parkway.
SEC opponents released
LSU also learned its Southeastern Conference opponents and where they will play those teams during the 2023-24 season.
The marquee matchup will be LSU-South Carolina at Pete Maravich Assembly Center. The Gamecocks have defeated the Tigers in each of the past two seasons.
LSU, the league runner-up South Carolina last season, will also host Arkansas, Florida, Kentucky and Missouri. The Tigers will travel to Georgia, Ole Miss, Mississippi State, Tennessee and Vanderbilt and share a home-and-home series with Texas A&M, Auburn and Alabama.
The times, dates and TV information will be announced at a later date.