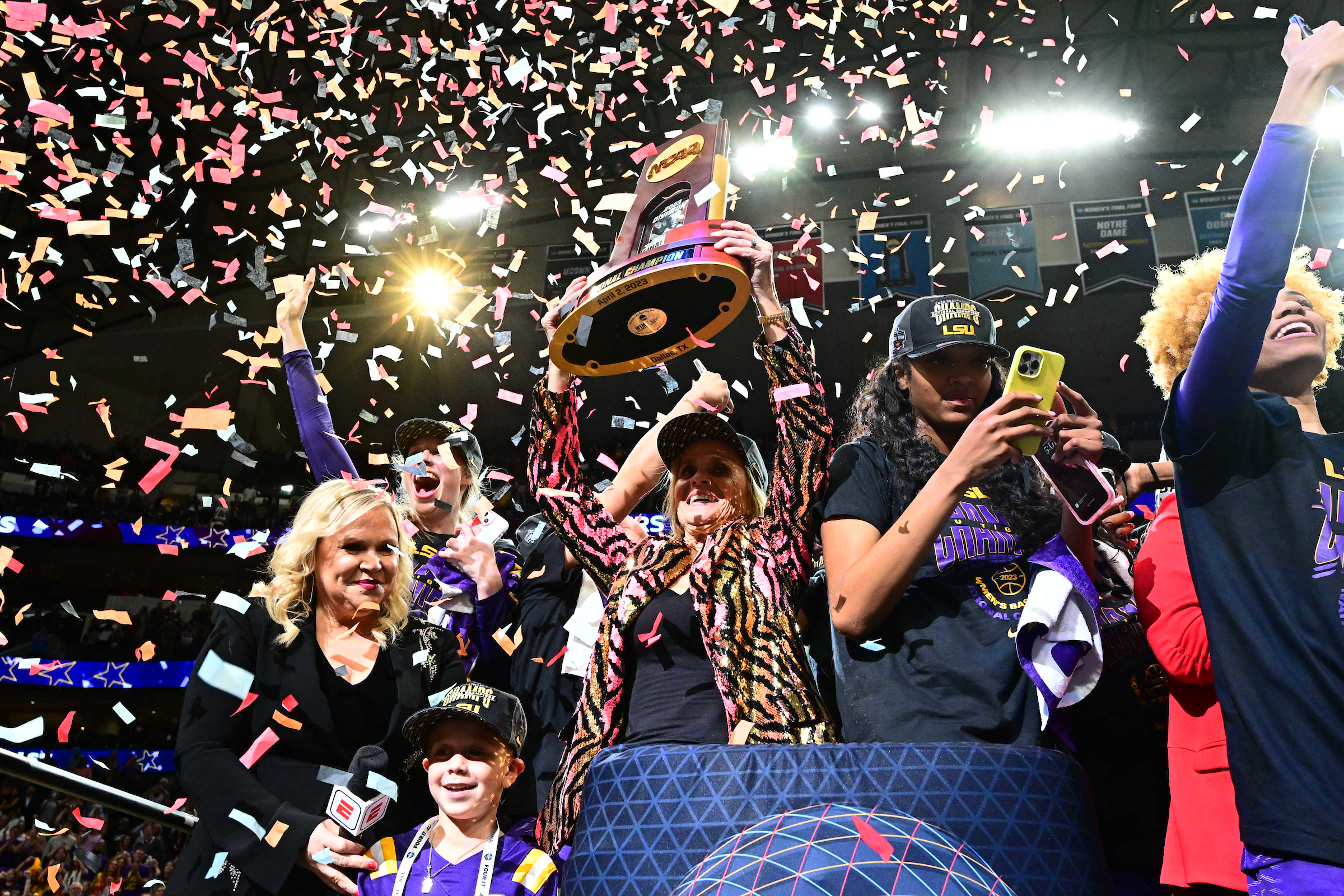 The tears started flowing for LSU coach Kim Mulkey with just over a minute remaining in what was going to be her team's coronation.
In just her second season at LSU, Mulkey brought the Tigers to the summit of women's college basketball, defeating Iowa 102-85 in Sunday's NCAA championship game before a capacity crowd of 19,842 at Dallas' American Airlines Center.
LSU (34-2) won its first national title, scoring a championship-game record 102 points to eclipse the previous mark of 97 set by Texas. The Tigers became the third No. 3 seed to win a national title.
Mulkey joined an elite group of college coaches with the fourth national championship of her career. She only trails UConn's Geno Auriemma's 11 and Pat Summitt's 8. She became the first coach to ever win national championships at two different schools, winning her first three at Baylor.
"With about 1:30 to go, I couldn't hold it. I got very emotional," Mulkey said. "That's really not like me until the buzzer goes off, but I knew we were going to hold on and win this game. I don't know if it's the mere fact that we're doing this in my second year back home. I don't know if it was the fact that I am home. I don't know if it was looking across there at my daughter and my grandchildren. I don't know if it was looking across at LSU. I don't know what it was, but I lost it. Very, very emotional and tears of joy."
The Tigers, who shot 54.2% (38 of 70), were deadly from the perimeter with 11 of 17 shooting from 3-point range (64.7%) after averaging five a game during the NCAA tournament.
Guard Jasmine Carson came off the bench to score 21 of her team-high 22 points on 7-of-8 shooting, including 5-of-6 trifectas.
Fifth-year guard Alexis Morris, tasked with guarding Iowa All-American Caitlin Clark, poured in 19 of her 21 points in the second half and 15 in the fourth quarter.
Graduate student LaDazhia Williams scored 20 points and had five rebounds, sophomore All-American Angel Reese broke the NCAA single-season record with her 34th double-double of the season with 15 points and 10 rebounds and freshman Flau'jae Johnson added 10 points, seven rebounds and four assists.
Reese was named the game's Most Outstanding Player.
Behind Carson's production, LSU's bench outscored Iowa, 30-6 and the Tigers outrebounded the Hawkeyes. 37-26.
"This wasn't about me. This is all about the supporting cast," Reese said. "Everybody has played a role all season. Tonight, just coming from the bench, Jaz, (Last-Tear) Poa, Sa'Myah (Smith), they came and stepped up and played big. Jaz didn't want to go out as a senior, go out the wrong way and wanted to win. So she did whatever it takes to win."
Second-seeded Iowa (31-7), playing in its first Final Four, was paced by Clark's game-high 30 points on 9 of 22 shooting and 8 3-pointers. Kate Martin and Monika Czinano each scored 13 and Gabbie Marshall 12. The Hawkeyes shot 50% (28 of 56) from the field and 30% (14 of 30) from 3-point land.
"I thought they played a phenomenal game," Iowa coach Lisa Bluder said of LSU. "They shot the ball really, really well today. Jasmine Carson came off the bench and played extremely well. She did better than what we thought. They just were ready to go. They did a great job."
Carson was at the center of LSU's blistering second-quarter performance, taking over with Reese and starting guard Kateri Poole on the bench with two fouls. She hadn't scored a point in her previous three games and was averaging just two points during the NCAA Tournament.
The West Virginia transfer made all seven of her field goal attempts, including five from 3-point range, to turn a back-and-forth game early in the quarter to a one-sided affair that reached a 17-point lead by halftime. With the Tigers pressed for time, she took a pass and hurriedly put up a 3-pointer that banked in at the buzzer.
Clark, the nation's consensus Player of the Year, gave Iowa hope and sparked a 15-2 run midway through the third quarter that included two of her team's four 3-pointers, reducing LSU's lead to 63-54 at the 5:55 mark.
Czinano's inside basket with just under three minutes left pulled the Hawkeyes to within 69-62.
LSU didn't buckle.
No threes. The only thing I kept telling my teammates, whatever we do, we'll take twos over threes.
"Iowa is a great team," Morris said. "We knew they were going to make runs. (Assistant) Coach (Bob) Starkey had been telling us in the huddle they're going to make runs and we have to stay composed. As a leader on the team, I have to keep everybody calm in those moments. It's very important not to panic. When I do score in those moments, it just settles my team down. It keeps everybody cool-headed and level-headed in those moments."
Williams knocked down a 17-footer, Reese scored on an offensive follow and Morris made a pair of free throws with 1:03 to go for a 75-64 lead when Clark was assessed a technical for her fourth personal of the game for throwing the ball out of bounds.
Morris took over the final 10 minutes on a series of mid-range jump shots and also fed Williams on a layup that made it 7:19 to play.
She scored eight of her team's next 10 points, including a runner after milking the shot clock, for a 95-82 advantage. A corner 3-pointer from Poole was another example of the Tigers working time off the game clock and scoring to extend their lead.
Morris capped the victory by banking in a 3-pointer with 24.4 seconds left.
"We've got a lot of big personalities on the team," Reese said. "We go at it all the time. But at the end of the day, we love each other, and we're sisters. We got to where we wanted now."