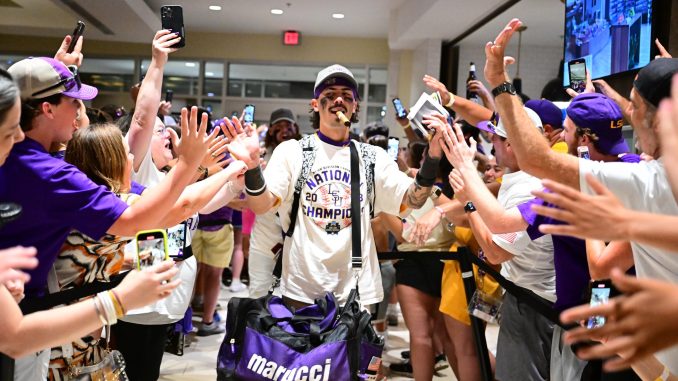 LSU shortstop Jordan Thompson didn't block out the noise that had engulfed Charles Schwab Field during his third plate appearance of Monday's College World Series game with Florida.
Just a day before Thompson, the team's bedrock at shortstop, was the recipient of plenty of stinging criticism on social media for his play during the team's trip to Omaha, especially during the Tigers' three-game series with Florida for the national championship. He had struck out twice and went 0-for-4 and committed a pair of errors that contributed to five unearned runs in the Gators' runaway 24-4 victory in Game 2.
Thompson entered Monday's winner-take-all matchup having gone hitless in his previous 14 plate appearances with 12 strikeouts, a microcosm of his 1-for-30 struggles at the CWS.
"There was never any thought of taking him out," LSU coach Jay Johnson said of his starting lineup where Thompson resided for the previous 70 games of the season. "And in the last 24 hours, just kind of my wife (Maureen) asking me, 'Is Jordan OK', this and that. Not really knowing all of it – and so I brought him into my room this (Monday) morning and go, 'Hey, man, we're winning the national championship tonight. And you're going to do something special'. But is there anything I can do to help you get to that point tonight? And he looked me in the eye and said, "I'm good." And I saw tonight happen before it happened."
Thompson provided a spark to a pivotal six-run second inning, driving in LSU's first run with a single to left field. He also singled in his second at bat, driving in a key with two outs in a four-run fourth, and was also aboard for Josh Pearson's two-run homer that same inning which resulted in an offensive onslaught in the Tigers' 18-4 victory and seventh national championship.
So, when Thompson dug into the batter's box for his third plate appearance in the fifth, a rhythmic chant from LSU's faithful of J-O-R-D-A-N T-H-O-M-P-S-O-N, rang out amongst the crowd of 24,878. Despite flying out on a full count to center field with the bases loaded, the gesture was certainly uplifting after a deflating experience more than 24 hours before.
"I did hear them, I thought that was pretty cool," Thompson acknowledged. "I think coming into today (Monday), we all knew this was going to be the last game of the season no matter if we won or lost. We just really wanted to leave it all on the line and not give an inch. So, I think not only for myself, but everyone just came out here ready to go. From the moment that we all woke up and saw each other in the morning, when we had our team meeting, we knew what we wanted to do today. We knew what it was going to take for us to be able to accomplish it. I just can't be prouder of my guys."
Thompson's performance in the national title-clinching game included a 2-for-6 effort at the plate with three RBIs, matching a team high, and he was also busy with a team-best eight total chances on defense. It was his first multi-hit game since LSU's 14-0 triumph over Kentucky on June 10 in the first game of the NCAA Super Regional and his three RBIs exceeded his total of one in his previous eight games.
"We just wanted to leave it all on the line," Thompson said. "It's just an unexplainable feeling. I wouldn't want to do it with a different group of guys. These guys are my brothers. I love every single one of them."
Before Johnson arrived at LSU two years ago, he attempted to recruit Thompson out of Helix High in Chula Vista, California to Arizona. He recalled trying to bring him in as a pitcher, but by the time Thompson, who was 15-year-old, was committed to LSU and then coach Paul Mainieri and assistant Nolan Cain.
"I remember seeing him walking by at a tournament," Johnson said. "He had just picked LSU over Arizona. And he just looked at me and I'd shake my head and say, 'I'm still mad at you. I'm still mad at you'. (He) Has a great family. Cole Holland, his coach at Helix High School, is a good friend of mine. There's a lot of history there before me taking the (LSU) job. As I mentioned with Dylan (Crews), knowing Jordan was here for at least a couple of years, that was an appeal to it."
Johnson commended Thompson's play in 2022, a season that ended in the regional championship defeat at Southern Mississippi, where he was sixth on the team with a .286 average to go with six homers and 36 RBIs. He also led the team in errors with 17, in part because of an ailing knee that required surgery before the start of the '23 season.
"Last year, the guy got so many big hits," Johnson said. "But he made so many errors at the beginning of the season nobody paid attention to how important a player he was to the team. And it pissed me off to be honest with you. It pissed me off frankly because we wouldn't have been in a regional last year if it wasn't for Jordan Thompson."
Thompson was an improved player defensively this season. He only committed one error in his first 25 games and had a career low 12 entering the CWS.
Then, his difficulty at the plate, with only a single in four at bats in LSU's 6-3 opening win over Tennessee was compounded with an error in the Tigers' 5-0 win over the Volunteers and two miscues in Game 2 of the series with Florida.
Thompson, who's started in 194 of 195 games, showed off his signature steady hand in the field in Monday's finale, dropping into shallow left field to make a catch off the bat of Ty Evans to close the second inning – a half inning after his RBI-single had ignited his team's six-run eruption.
Thompson's second single brought in Brayden Jobert, who doubled, and he scored ahead of Pearson's homer to right for a commanding 10-2 advantage.
He helped starter Thatcher Hurd, and relievers Riley Cooper and Gavin Guidry, close out the national championship with his glove. He snared a liner off the bat of BT Riopelle where he was aligned perfectly as the team's second baseman in shallow right. There was also a line drive from Wyatt Langford for the first out of the sixth and grounder from Colby Halter to end the seventh.
Thompson contributed the first two assists on groundballs in the bottom of the ninth, and Guidry's strikeout for the final out, set off a chain of emotions with LSU's team celebrating its seventh national title with a dogpile on the infield.
Not long thereafter, Thompson and Johnson shared a warm embrace, symbolic of the journey the two had shared and a devout belief the coach always had in his player.
"I think everyone's going to probably remember us because of this national championship," Thompson said. "And I think for me the greatest honor I've had being at LSU and playing shortstop for three years is to be able to go to battle with these guys every single day – practice, workouts, early mornings, days where you're tired but nobody cares.
"And those are things that you can't trade for the world," Thompson continued. "And I just can't be more blessed and grateful for the opportunity that we all had to be together and to be able to share this moment. It's something that I'll always remember."