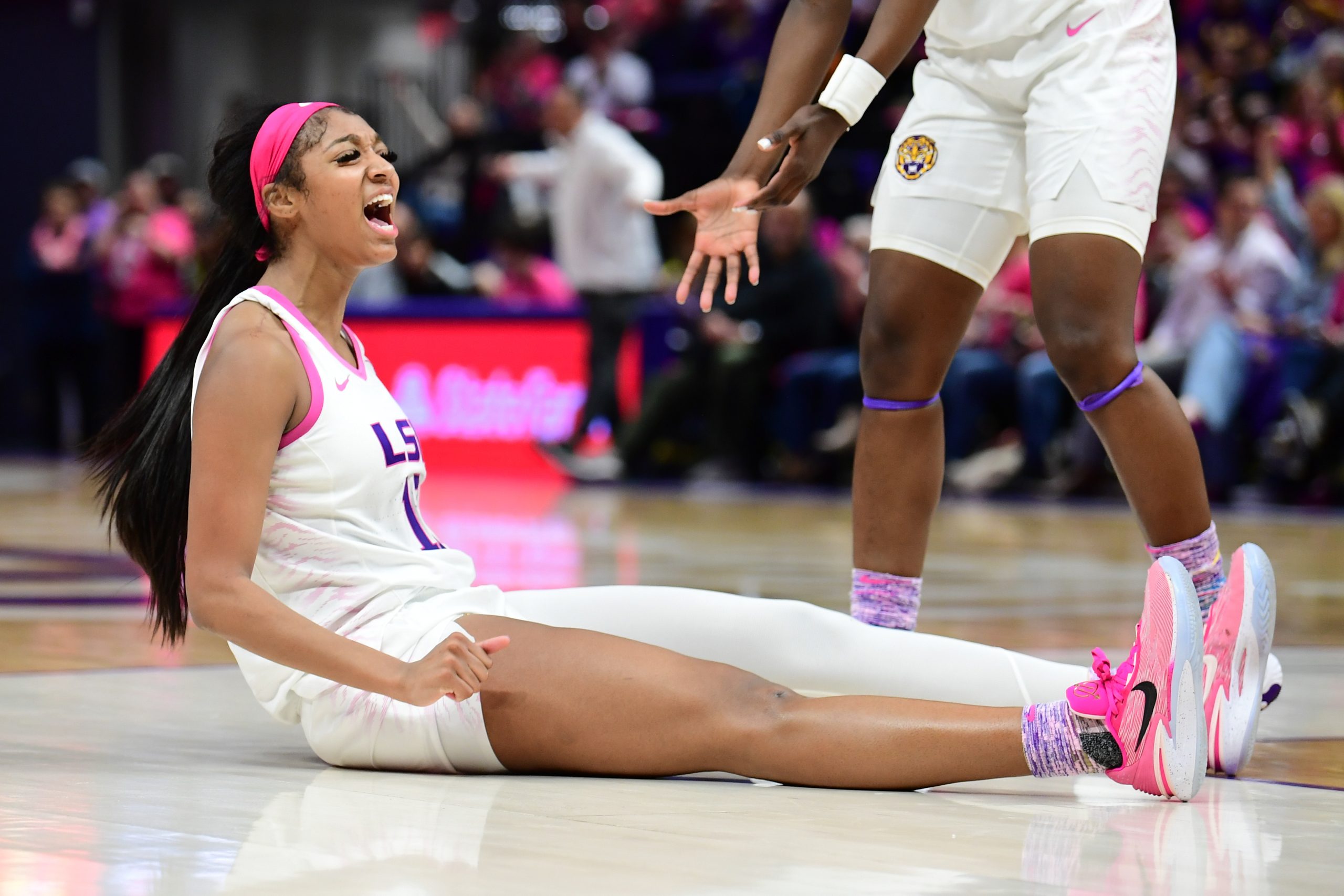 LSU was looking for a bounce-back game following its first loss of the season. So was sophomore forward Angel Reese.
After having her school-record streak of double-doubles snapped on Sunday, Reese responded with a career-high 36 points and had 20 rebounds to power No. 5 LSU to a 69-60 victory Thursday over Ole Miss is Southeastern Conference play at Pete Maravich Assembly Center.
"Everybody's grinding it out in February," LSU coach Kim Mulkey said. "Everybody looks tired, everybody's trying to get one more win and these games in the end are going to be like that. There may be one team in America that it's not going to be like that and that's South Carolina. They're just that dominant.
"Every game is going to look like this," Mulkey added. "I'm not going to say it was an ugly game. It was low scoring. Give credit to both teams. They were really trying to gut it out."
LSU was playing for the first time since Sunday's 88-64 road loss to No. 1 South Carolina that knocked them out of a tie for the SEC lead. The Tigers trailed for a total of 22 seconds but found themselves tied four times through the first 24 minutes before defeating the Rebels for the 10th consecutive time.
Reese, who made 12 of 21 shots and made 12 of 14 free throws, scored 21 points in the second half with 10 of those during a tense final quarter in which LSU (24-1, 12-1 in SEC) had to fend off a determined Ole Miss team.
"Alexis has been playing her best basketball," Mulkey said. "She didn't shoot it well tonight, but Alexis makes the big buckets when you need them."
Reese's game-high total matched the 11th highest scoring total in school history, a point total shared by seven other players with Cornelia Gayden the last player to score 36 points in 1991.
"I picked on Angel," Mulkey said. "Four (her number of rebounds against South Carolina) was her name all week when we got back from South Carolina, and she knew what I was talking about. I told her I would like to see 12 or more rebounds tonight. I think she battled."
Guard Alexis Morris overcame a sluggish 3-of-15 shooting game from the floor to finish with 15 points that included 9 of 10 shooting from the free throw line. Her 15-footer from the baseline provided LSU with a 63-56 lead with 1:50 remaining and the Tigers went on to lead by as many as 67-58 with 33 seconds to go on Morris' two free throws.
The Rebels (20-6, 9-4) made it 61-56 with just over three minutes left when Morris, who was 2-of-17 at the time, made her biggest shot of the game for a seven-point lead.
Reese and Morris combined for 51 points with the remainder of LSU's team totaling 18 points. The Tigers produced 15 points off 21 turnovers, shot 80% (24 of 30) from the free throw line, but were outrebounded 43-42.
LSU's 8-0 run broke a 34-34 tie that started with two free throws from Morris and the first of two key steals from Flau'jae Johnson who made a layup for a 38-34 lead. She also picked up another steal and passed ahead to Jasmine Carson for another layup and 42-34 lead with just under four minutes left in the third quarter.
Reese scored seven of her team's final eight points of the quarter, enabling LSU to open the first of its 11-point leads (49-38) on the strength of a 15-4 run. The Tigers took a 50-41 lead into the final quarter after Reese's free throw.
"I thought defensively we created a lot of turnovers," Mulkey said. "We knew they like to take you off the dribble. We knew we were going to have to gets lot of help because you can't guard people in this day in age one on one much anymore."
Reese provided LSU with another 11-point advantage (55-44) with 8:17 left with a three-point play after following up her own miss. She had another three-point play after getting fouled on a drive to the basket, making it 58-49 with 6:27 left. Angel Baker, who led Ole Miss with 21, converted a steal into a layup and Madison Scott, who added 13, made a free throw to slice the Tigers lead to 58-52 with 5:06 showing.
The Rebels, who shot 41.3% (26 of 63), never got closer than five points.
"I thought when we got up 11 twice, we turned the ball over and they came down and hit a three," Mulkey said. "We get it up to 11 again and we turn the ball over again. Those are learning moments."
Ole Miss took advantage of LSU's subpar shooting and inability to score in the last five minutes, slicing an eight-point deficit to 30-28 by halftime with a 6-0 run.
Reese followed up a missed shot for her 15th point and extended LSU's lead to 30-22 at the 5:06 mark, when the Tigers failed to score again and managed eight points in the quarter. They shot 23% (3 of 13) in the quarter and turned the ball over five times.
Rita Igbokwe's offensive putback ignited Ole Miss' late surge that also included a pair of baskets from Davis, including a steal and layup.
LSU opened a 12-7 lead in the first quarter on LaDazhia Williams' baseline jumper on an assist from Last-Tear Poa, pushing that margin to 17-9 when Morris finished a three-point play and Reese scored on a lob at the 5:11 mark.
Ole Miss countered with a 7-0 run, getting to within 17-16 on Scott's drive in the lane when LSU took a 22-16 lead at the end of the quarter. Reese scored down low and added a pair of free throws in the last 1:39 of play.
"It's one of those games that's going to be a grind," Mulkey said. "I thought we went back to what we've been doing all year and that's get to the foul line, and we did that. We made free throws."