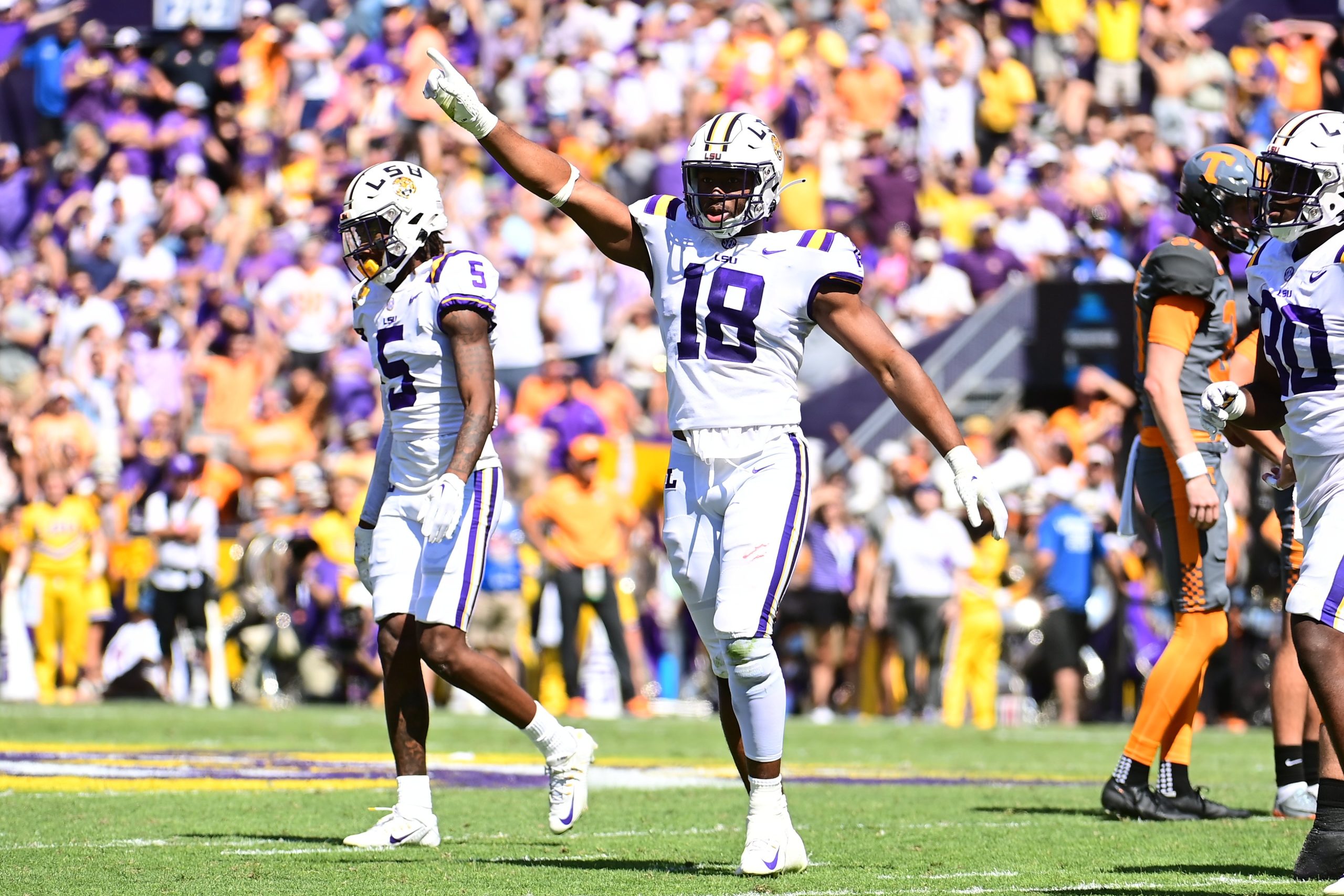 From the get-go on Saturday morning in Tiger Stadium, LSU was practically gone before things even got started.
It was not at all the kind of fast start No. 25 LSU was hoping for against No. 8-ranked Tennessee and its top-ranked, blitzkrieg-paced offense.
Hell, it was not the kind of start anyone – anywhere – would ever wish for.
"That was not what we planned or expected," LSU coach Brian Kelly said. "We expected to play much better than that."
Notorious this season as a slow starter, especially offensively, LSU needed to get things heated up early on offense. And 'stay in its cleats' completely on defense every play against the high-faluting Vols' offense led by Heisman hopeful Hendon Hooker with its gaudy 48.5 points per game and nearly 560 yards of total offense if it stood a chance.
Everybody from the Great Smoky Mountains to the Atchafalaya Basin knew as much coming in.
Kelly knew. He said so more than once.
LSU wide receiver Malik Nabers knew. He said so, too. On social media, in fact. Nabers talked about how he needed to step up, personally, and run better routes, make better catches. Do more individually.
Kelly himself talked openly about how LSU needed QB Jayden Daniels, who had not thrown an interception all year and managed to pass for only 80 yards in a resilient come-from-behind win against Auburn at Jordan-Hare Stadium last week, to start slinging the pigskin more.
Damn the conservatism. Forget about guarding against interceptions.
Daniels, for his part, reportedly held a wide receivers-only meeting during the week where he promised Kayshon Boutte, Nabers, et al, that he was going to throw the ball more. Give them more shots at 50-50 balls, etc.
LSU meant to start fast. Meant to open it up and to air it out. Cut down on mistakes. Penalties. And play consistent.
In the end, doing so would translate into a victory against a Top 10 team.
At the very least, doing so would translate into a respectable showing for 25th-ranked LSU that would bode well moving forward into the heart of a season where Kelly was on the record as saying the Tigers were bound to get punched in the mouth at some point.
Auburn punched LSU more than once last week. LSU was resilient, though. Kelly warned resiliency would not be enough this week. LSU needed more than grit and grind to beat this breed of team coming into town.
Strangely enough, even though LSU ended up airing it out, and ended up staying in its cleats on defense – except for maybe two or three plays, including a 45-yard TD pass where Tennessee's Jalin Wyatt blew past anyone wearing white on the field by at least 8 yards.
LSU was, as aforementioned, gone before the get-go.
An old nemesis reared its ugly head once again. Special teams.
LSU's Jack Bech muffed the opening kickoff, fumbled the slippery thing close to the left sideline, and Tennessee managed to recover it at the LSU 27-yard line before the ball could see its way out of bounds.
That was kind of an omen of how the ball would bounce all game long against LSU.
Five plays and less than two minutes into the game, Tennessee led 7-0 following Jabari Small's one-yard run and the point-after.
But then LSU went three and out, punted, and, uh oh! Special teams reared it dadgum head again.
Less than a minute after going up 7-0, Tennessee's Dee Williams fielded LSU's punt at his own 16 and returned it 58 yards to the Tigers' 26.
LSU's defense kept its cleats in the turf when given the chance to and forced a 35-yard field goal from Chase McGrath, who nailed it.
Tennessee 10, LSU 0 – before you could say Peyton Manning three times.
It wasn't supposed to happen like this.
Then things really got weird.
Daniels dropped a few dimes – one to Bech for 14 yards on third-and-13 from the LSU 13, then a completed sweet swing pass to Josh Williams out of the backfield for 19 yards.
Two plays, Daniels and Boutte reconciled their perceived differences with a precision strike for seven yards on an out route to the right.
LSU moved down to the Tennessee 18-yard line with a little more than six minutes to play in the first quarter, but on a third-and-eight, Daniels managed only four yards.
Kelly, trailing 10-0, opted to go for it on fourth-and-four from the Tennessee 14. Daniels dropped, surveyed the field, hit Boutte clean on a short out and with room, and then Boutte stretched.
But Boutte came up short.
LSU failed to convert. It would happen two more times in the first half. That's right. LSU failed on three fourth-down conversion attempts, which is tantamount to turnovers.
Witness impact of fourth-down conversion failure No. 1 for LSU:
Tennessee marches 68 yards in 11 plays while taking only 3:22 off the clock. LSU defense stiffened – bent but didn't break – but McGrath kicked a 38-yard field goal. Tennessee led LSU, 13-0.
LSU put together a seven-play drive on its ensuing possession but stalled on a fourth-and-one from its own 46 when Williams was cold-cocked in the backfield, practically at the mesh point by Aaron Beasley.
Hendon Hooker salivated running onto the field, took his first snap at the LSU 45 and headed for the sideline, nearly beating his TD toss to Hyatt to the sideline.
Tennessee was up 20-0 over LSU 14 seconds into the second quarter.
It wasn't supposed to be that way.
The strangest thing of all, though, about Saturday was that halftime. Daniels had completed 16 of 24 passes for 180 yards to Hooker's 11 completions for 153 yards.
By game's end, Daniels had not only thrown for 300 yards to Hooker's 239, but the first-year LSU quarterback, prone to tuck and run, had lived up to his end of the bargain and opened it up and aired it out.
Yet it didn't really matter all that much in the end.
LSU was simply done before it got going on this day.
"Certainly, when you fumble the opening kickoff and give an extra possession to a team that plays fast and loves extra possessions and spot them 10 points on special teams, you put yourself in a huge hole," Kelly said. "That's what we did. And then, our details were not very good. I could stand up here all day – that falls on coaching. That's on me, and I have to coach better. We've got to coach better; we've got to coach our team better. That's the group we have, and we've got to coach them better."