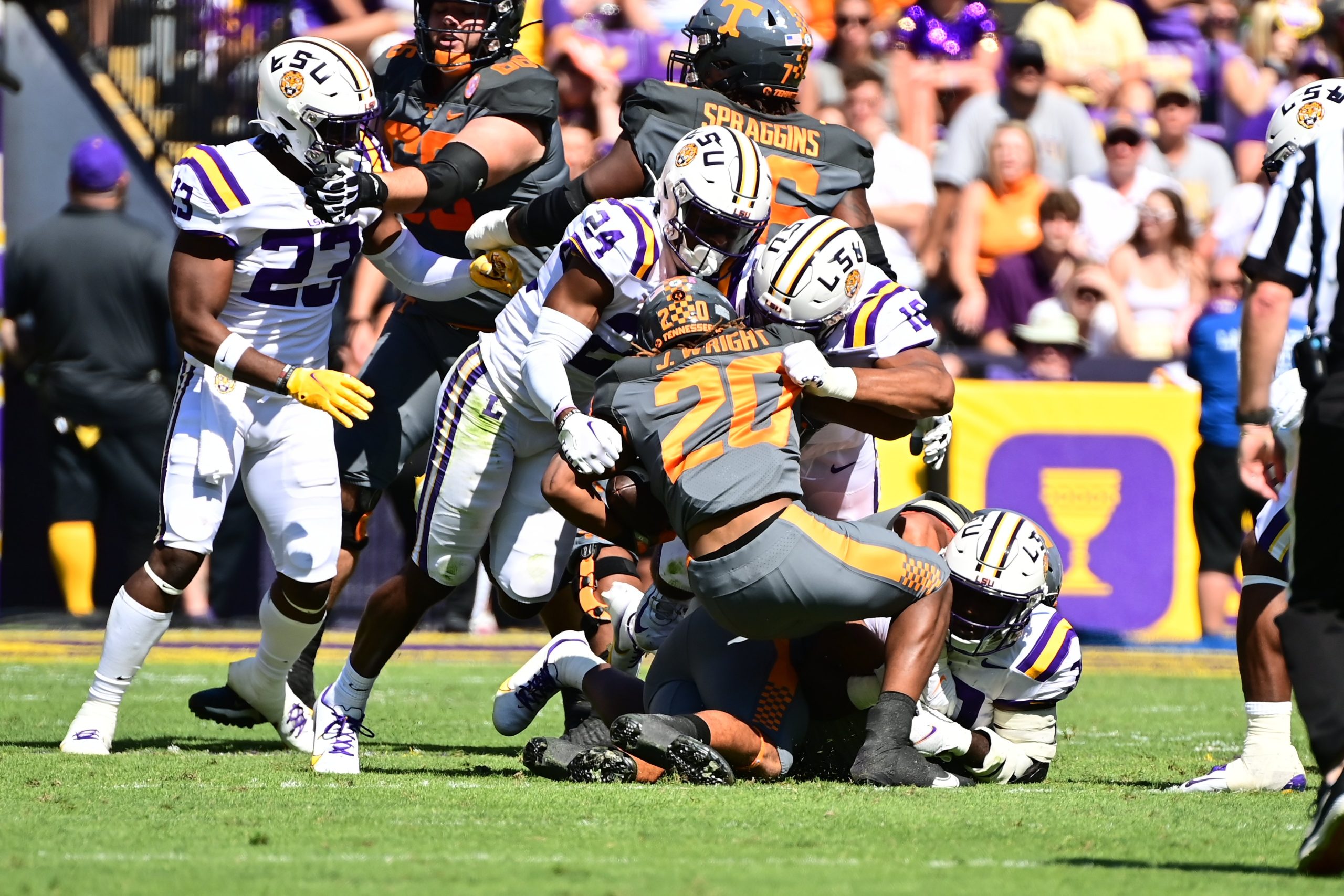 Tennessee has one of the nation's most lethal offenses, capable of scoring from anywhere on the field and at any time.
It was that premise that resulted in the decision of first-year football coach Brian Kelly to take the ball first after his team won the opening coin toss.
The Tigers promptly lost that opportunity when kick returner Jack Bech muffed the opening kickoff and three plays later, the Volunteers were in the end zone.
"We deferred last week, I felt like getting our defense on the field against Auburn's offense was the right thing to do," Kelly said after Saturday's 40-13 loss to Tennessee at Tiger Stadium. "But with this offense, you don't want to commit any more possessions. And so that was what went into my thinking this, this past week."

The propensity in which No. 8 Tennessee continued to score, piling up the game's first 20 points, heaped additional pressure to an LSU offense that hasn't been built on scoring points in bushels.
Throw in the added breakdowns in special teams, coupled with the Volunteers' kicking game, and the Tigers fought an uphill battle throughout Saturday's nationally televised SEC contest.
Tennessee's early 10-0 lead in the first four minutes of the game forced LSU's offense to try and negotiate fourth-down plays.
The Tigers faced fourth-and-four on their second series from the Vols' 14-yard line but quarterback Jayden Daniels' pass to Kayshon Boutte netted three yards following a booth review.
After the failed try, Tennessee made it 13-0 on the first of Chase McGrath's four field goals with 2:26 still remaining in the first quarter.
LSU remained aggressive and created a seemingly makeable third-and-one from its own 46-yard line. Daniels threw the ball away incomplete on third down and Josh Williams was thrown for a one-yard loss on fourth down.
The Tigers were 0-for-3 on fourth-down tries in the game.
"Necessity," Kelly said. "The necessity I felt like we had to make something happen in those situations. I'm not somebody that kind of looks at what happened in the past. I still feel confident in my group. It was a green-go scenario for us. And when we looked at the analytics, it was right on the edge. I could have taken a conservative route there. I just felt like we needed to continue to be aggressive."
Tennessee made LSU pay on the next play.
Quarterback Hendon Hooker dropped back and connected with wide receiver Jalin Hyatt behind coverage on a 45-yard scoring strike to make it 20-0 on the third play of the second quarter.

LSU cut the gap to 20-7 on Williams' 1-yard scoring run with 3:05 before halftime but Tennessee added a field goal from McGrath on the final play of the quarter.
The Volunteers, who gained 263 of their 502 yards on the ground, extended their margin to 37-7 with 2:13 showing in the third quarter on a 14-yard pass from Hooker to Hyatt and Jabari Small's 5-yard run.
"It allows you to really look at clearly the areas that you have to support the program," Kelly said. "You know, the old line, 'we don't have anybody walking through that door that's going to change this football team dramatically'. We have to focus on ourselves as coaches and do the things necessary to make this team better.
"We may be slow to the punch in terms of going to seven-man protections, help our offensive line," Kelly added. "We're going to have to do some things like that and help this football team. They want to win. They're going to play hard. That's why again, I'll say I like this team. I like the grit in them. I like the way they fight. We've got to do a better job coaching."