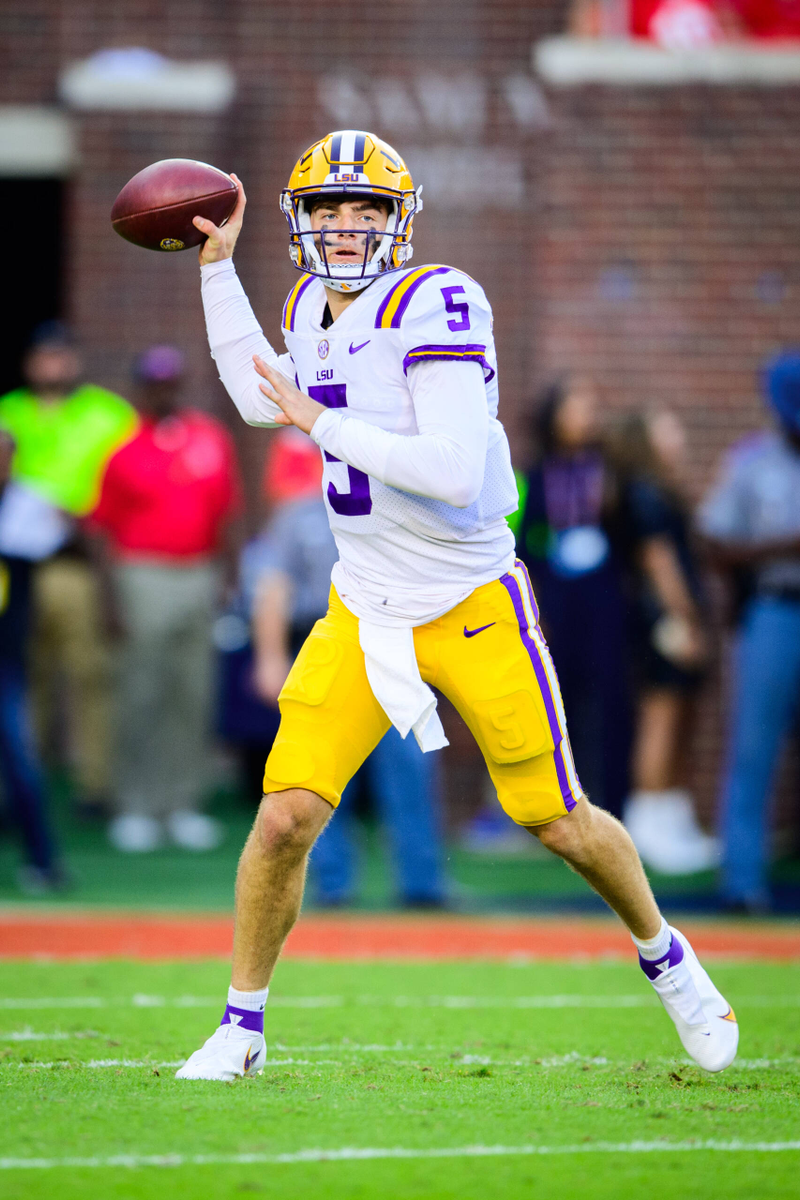 Garrett Nussmeier, gunslinger.
It's a reputation the LSU quarterback simultaneously has embraced, at least to a certain degree, and would rather shed than perpetuate.
In his abbreviated debut running the Tigers' offense 2021 and perhaps
even before, slinging the ball back home in Texas, where his well-known
father Doug Nussmeier coaches Dallas Cowboys quarterbacks.
The younger Nussmeier became known as someone all too frequently
looking to make the big play, make something, anything happen.
Not anymore, not as LSU prepares for its 2022 season under a new head coach – former Notre Dame coach Brian Kelly – and not as Nussmeier, perceived by some as the underdog, vies to wrestle away the starting job in a crowded field of contenders.
"I think I learned a lot from last year, especially being a true freshman, getting to play in some real SEC time," said Nussmeier, who appeared in four games and then, to preserve his redshirt, somewhat controversially opted to not play in LSU's Texas Bowl loss to Kansas State in Houston.
"I think for me personally the big thing was just being more of a manager of an offense, you know. For some reason, I got this, like, 'gunslinger' (tag) that everybody says. But I'm trying to just block that out.
"Yeah, I can take some shots and make some different throws with my
arm. That's gonna happen in a game," Nussmeier added. "But I can't look to do that every play. So that's kind of what I've learned: Just manage the offense. Move the sticks."

'HE'S GONNA LEAD LSU … TO NATIONAL CHAMPIONSHIPS HOPEFULLY'
It is a mentality Nussmeier took into the offseason, and throughout a
15-session spring practice period during late March and April in which the coach's kid – a former NFL quarterback's kid too – grew.
Kelly, who suggested Nussmeier has "the makeup of a great quarterback," especially liked the development he saw from Nussmeier from a technical standpoint.
The key now for this Louisiana native born in Lake Charles?
"Don't overcoach it," Kelly, whose Tigers opened preseason practice Thursday, said after his first spring game as LSU's coach. "I mean, it can be paralysis by analysis, right?
"You start to overcoach that, and then he starts to pull back a little bit,
and you lose a really good quarterback too, so you've got to be careful there. You try to coach him on the things that matter the most, and that is taking great care of the football. He's gonna make some mistakes. I mean, I make mistakes.
"It's just one of those things that I think you've got to be careful with a
guy like that that's really talented, that you don't try to overcoach that, and make sure he takes care of the football," Kelly added. "And if he does that, if he makes a mistake here or there, with the talent he has – just go play football."
It remains to be seen who will start for LSU when the Tigers open Sept.
4 against Florida State at the Superdome in New Orleans.
Nussmeier arguably had the best spring of all four QB contenders, at least from an outsider's eye.
Myles Brennan, injured and out all last season, withdrew from the NCAA transfer portal after Kelly arrived and opted to remain at LSU for his
final season.
It presumably was not to ride pine.
Jayden Daniels transferred to LSU after three seasons spent starting at Arizona State.
It presumably was to improve his already high NFL Draft stock as a starter, not as a sparingly
used backup.
The time may seem to be down the road for true freshman Walker Howard, who could battle with
Nussmeier – if both stay at LSU that long – for the No. 1 job once Brennan and Daniels are gone.
Yet Kelly is quick to include Howard whenever the subject of LSU starting QB candidates arises.
Then there is Nussmeier, who – make no mistake – seems to have the trust of teammates.
"I've got a great relationship with all the quarterbacks," Kayson Boutte, LSU's stat receiver and a likely first-round selection in the 2023 NFL
Draft if he stays healthy, "and I would say Garrett Nussmeier is gonna be a great quarterback for LSU.
"He's gonna lead LSU to win most of the games, to national championships hopefully. I look
forward to watching him play.
"I would say Garrett can kind of do everything. He's versatile, so that's what I really like about him," Boutte added. "I feel like anything you ask
him to do he can do."
'HE'S ALWAYS GETTING
THE MENTAL PART … DOWN'
It's lofty praise.
Jack Bech, another of the Tigers' receivers, knows what Nussmeier can do too. On the field, and off.
Bech and Nussmeier are roommates at LSU, and the two know each other only as roomies can.
Most important for Nussmeier, in Bech's best estimation?
"To just keep doing what he's doing," Bech said while in Atlanta for last month's SEC Media Days. "He's one of the hardest workers on the team.
"He's always getting the mental part of the game down, which I think is maybe – not in our room, not on our team, but kind of the broad spectrum, I feel like – slept on a little bit."
Bech, however, knows Howard well too.
The two were teammates at St. Thomas More High in Lafayette, and they grew up together.
"I played ball with him since I-can't-even-remember-(when). I mean, it's been a really long time," Bech said. "So, it's been a very special connection with him.
"But, being a receiver, and with what's going on now with the QB race, I try to build that
relationship with all four QBs, not just one or two of them.
"So I've been trying to build my relationship with Jayden and Myles, even though they're a little
older, just hanging out with them, throwing with them as well and doing all that, because, like I said, any of the four can be the starter."
Which is exactly what has made the offseason so exciting for those who live to know the identity of LSU's next starting quarterback.
"It's been awesome," Bech said of the competition. "All four quarterbacks are fit to win the job. I
think that we're gonna have one of, some of, the best QBs we've had in a while."
That's saying an awful lot considering it was just three seasons ago that Joe Burrow was busy
leading the Tigers to a national championship and winning a Heisman Trophy.
Nevertheless …
"The depth we're gonna have is gonna be even better," Bech said, "because you're gonna have
somebody starting; two or three or four can be starting as well."
'I'VE ALWAYS BEEN A GAME MANAGER'
Critical for Nussmeier, then, is to separate himself, if that's even possible with other quarterbacks in the room as experienced as Daniels and Brennan.
Brennan doesn't have a ton of game experience, but he is in his sixth year at LSU and he has a trait Kelly really seems to like.
"He knows his limitations," Kelly said.
Daniels, much more dual-threat than Brennan, started 29 games at Arizona State.
Nussmeier played last year as a freshman and Max Johnson's backup – Johnson has since transferred to Texas A&M – against only McNeese, Central Michigan, Ole Miss and Arkansas, finishing the season 29-of-57 for 329 yards and two touchdowns with two interceptions.
Yet he embraces being in the mix of what really has been an open battle so far this year.
"I think it's awesome," he said.
"When you have a room this stacked, it's like it brings the best out in everybody, you know? You
don't have a minute to slack off, you don't have a rep to miss. … That's what competition does
nowadays, you know? You don't run from it. You attack it, and let it make yourself better."
Perhaps most vital to Nussmeier's improvement process is relying on the basics taught to him by his father Doug, who played in college at Idaho
and was a New Orleans Saints backup QB from 1994-97 and in 1998 with the Indianapolis Colts.
Doug Nussmeier declined comment for this story, citing conflicts with his position as a Cowboys coach.
But there's no doubt about what the father passed on to his son, who completed 213-of-293 throws for 2,815 yards and 33 touchdowns with
only five interceptions as a senior in 2020 at Marcus High in Flower Mound, Texas.
"The main goal when you're playing quarterback is to do one thing, and
that's to get a first down and move the sticks," Garrett Nussmeier said. "So that's kind of how I've always looked at it.
"My dad taught me that when I was young: 'Just move the sticks. That's
your job, to get the ball moving, get the team rolling.' So I guess that's been more my kind of mindset. Just move the sticks, and keep the ball moving down the field."
The gunslinger in Nussmeier?
That didn't necessarily come from Garrett's old man, but whatever its
origin it seems unlikely that – as much as it may seem on the surface – it started only after he arrived at LSU.
The kid, after all, has been flinging the ball for a while now.
"I like it a little bit," Nussmeier fessed up upon further questioning by reporters about the label back in the spring.
"You know, I like to throw the ball for sure, I guess you could say. … I
feel like, yeah, that was what I was claimed as."
For better, or worse.
Nussmeier laughs, at least a little bit.
"I'm not 'a stupid gunslinger,' " he said.
"So I guess that title I'm trying to get rid of a little bit. I feel as if I've
always been a game manager, and (I'm) just trying to bring that out more in my game at the college level, is my goal."