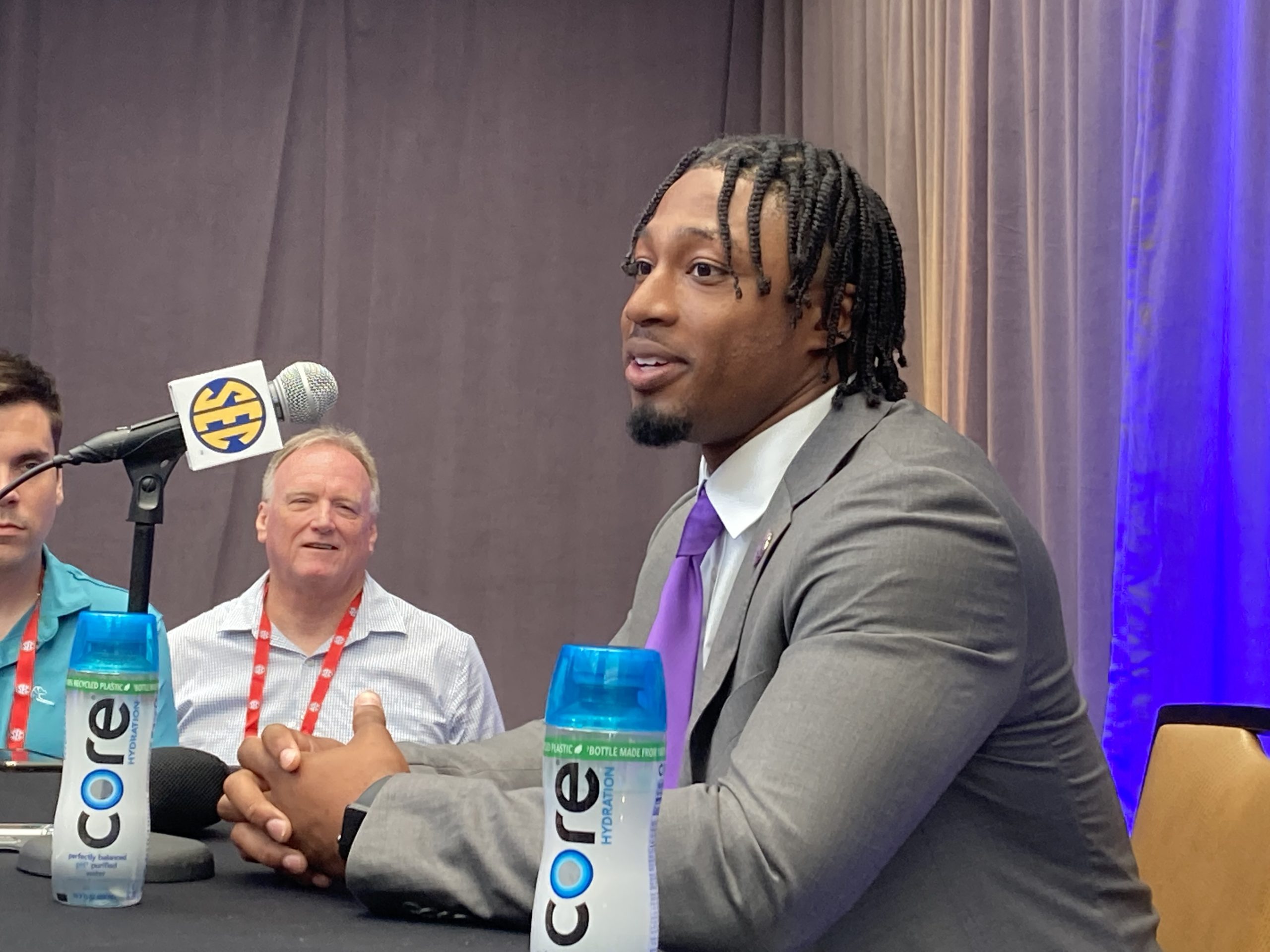 BJ Ojulari's dark eyes brighten when he is asked about family heritage, and he begins talking about his African roots.
The pride is apparent.
"My grandpa, he was a great, well-known artist, musician, and he did a lot of things back in Nigeria," Ojulari said.
The grandparent Ojulari referenced is royalty, his late maternal grandfather Prince Twins Seven-Seven, a Yoruban dancer, singer, sculptor and painter who died in 2011.
(The Yoruba people are an ethnic West African group mostly inhabiting parts of southwestern Nigeria, Benin and Togo).
Originally known as Omoba Taiwo Olaniyi Oyewale-Toyeje Oyekale Osuntoki when he was introduced to the world in Ogidi, Kogi State, Nigeria, Twins Seven-Seven – according to his autobiography, and various writings about him – later assumed an adopted name that reflects the fact he was the lone surviving child of seven sets of twins born by his mother, Mary.
Often utilizing Yoruban myths as his subject matter, "many of them recited to him by his mother, but others absorbed through the novels of Amos Tutuola and Daniel O. Fagunwa," according to his New York Times obituary, the Nigerian prince's "brightly colored, intricately patterned paintings evoked the world of Yoruba folklore and religion."
His work has been displayed at major exhibits throughout Europe and North America.
Ojulari's great-great-grandfather was king of Ibadan, Nigeria's third-largest city, late in the 19th century, and, according to the Times obituary, his grandfather Twins Seven-Seven was in line to be made chief of his Osutoki clan before his untimely death due to a stroke at the age of 67.
As the grandson of a man tapped as a UNESCO Artist of Peace "in recognition of his contribution to the promotion of dialogue and understanding among peoples, particularly in Africa and the African Diaspora," Ojulari suggests he and brother Azeez Ojulari toil to respectfully travel a trail blazed not only by those far higher on the family tree but also by their parents, Monsuru and Bolalne.
"Just having that legacy behind us," he told Tiger Rag, "it's just great for us to be able to uphold such a high standard."
The 'us' is BJ, an LSU outside linebacker/standup defensive end born Jamiu Bolaji Ojulari and raised in Marietta, Georgia, and Azeez, a former University of Georgia end now in his second season with the New York Giants after being selected in the second round of the 2021 NFL Draft.
OJULARI WEARING 18, LEAVING HIS OWN LEGACY
Like his brother was in Athens, BJ Ojulari is a highly regarded NFL Draft prospect out of a high-level SEC program. He's regarded by many as a potential first-round pick in 2023, perhaps even a Top 15 selection.
But back on Aug. 6, about a month before LSU's Sept. 4 2022 season opener against Florida State at the Superdome in New Orleans, early in his junior-season preseason camp, BJ Ojulari was on the receiving end of quite an honor himself.
It has little to do with his prowess on the field.
LSU's coveted No. 18 jersey was awarded to Ojulari, who was humbled by the gesture blessed by first-year coach Brian Kelly.
"Just being able to wear 18 and leave my legacy at LSU is the biggest thing," Ojulari told teammates after Kelly surprisingly presented the jersey at a practice.
"His teammates, coaches and the entire staff believe BJ Ojulari embodies what the number 18 represents," Kelly was quoted as saying by LSU publicists. "He carries out traits of excellence every day on and off the field."
Earlier in the offseason, LSU awarded its No. 7 jersey to receiver Kayshon Boutte, another potential first-round selection in the 2023 NFL Draft.
"Seven is the 'most-talented' player from the state of Louisiana," Kelly, hired away from Notre Dame late last year, said when asked in early August if the awarding of 18 would continue under his command.
It would be, he suggested at the time.
"We think 18 is the one that brings all those traits that comes to that player that leads in an extraordinary manner – you know, the attention to detail, just a great focus, represents your program in a positive way both in the classroom and the community, on the field," Kelly said before Ojulari was identified as the recipient.
After he was, Ojulari – who previously wore No. 8 – was welcomed into the club with open arms.
A group chat was even set up so previous LSU No. 18s could congratulate the latest.
"It was great for all of them to embrace me and welcome me into that brotherhood," Ojulari said.
LSU's No. 18 tradition dates to 2003, when quarterback Matt Mauck led the Tigers to their first football national championship since 1958. Mauck, now a dentist living in Denver, passed the number on to running back Jacob Hester, who helped lead LSU to the 2007 national title.
"The newest member of the 18 fraternity was an absolute no brainer," Hester, who played in the NFL for the San Diego Chargers and Denver Broncos and now is a Baton Rouge sports talk radio host, wrote on Twitter. "He (Ojulari) embodies everything it means to be a LSU Tiger on and off the field."
KELLY RECOGNIZES OJULARI'S INTEGRITY, CHARACTER
Kelly made that quite clear back in July, when an Atlanta-area sports journalist asked about one of the region's own – Ojulari played at Marietta High, located in a suburb north of the Georgia capital city – during SEC Media Days at the College Football Hall of Fame in downtown Atlanta.
Kelly, still in the process of getting to know Ojulari at the time, raved after being queried about impressions and expectations.
"Yeah, well, first of all, I've gotten to know him much more as a person than a player," he said. "Saw him a little bit in spring. He's a good player, by the way. But, as a person, he's what you want to represent your program.
"I couldn't say more about the integrity and character that he has."
Nor can first-year LSU defensive coordinator Matt House.
"He's one of our most-coachable guys on defense. He yearns to learn, which is huge, right? I love that he's a man of character," House said. "When a guy in our room talks about BJ, they talk about him doing the right things, on and off the field. And that accountability shows up on the field."
House – a former defensive coordinator at Pitt, FIU and Kentucky – spent the last three years as linebackers coach of the Kansas City Chiefs, including their 2020 Super Bowl-winning season.
He has no doubt Ojulari has what it takes to make it on the next level, off the field and on.
"Do I think BJ has a skill set that has a chance to be elite?" House said when asked, essentially, just that. "Absolutely."
OJULARI PLAYING THE JACK
House pegged Ojulari right away to play the Jack linebacker spot in his multiple-look 3-3-5 defense, which allows the 6-foot-3, 250-pounder to play with his hand on the ground much less – and to drop into coverage a bit more frequently – than he did early in his LSU career.
Ojulari is big. But he's not a massive interior defensive lineman, which is why House intends to use Ojulari the way he will in 2022, rushing off the edge to contain and chase down opposing quarterbacks. Most of the time.
He'll still play with his hand in the dirt on occasion as well.
"You might see me dropping a little here and there in some zone," Ojulari, "but not too much difference from what I've been doing in the past."
Except for the way he lines up.
Ojulari plays the side opposite defensive lineman Ali Gaye, who joined LSU out of Garden City (Kansas) Community College the same year Ojulari arrived in Baton Rouge. Gaye was struck right away by Ojulari's penchant for playing with consistency. He's also witnessed his teammate's dogged devotion to growth.
"And I just think the sky's the limit for him," said Gaye, whose regular hand-on-the-ground presence is an ideal bookend to Ojulari's use in a House-schemed defense.
"He has a lot coming this year, and I feel he's gonna shock a lot more eyes. Even more. I mean, he's already done that – but he's gonna open a lot more eyes."
Brows were raised as Ojulari led all LSU defensive lineman in total tackles last season with 55, including 11.5 for loss and a team-high 7.0 sacks.
Which is why in the offseason he was named to preseason national watch lists for both the Nagurski Trophy (top defensive player, as judged by the Football Writers Association of America) and Bednarik Award (top defensive player, as judged by the Maxwell Football Club).
It's also why House instantly knew how he'd use Ojulari.
"BJ excels in space," House said.
"BJ is a guy that he comes off the edge, but he still can hold an interior gap as a 6 technique (between a tight end and a tackle). We feel like he can whip a tight end.
"But we're not gonna put him in a 4 on the inside, inside a tackle. Where(as) Ali (Gaye) gives us a little bit bigger body that can do those types of things. Ali can slide around on third down. So they are different."
Used frequently early on in his college career at the end spot in a more traditional 4-man front, Ojulari began playing out of the standup position up a bit more in the latter half of last season.
Whichever look allows him to best work off in the edge is fine by Ojulari, who played in all 10 games with one start as a freshman in 2020 and had 13 appearances including 12 starts last year.
"Both of them really feels natural to me," he said.
"High school I played with my hand down, striking tackles, a 5 technique and all that. So I'm really versatile and able to play in any defense."
BROTHERS ALL ABOUT THE COMPETITION
That makes NFL types drool and House salivate even more now that he's back running a college defense.
"Coach House, he's definitely going to send more pressure (than former LSU coach Ed Orgeron's defensive staff)," Ojulari said. "He's gonna give so many different looks that it's gonna confuse other offenses, and I think that's gonna play to our advantage.
"So the transition was pretty smooth. When Coach House and them came in, they focused on the stuff that we weren't really doing last year. And I was already comfortable standing up and having my hand down, so the transition wasn't really hard at all."
It isn't the first time Ojulari has made an on-field transition.
Like so many youngsters in his grandfather Twins Seven-Seven's homeland, BJ and his brother grew up playing a different brand of football.
"Soccer was our first sport, actually. We grew up loving soccer," Ojulari said. "But we grew into football, and saw the opportunity it can give us."
Football was the ticket to a free education, something unimaginable playing soccer in the yard – or whatever game a young BJ and his brother could conjure any given day.
The name of the game, and even the way in which it was played, didn't matter nearly as much as the opportunity for competition it provided.
"Growing up with him, it was a constant fight every day," BJ Ojulari said. "But I think that just made us great. We pushed each other.
"He pushed me, I pushed him, always on his tail. … Him just being in my ear, (he's) a great mentor to me as a man on and off the field."
However few and far between they may have been, BJ cherished whatever victories he was able to secure – no matter what the game.
"Sometimes, even if you're playing Madden or something … as a younger brother you want to rub it in, just for that little second," he said.
"A couple days later he's going to come back and pound on me, but it's all good."
So too are the conversations the siblings enjoy today, typically daily in the offseason and 2-to-3 times a week during the season.
"Both our schedules are very busy," Ojulari said, "so it's very hard to even see each other … in the fall.
"But we talk often. I think it's (talking) more football during football season and more life during the offseason. But I know I can lean on him anytime – anything I need to talk about, at any time."
Much like when BJ was being recruited. Azeez had already experienced the process.
"I definitely leaned on him," said Ojulari, who ultimately choose LSU over Tennessee and other suitors. "Him going to UGA, he wanted me at UGA as well. Being a Georgia boy, being at UGA is a big deal.
"But he told me he respects my decision. He knows I want to build my own legacy, and he supported by decision of going to LSU.
"I love my state so much, playing for Georgia would have been everything to me, you know? Playing in Sanford Stadium. But I know coming to LSU, there's nothing like it," Ojulari added. "When I took a visit, the way Coach O (Orgeron) and his staff embraced me I knew that if I came to LSU I'd be able to accomplish anything I wanted to."
PRIDE IN THE ANCESTORAL HOMELAND
As for media reports he considered transferring to Georgia after his 2020 freshman season, Ojulari is quick to sack the suggestion
"There was never anything to that," he said.
"I always believed in LSU and the staff and what we could do there as well, so I always had my belief in LSU and I was always planning on sticking with LSU until the end.
"I'm a man who wants to do his own thing," Ojulari added. "I love my brother, but at the same time I want people to remember my name for what I did – not just under his shadow."
Roots and the family name really do mean a lot to Ojulari.
His father spent time in Nigeria in August visiting his own mother there, and some day BJ would love to visit the land where his grandparents were born.
He'd also like to place a sticker of the Nigerian flag on the back of his helmet, much like Gaye had one of his family's African homeland, The Gambia, on the back of his last season.
"I take a lot of pride in just where my family is from," Ojulari said. "My mother and father – it took a lot for them to get here.
"So just them giving me the opportunity to be able to be here, get my education, be able to play a great sport like football – you know, it means the world to me. So every time I go out I just display and represent the last name as best as I can.
"They had so many just obstacles in their way," he added, "first trying to get over here, get citizenship as well. … I have to take time go over there one time. One day."