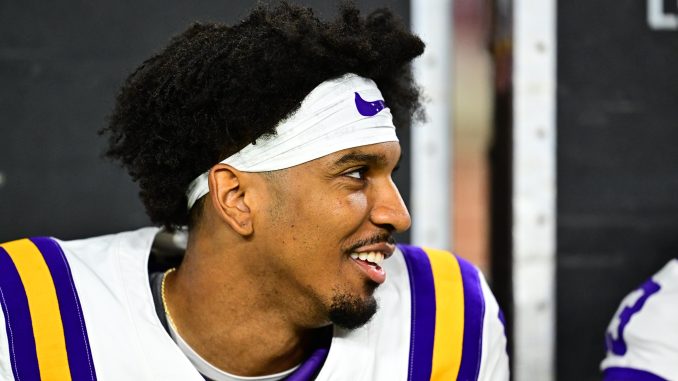 It happened at Bryant-Denny Stadium on Saturday night – LSU's worst nightmares, that is.
LSU self-destructed offensively with untimely, drive-killing penalties and dropped passes.
Nick Saban outsmarted and outcoached Brian Kelly maybe because he knows a good defense when he sees one.
And Jayden Daniels got hurt and was forced to leave the game.
Alabama improved to 6-0 in the SEC and moved into prime position to win the SEC West, while LSU fell to 4-2 in the SEC and saw its hopes of returning to the SEC Championship game fade away.
LSU also must now face the fact that because it has a very bad defense that cannot seem to stop opponents that have any semblance of a real offense, it has literally squandered one of the best quarterbacks and one of the most prolific offenses in its history.
It didn't have to be this way.
Armed with a dazzling quarterback in Daniels, who was on the brink of sealing an invite to New York for the Heisman Trophy presentation on December 9, and who was leading a prolific offense that went into the annual war against Alabama atop most every meaningful national statistical offensive category known to man, all LSU had to do was do what it had done for the overwhelming majority of the season – continue to outscore its opponents.

Mighty Alabama stood in Daniels' and LSU's way, of course, but they had a relatively pedestrian offense uncharacteristic of recent Alabama teams past, had mediocre receivers, had mediocre running backs, and had a quarterback who was average at best going into Saturday night.

The last thing Alabama wanted to do was get into a shootout with LSU because if it did it knew it would probably lose.

One thing Alabama did have going in: Alabama did have a good defense, as it usually does.
One thing LSU didn't have going in: LSU didn't have a good defense.

So, it followed that Alabama was hoping it could somehow shorten the game against LSU, put together long, sustained drives against the Tigers' season-long struggling defense, keep the ball away from Daniels as much as it could, and bank on its own defense stopping LSU's mostly unstoppable offense at least a couple of times.

So the logic went further, the less time and number of times Daniels had the ball, the better Alabama's chances of pulling out a win and staying atop the SEC West would be.

Even Saban knew in his heart of hearts that a shootout with LSU wouldn't likely yield much fruit for his Crimson Tide.
Avoiding that at all costs behooved Saban and the Crimson Tide immensely.

Everyone, Saban included, knew that LSU's defensive secondary was vulnerable and downright weak, but Bama offensive coordinator Tommy Rees and Saban knew they needed to resist the temptation to attack that obvious weakness head on even though statistically their own quarterback, Jalen Milroe, was best at deep passing strikes. Deep passes, no matter how inviting LSU's inability to stop them might be, simply would only be completed sometimes, not every time – that's the nature of the beast – and even when completed would only result in forging the shootout Saban wanted desperately to stay away from.

Saban wanted a game with scoring in the 20s, not in the 40s. He also knew that Daniels is better than Milroe, and that LSU-Alabama games are won by the team with the best quarterback and that is a game historically won in the trenches.

Saban likes trench warfare.

He had to somehow combat the former strategically while also figuring out a way to keep this game against LSU one where the trench war would be as meaningful in this game as it traditionally is throughout the history of the series.

Instead of focusing on the temptation to unleash the pass against LSU's feeble secondary, Saban and Rees instead decided to turn Milroe into a clone of Daniels. They decided to unleash Milroe's 4.4 speed on LSU.
The weapon they brandished in Milroe's legs and feet wasn't so much a secret weapon. Kelly and LSU knew Milroe could run. Kelly even said LSU prepared for it.

But LSU couldn't stop Milroe on the run.
In fact, Milroe scored an Alabama record four rushing touchdowns for a quarterback.
In fact, against LSU on Saturday night, Milroe had a proverbial field day.
Milroe had gained 142 yards and 5 TDs on the ground coming into the LSU game, however, he lit up LSU's undisciplined pass rush for a season-high 155 yards on the ground on 20 carries, most of which were scrambles. And most of his 217 yards passing weren't of the deep-attempting-to-singe-LSU's-inexperienced-young-corner-backs variety, but were instead off that of the creative dinks that turned into YAC gulps mainly because LSU was almost always out of position and in total disarray every time – and it happened often – that Milroe tucked the ball and scrambled out of the pocket.
"We knew his ability to run," a clearly agitated Kelly said during his postgame press conference.
"We talked all week about a unit pass rush. He's elusive. I think the big runs were probably the things that hurt us the most tonight. I don't think they were draws as much as they were I think there were much more scrambling situations. Again, I think we've seen it on both sides of the ball, you've watched Jayden in terms of scrambling. You're in a very difficult situation there if you're dropping eight.
"We're fighting our tails off to get stops out there so it's just a difficult situation when you have a quarterback that's gifted like that," Kelly said.
Thanks to Daniels, LSU scored with five seconds remaining in the first half. Following the point after kick by Damian Ramos, LSU tied the game at 21-21 at that point.
LSU had won the coin toss and elected to defer so the Tigers would get the ball to start the second half. At that point in the game, barring a self-inflicted wound, Kelly and LSU had no reason to expect they would not take the kickoff to open the second half and drive down the field to take go up by seven points.
And that's exactly what happened, thanks to Daniels, primarily.
The problem facing LSU at halftime, however, was obvious. How to stop Milroe, or at least slow him down.
"I thought at halftime, I put three things up on the board," Kelly said.
"I thought if our eye discipline was better; I thought if our leverage on the football was better, and if we tackled better in the second half, (I told them) we can win the game, and we went out and obviously we tried but none of those three things showed up to be better than good. They needed to be elite, and they weren't (elite). They were good, but good isn't good enough. You need to be elite when you're playing a Top Ten on the road (if you want to win), Kelly said.
Kelly's right. LSU's defense certainly wasn't elite in the second half. I'm not quite sure how what Kelly saw could be called good, even relatively speaking.
LSU's defense, which wasn't surprised by Milroe's ability to run and scramble even though he had not been doing it all season, gave up six touchdowns total for the game – three in the second half. That's six touchdowns in nine total possessions if you don't count the Tide's final possession of the game where they ran out the clock and didn't try to score.
Alabama missed two field goals – its first two missed field goals of the season – on two other possessions.
That means that in nine possessions, the Crimson Tide could have scored six touchdowns and kicked two field goals. How is allowing your opponent's offense to have legitimate scoring opportunities on eight of nine possessions in anyone's mind considered good?
Alabama converted 11 of 14 third-down conversions against LSU's "good" defense on Saturday night.
The truth is LSU's defense couldn't stop Alabama at all on Saturday night.
In fact, in its three losses this season to Alabama, Ole Miss and Florida State, those three offenses averaged scoring on 60 percent of their possessions against the Tigers.
That's not good no matter how you look at it.
But, that's where LSU stands because after outscoring Alabama 28-21 through one possession in the second half Saturday night in Tuscaloosa, the only offense it could successfully stop was its own.
After Daniels led LSU on its nine-play, 75-yard to open the second half which put the Tigers up 28-21, Milroe led Alabama on three consecutive scoring drives. LSU proceeded to inflict wounds itself from that point forward with penalties on two possessions and with Daniels' throwing his fourth interception of the season following a tip at the line of scrimmage on an attempted slant pass.
Following Daniels' interception early in the fourth quarter, Alabama drove 25 yards for what would be its sixth and final touchdown of the game to go up 42-28.
But there was still plenty of time for a Daniels-led offense to rally. Until there wasn't. LSU's worst nightmare happened then.
On what should have been ruled a target, Daniels was sacked by Dallas Turner who came blasting up the middle and planted Daniels directly in the jaw before driving him into the ground.
A roughing-the-passer penalty was called, but Daniels lay prone on the turf for a few minutes then went to the sideline for a third down play while Garret Nussmeier took the snap for LSU.
Daniels came back in for the next play, but timeout was called before the ball was snapped and Daniels disappeared into the medical tent where it was shortly reported he was in concussion protocol and out for the remainder of the game.
It happened at Bryant-Denny Stadium on Saturday night – LSU's worst nightmares.