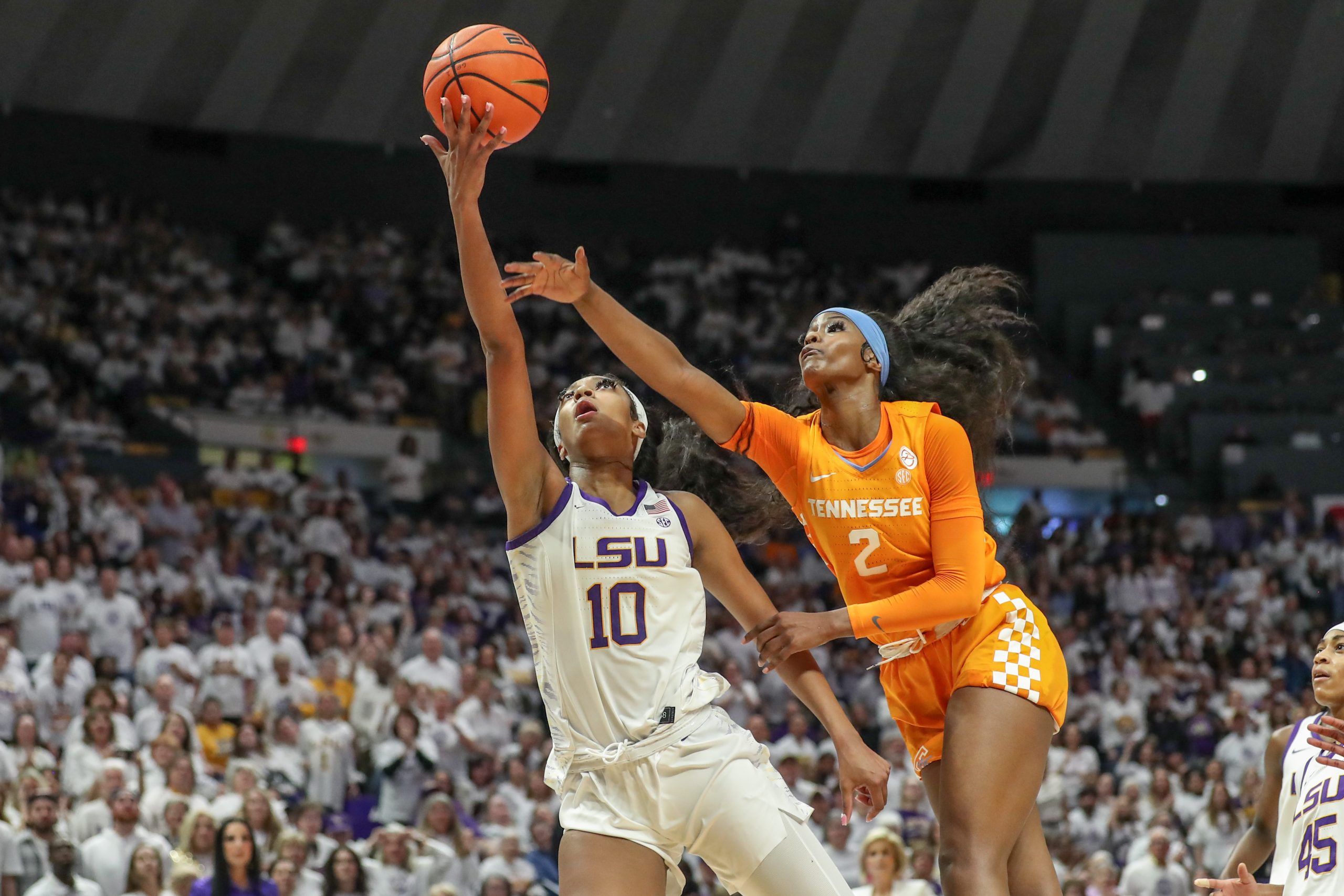 It's the Super Bowl appetizer that will have the attention of the women's college basketball world.
No. 3 LSU (23-0) and No. 1 South Carolina (24-0) are the nation's lone remaining undefeated teams and will meet at sold out Colonial Life Arena at 1 p.m. Sunday for a leg up on Southeastern Conference supremacy. Both teams are 11-0 in league play and will have four games remaining in the regular season.
The game will be televised by ESPN and broadcast locally by 107.3-FM.
"We won't allow it to be too big," Mulkey said during her Thursday news conference. "We love the hype, we love the recognition. We think it's good for women's basketball. It's good for both programs. You win the game it means nothing; you lose the game it means nothing.
"I think the only thing it does it that it gives you a leg up on winning the SEC," Mulkey said. "There are bigger games for both programs down the road. You love a sold-out crowd. You love the media attention; the Super Bowl Sunday adds to it. I'm glad our name LSU's a part of this no matter what happens in the game."
Mulkey, 49-6 in her second season at LSU, realizes the sizable task South Carolina presents. The Gamecocks, the defending national champions, are riding a school-record 30-game winning streak and have won their last 37 straight games at their 18,000 seat home.
The Tigers are also 2-17 in their previous matchups against No. 1-ranked teams that included a 66-60 loss to South Carolina in last year's matchup in Baton Rouge. They haven't defeated the Gamecocks since 2010 and haven't beaten them in Columbia since 2012.
The game also represents the biggest matchup LSU's faced in 45 years. During the AIAW era, the Tigers were ranked No. 1 and faced No. 3 Tennessee in February of 1978.
"We're excited that we can be a part of something that's good for basketball," Mulkey said. "We know that we're not supposed to win. Nobody else has beaten them. But we're not just going to throw in the white flag. That's just now what competitors do. We're going to give it every effort we can and if the effort's good enough, great. If it's not good enough, we move on."
LSU's close call against South Carolina last season was one of 10 games that resulted in single-digit outcomes for the Gamecocks who finished 36-2.
South Carolina presents a physically imposing task with 6-foot-5 senior first team All-American Aliyah Boston, 6-7 junior center Kamilla Cardoso and 6-2 forward Victaria Saxton.
Senior point guard Zia Cooke, who scored 17 points in last year's win over LSU, leads a balanced South Carolina scoring attack with 14.8 points and has a team-high 42 3-pointers. Boston averages a double-double at 13.3 points and 10.0 rebounds with 48 blocks followed by Cardoso (9.7 points/8.2 rebounds, 42 blocks).
Mulkey estimated South Carolina gets more than 50% of its scoring from its bench. They have 11 players averaging 12 minutes a game and with their 83-48 blowout Thursday of Auburn, the Gamecocks have won 13 games by 30-plus points this year.
"That's how good they are," she said. "No one has seemed to be able to stop them. Their transition game is very good particularly when Raven Johnson's in the game. We've got to not only defend them in the halfcourt and keep them off the offensive boards, you've got to defend them in transition."
LSU counters with an eight-player rotation, a group averaging between 14-31 minutes a game.
Sophomore transfer forward Angel Reese is working on a school record for consecutive doubles-doubles – leading the SEC in both scoring (23.5) and rebounding (15.8) and is shooting 54.3% from the field. Fifth-year senior point guard Alexis Morris averages 14 points, 3.0 rebounds, 4.5 assists and has made 35 3-pointers.
The Tigers also have double-figure scorers in freshman guard Flau'jae Johnson (13.0, 6.5 rebounds) and graduate student guard Jasmine Carson (10.2, 44 3s). Six-four graduate student forward LaDazhia Williams (8.6 points, 6.2 rebounds) rounds out the team's starters with freshman forward Sa'Myah Smith (5.7 points, 4.9 rebounds, 54% field goal percentage) is teams top scorer off the bench.
"We're relevant now but we haven't arrived," Mulkey said. "What have we done? We've just won basketball games. We've not won championships. We want to build the program to someday we're a Final Four (team) year in and year out, sneak in there and get some SEC Championships. That doesn't happen overnight.
"Honestly, what we're doing, is ridiculous in a lot of ways," Mulkey said. "But it's OK. We're not going to apologize for it. We love that the crowds are here. We love that the media attention is here. We got a jump start. What helped get there was the transfer portal."