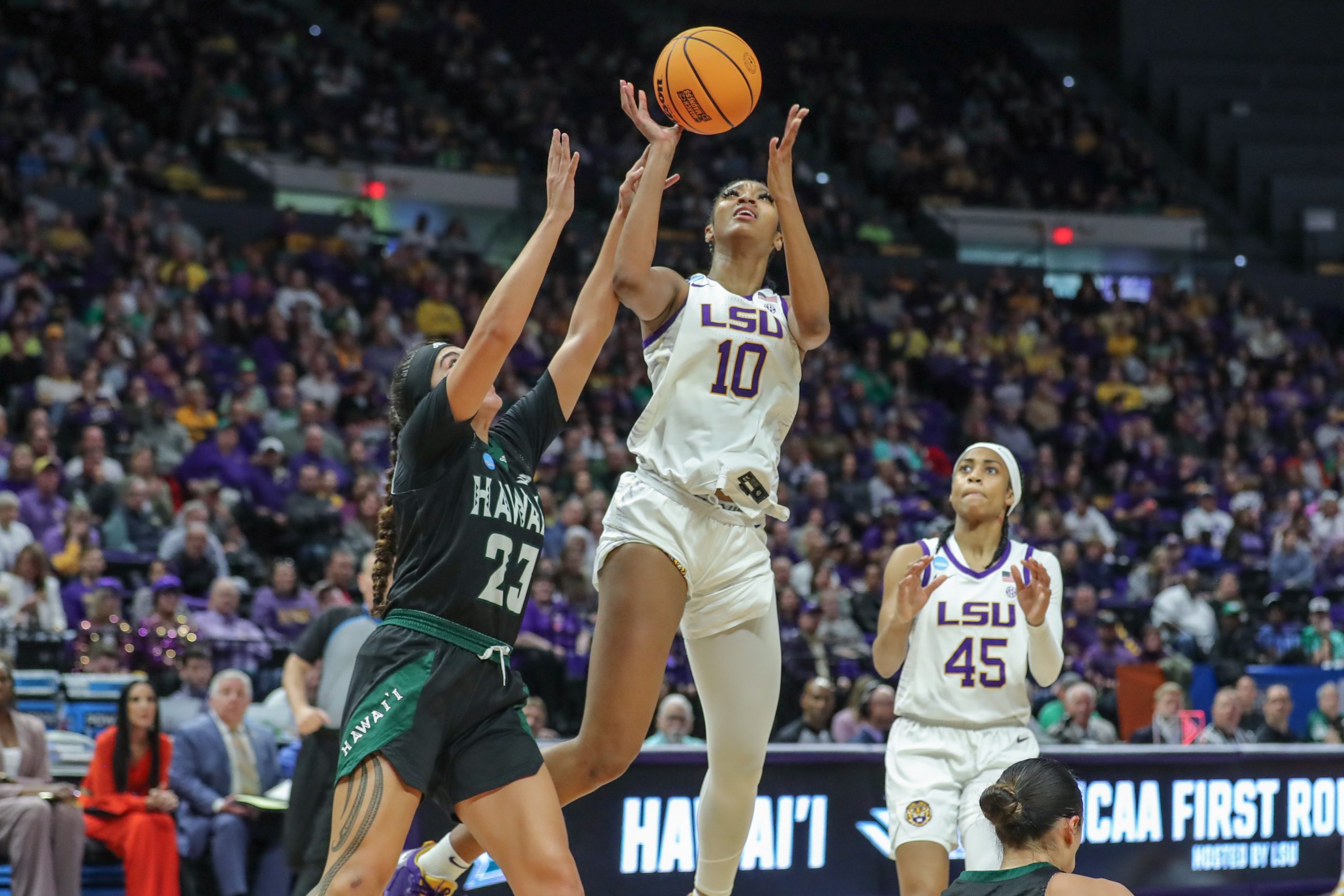 The version of LSU's Angel Reese that earned a pair of first team All-America honors following the regular season transitioned well to the postseason.
Reese registered her 29th double-double of the season, pouring in a career-high 34 points in NCAA Tournament play and added 15 rebounds, leading No. 3 seed LSU to a 73-50 first-round victory Friday over No. 14 Hawaii before a crowd of 8,608 at the Pete Maravich Assembly Center.
LSU (29-2), which improved to 16-0 at home this season, advanced to the second round of the NCAA Tournament for the second straight season and faces No. 6 Michigan, a 71-59 winner over UNLV, at 6:30 p.m. Sunday on ESPN.
Reese's point total matched the school record set in 2001 by Marie Ferdinand in NCAA play and according to ESPN, the sophomore became the first SEC player this century with 30-plus points and 15 rebounds in a NCAA Tournament game. She also blocked three shots and had three steals.
"Just doing what it takes to win," Reese said. "Hawaii is a really great team, and we couldn't go back and forth shooting the three. They are a really good three-point shooting team, just guarding perimeter. Offensively we had the advantage inside, so just trying to get inside as much as we could."
Reese was one of two double-figure scorers with freshman Flau'jae Johnson adding 10 points, six rebounds and five steals.
LSU, which shot 43.5% (27 of 62) and was only 1-of-14 from 3-point range, won despite fifth-year senior guard Alexis Morris struggling from the field on 3-of-10 shooting and scoring six points – all in the fourth quarter. The Tigers also got a key contribution from graduate transfer LaDazhia Williams with nine points.
"Survive and advance, right," LSU coach Kim Mulkey said. "We've been here at this level. We want to win one more and get to a Sweet 16. But Michigan does, too."
Hawaii (18-15), which was making its second straight NCAA appearance, had three players in double figures led by reserve Daejah Phillips who fouled out with 13. Kallin Spiller and Lily Wakinekapu had 11 apiece. The Rainbow Wahine were limited to 30.8% shooting (16 of 52) and turned the ball over 21 times, leading to 20 points for the Tigers.
"Turnovers got us, and they were able to score off our turnovers," Hawaii coach Laura Beeman said. "What it came down to when big shots had to be made, they made big shots. We missed shots when we had wide-open looks and against a team the quality of LSU, you've got to hit wide-open shots."
Morris, who had scored 20-plus points in her last four games, ended a 0-for-6 shooting slump with consecutive jumpers in the first 1 ½ minutes of the fourth quarter. It was a layup off an inbounds play for a 60-35 lead that capped a 10-0 run and sent a jolt through the crowd and had Mulkey urging her home fans on going into a timeout with 7:14 to play.
The Tigers only allowed their lead to dwindle below 20 points once (67-48) and finished the game with three free throws from Poole and Last-Tear Poa and a basket from Reese.
"We just didn't shoot it good from the perimeter," Mulkey said. "I mean, I'd love to tell you that, 'man, we are going to do better and we are going to score at all five positions'. Go win a ballgame. We won a ballgame by 23, and I don't think we played bad. I think we were a little rusty and missed some open looks. You could go out there right now and they would probably make evident one of them. That's basketball. That's the game of basketball."
Reese scored nine straight points, including five from the free throw line, during the third quarter and helped LSU, which shot 23.5% (4 of 17), extend its lead to 48-33 going into the fourth quarter. The Tigers got a pair of baskets in the final two minutes of play on a follow shot from Johnson and short jumper from Smith that made it 48-32 until the Rainbow Wahine added a free throw.
"Reese is going to get what she gets," Beeman said. "She's going to go No. 1 or No. 2 in the WNBA (Draft). We don't have a pro on our team right now."
LSU twice opened as much of a 12-point lead, the second time coming at 27-15 on Kateri Poole's free throw at the 5:14 mark of the second quarter.
Hawaii, which was limited to 26.9% (7 of 26) shooting in the half, got within 27-22 on Meilani McBee's 3-pointer with 3:06 left before halftime. Over the next minute, Reese followed her own miss and Williams scored inside and Jasmine Carson contributed to her team's 6-0 finish to the half, knocking down a 17-foot jumper for her first points in three games.
There were three lead changes in the first four minutes of play, the last coming on Williams' basket from Johnson on a pick-and-roll layup, triggering a 12-0 run that catapulted the Tigers to a 16-5 advantage with 45 seconds to go in the quarter.
Sa'Myah Smith was also successful in the pick-and-roll with a layup, Johnson added a free throw and Reese another offensive follow that led to a 18-7 lead.
"I'm rooting for the ones that knocked us out," Spencer said of LSU. "I hope they go far."