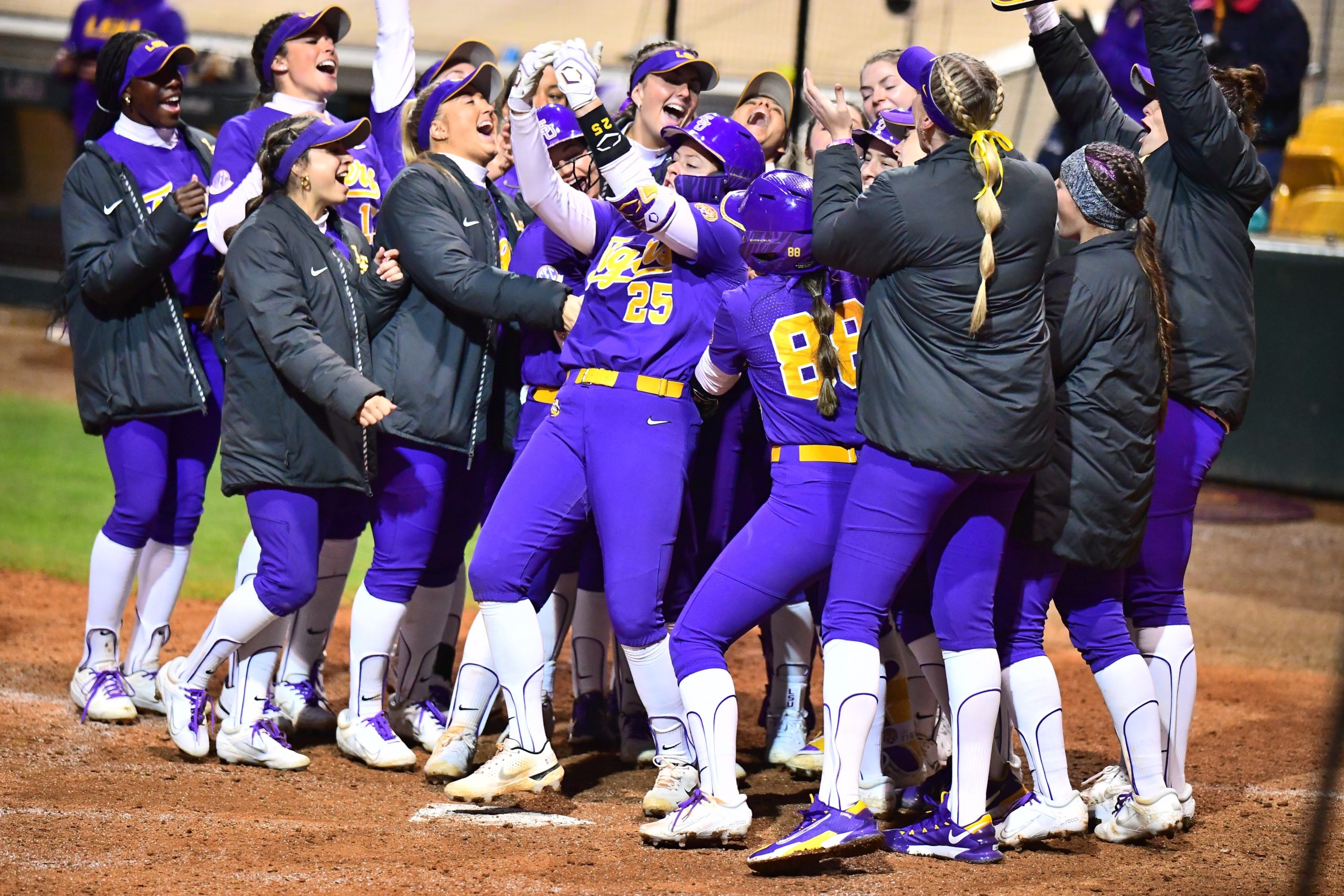 Junior shortstop Taylor Pleasants homered in each game and freshman Sydney Berzon tossed a one-hit complete game shutout in her debut to highlight LSU's doubleheader sweep Saturday in the LSU Invitational at Tiger Park.
Pleasants went a combined 4-for-7 with a pair of homers, six runs scored and five RBIs to propel the No. 20 Tigers to wins over No. 19 Oregon State (12-0) in the opener and New Mexico (11-3) in the nightcap with both games winding up in mercy-rule triumphs.
LSU closes out play Sunday at 12:30 against Oregon State and at 3 p.m. against Nicholls.
LSU 11, New Mexico 3 (6): For the second straight game LSU reached double-digit hits with 11, taking a 4-0 lead through two innings and adding five more to blow it open in the fifth.
The Tigers halted play with one out in the sixth inning when Danieca Coffey doubled in Raeleen Gutierrez who doubled with one out.
Sophomore Raelin Chaffin (1-0) was the winning pitcher, allowing nine hits over 4.1 innings. She allowed three runs (two earned), no walks and two strikeouts. Berzon pitched a scoreless 1.2 innings in relief with a strikeout and gained her first save.
LSU took advantage of a pair of errors to score three times in the second and open a 4-0 lead.
New Mexico got within 4-2 on Maddie Boldt's two-run homer off Chaffin.
LSU got a run back in the fourth when Ali Newland was hit by a pitch with the bases loaded and the Tigers extended their lead to 10-3 in the fifth. Pleasants highlighted the inning with a two-run homer on a 2-2 pitch and Newland followed with a three-run shot on a full-count to score pinch-runner Madilyn Giglio and Karli Petty.
LSU 12, Oregon State 0 (5): Berzon, a two-time high school All-American, faced one over the minimum batters in silencing Oregon State to one hit with no walks and five strikeouts.
Morgan Howley broke up Berzon's no-hitter with a single in the third and moved up a base on a wild pitch where she was stranded. Berzon threw 44 of 68 pitches for strikes in the five-inning game.
LSU struck four times in the first, added five more in the second and two in the third for a commanding 11-0 lead in support of Berzon.
A fielder's choice and error off the bat of Petty led to two runs in the first and right fielder McKenzie Redoutey delivered a run-scoring single up the middle and designated player Hannah Carson added a sacrifice fly to right.
Pleasants unloaded a three-run homer to center – her first of the season – on a full count followed by Newland's RBI-single to right-center and Redoutey's run-scoring fielder's choice.
Clark got into the power act with her first homer of the season – a two-run shot into center in the third – and with Redoutey on board after a single in the fourth, freshman catcher Maci Bergeron laced a RBI-double to center to end the game.