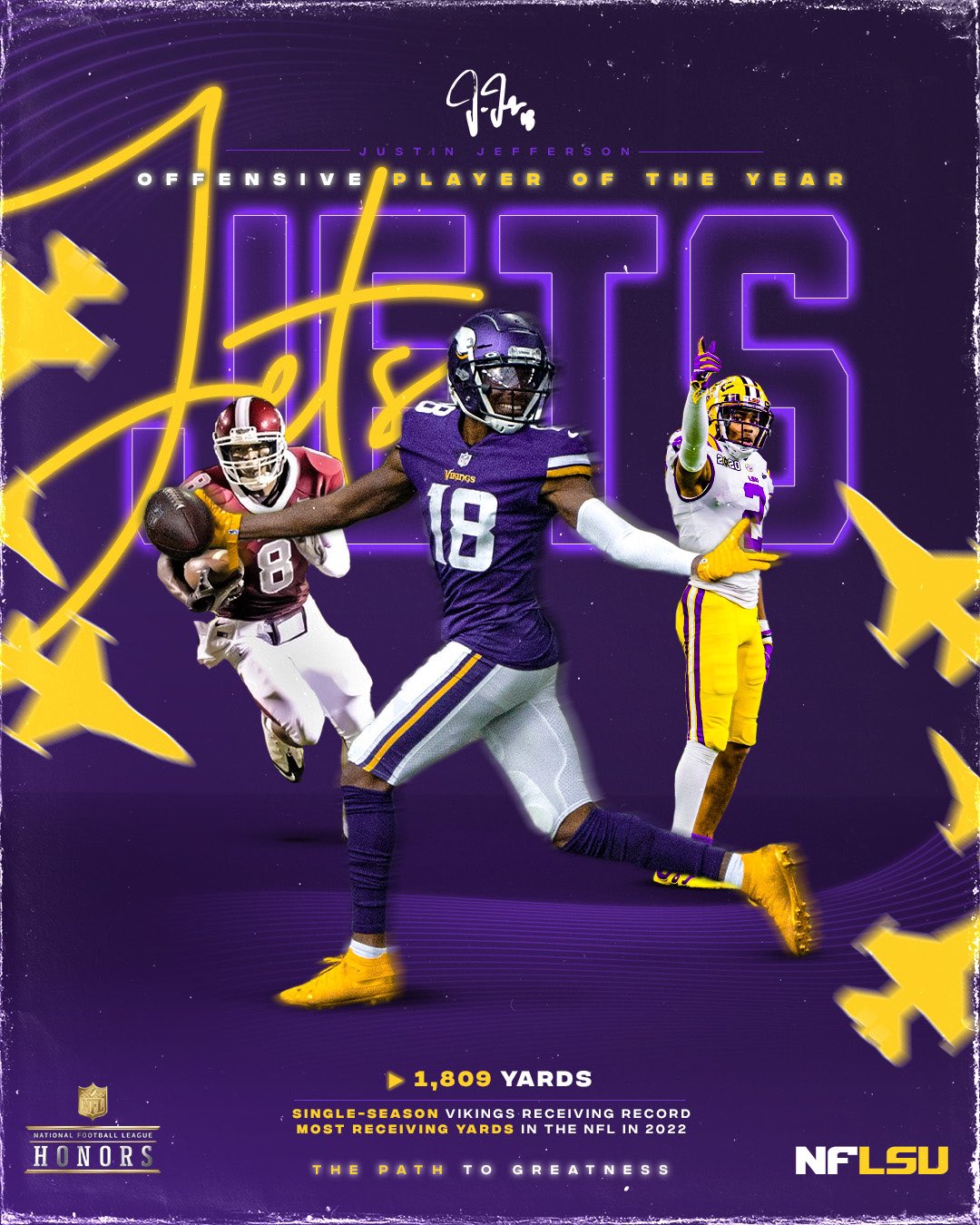 For just the third time in league history the NFL's Offensive Player of the Year went to a wide receiver.
Third-year pro Justin Jefferson, who starred on LSU's national championship team in 2019, produced career highs in receptions and yardage for the Minnesota Vikings this past season, earning the St. Rose native the league's top offensive honor Thursday during the NFL Honors program in Phoenix, Arizona.
Jefferson became the first player to win the award since quarterback Bert Jones in 1976 with the Baltimore Colts.
The 24-year-old Jefferson helped Minnesota to a 13-4 record and NFC North Championship during the regular season, a five-win improvement over last season. The Vikings made their first playoff appearance since 2019 where they lost 31-24 to the New York Giants in the wild card playoffs.
Jefferson led the NFL with 128 catches for 1,809 yards – both career highs – for a 14.1 yards-per-catch average and eight touchdowns. He also rushed four times for 24 yards, completed a pair of passes for 34 yards and scored on a two-point conversion.
He had a franchise-record 11 catches for 223 yards against Detroit. He had 10 games with 100 yards or better.
Jefferson received 35 first-place votes and 192 total points to outdistance runner-up Patrick Mahomes of the Kansas City Chiefs with 10 first-place votes and 85 points in the voting of Associated Press writers. Jalen Hurts of the Philadelphia Eagles was next with three first-place votes and 52 points.
Mahomes was selected the league's overall MVP with 490 total points. Jefferson was fifth with 55.
Jefferson was the No. 22 overall pick by Minnesota in the 2020 draft and he's gone on to catch 324 passes for 4,825 yards and 25 touchdowns during his career.