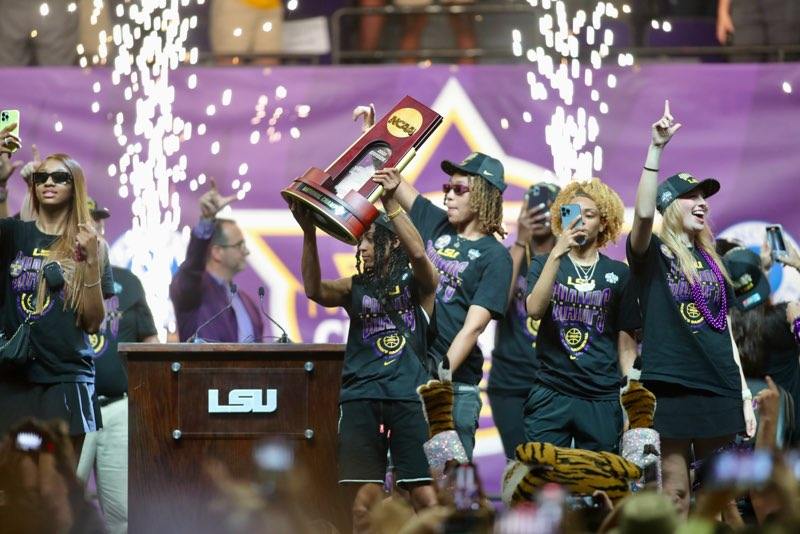 Thousands of fans and a handful of local dignitaries took turns feting the LSU women's basketball team Wednesday which won the NCAA championship on Sunday over Iowa.
The Tigers were treated to an on-campus parade that featured coach Kim Mulkey and players riding in Corvette convertibles and throwing purple-and-gold beads, plastic cups and t-shirts. The parade route snaked through campus and wound up with a celebration at the Pete Maravich Assembly where an attendance in excess of 10,000 awaited.
The crowd triumphantly welcomed Mulkey, who was outfitted in a purple sequin jacket adorned with white tiger heads, and the team to a stage set up in the PMAC.
Just three days before LSU added the crowing achievement in a 34-2 season with the school's first national championship in record-setting fashion, 102-85, at Dallas' American Airlines Center.
It was the conclusion of Mulkey's second season in which she won the fourth national championship of her 23-year coaching career. The Tigers returned one starter – Alexis Morris – from a team that won 26 games and advanced to the second round of the NCAA Tournament.
"No way would a coach put a timetable on winning a national championship," Mulkey said. "It's not fair to the athletes, it's not fair to the coaches."
Mulkey brought in two of the nation's top freshman signees in guard Flau'jae Johnson and forward Sa'Myah Smith along with top junior college player Last-Tear Poa. She also tapped into the NCAA transfer portal with favorable results, landing the top player in forward Angel Reese of Maryland along with LaDazhia Williams of Missouri, guard Jasmine Carson of West Virginia and guard Kateri Poole.
LSU started the core of Reese and Williams all season with Carson and Poole switching roles in the last four games of the season with Poole moving into the starting lineup to help the Tigers get more size on the floor for defensive purposes.
"Two years ago in April, what I meant I had seen this program at its best, but its best never won a championship," said Mulkey, recounting her acceptance speech of the job, pointing to the Final Four banners in the rafters of the PMAC that lacked a national title banner. "That's what I aspired to do when I was hired to come back to LSU. This is my home."
Gov. John Bel Edwards and Baton Rouge Mayor-President Sharon Weston-Broome commended the team on its national championship achievement with Weston-Broom presenting Mulkey with a key to the city.
The team also heard from LSU Board of Supervisors member Valencia Sarpy-Jones and LSU President William Tate.
LSU captains Emily Ward and Morris, along with Williams and Carson, also spoke before being treated to a video montage of the season's highlights set to 'One Shining Moment', a staple for the conclusion of the college basketball season.
LSU rallied from a nine-point deficit in the national semifinals with a staggering 29-point, fourth-quarter flurry for a 79-72 victory over Virginia Tech. The Tigers followed that two days later by scoring a NCAA championship game-record 102 points in which five players – most notably Carson – scored in double figures.
Carson, who began her career at Georgia Tech, hadn't scored a point in her previous three NCAA tournament games but with leading scorer Reese, Poole and eventually Morris, on the bench with two fouls, the graduate transfer came alive with 21 of her 22 points in the first half. She made all seven of her shots, including five 3-pointers, in the first half that included a banked 3-pointer at the halftime buzzer.
"It feels amazing," Carson said. "Everybody's journey is different. This is my third school and I'm leaving here being a national champion. I couldn't have asked for a better ending."