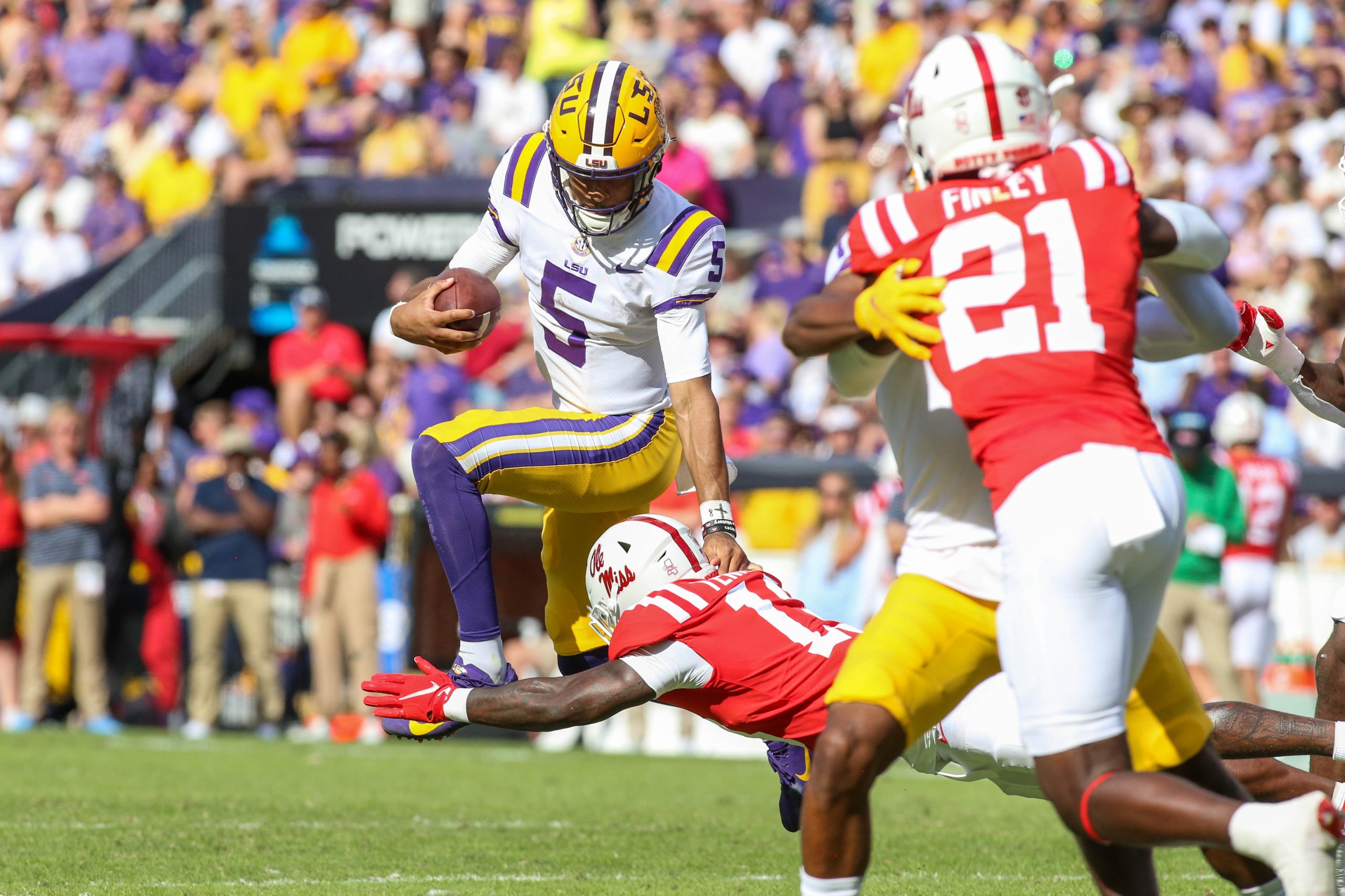 Count ESPN among those bullish on LSU football in 2023.
The Tigers received a glowing account from ESPN which presented its Top 25 post-spring power rankings.
LSU, under second year coach Brian Kelly, was listed No. 7 by ESPN's Mark Schlabach in a story released Wednesday after the conclusion of spring games.
"Are the Tigers ready to return to the top of the SEC West under second-year coach Brian Kelly? They took down Alabama in overtime last season, but then nearly lost at Arkansas and were blown out by a bad Texas A&M team on the road," Schlabach wrote.
In his first season Kelly guided LSU from a worst-to-first finish in the Southeastern Conference that included a monumental 32-31 overtime victory over Alabama on Nov. 5. The Tigers went 10-4, including back-to-back road wins over Auburn and Florida, a first for an LSU coach, and included an appearance in the SEC Championship Game and victory over Purdue in the Citrus Bowl.
Two-time defending national champion Georgia is ranked No. 1 followed by Michigan, Florida State, USC and Ohio State among the top five with Alabama sixth.
LSU compares favorably among the top 10 teams, a group that also includes No. 8 Penn State, No. 9 Clemson and No. 10 Texas, with 15 returning starters – eight on offense, five on defense and two on special teams.
One of the biggest advantages for the Tigers, compared to their brethren in the SEC, is the return of senior quarterback Jayden Daniels who is expected to be improved over his first season with the Tigers.
"Daniels was very good last season, but he needs to throw the ball down the field more efficiently," Schlabach said.
The pieces around Daniels will be familiar ones, starting with an offensive line that is scheduled to have four of five starters back led by sophomore tackles Will Campbell and Emery Jones Jr.
Junior wide receiver Malik Nabers, who had 1,017 yards in receptions, established himself as the team's No. 1 pass catcher a year ago and headlines a deep, talented group that includes Kyren Lacy, Brian Thomas Jr. and Alabama transfer Aaron Anderson.
Although the defense lost several key starters in second-round NFL Draft pick BJ Ojulari to the Arizona Cardinals, the Tigers will be stout up front. They return projected high-round draft choice Maason Smith and third team All-American Mekhi Wingo along with linebacker Harold Perkins, a freshman All-America selection a year ago.
LSU opens the season Sept. 3 in a high-stakes contest against Florida State at Camping World Stadium in Orlando.
The Seminoles return 18 starters from a 10-3 team, led by Heisman Trophy candidate Jordan Travis at quarterback, and defensive end Jared Verse.
Alabama, where LSU visits on Nov. 4, has 10 starters back from an 11-2 team and Ole Miss, where the Tigers travel on Sept. 30, were ranked No. 22 following an 8-5 record and have 14 starters returning.