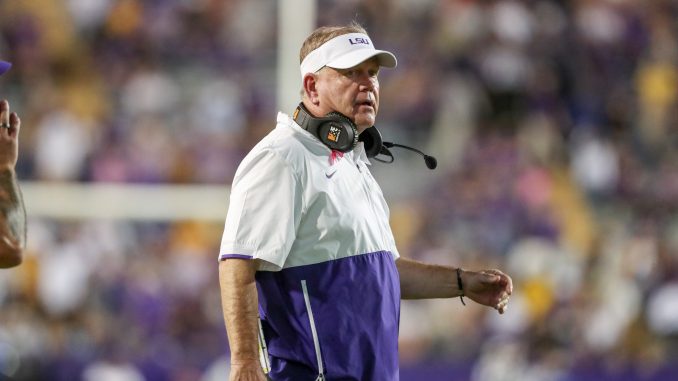 The incident may have spanned more than three decades ago but still resonates with LSU football coach Brian Kelly.
Kelly was making his head coaching debut at Division II Grand Valley State in 1991 where his team was hosting St. Joseph's of Indiana. The Lakers' home field – Lubbers Stadium – was intimate and put Kelly within earshot of the school president saying out of an open window in the press box, 'Who the hell hired this guy?'

"I could hear him because there were probably 300 people there," Kelly said Monday at his weekly press conference. "I didn't think I was going to be in this business very long. That was my first game."
Grand Valley State went on to a 31-3 victory over St. Joseph's, a 9-3 record in '91 and appearance in the Division II playoffs which set the tone for a happy marriage between Kelly and the Lakers. He won 118 games in 13 years, leading to bigger jobs at up the coaching ladder at Central Michigan, Cincinnati, Notre Dame and LSU.
Now in his 34th season as a college coach the soon-to-be 62-year-old Kelly (his birthday is Oct. 25) is approaching the latest milestone on that journey that's carried him from 10,444-seat Lubbers Stadium to 102,321-seat Tiger Stadium, the site of Saturday's non-conference game for No. 19 LSU (5-2) hosting Army (2-4) at 6:30 p.m.
The game will be televised by the SEC Network and carried locally by 98.1-FM.
Not only is LSU looking to extend its winning streak to three games going into its open date, but the Tigers can also hand Kelly the 300th on-field victory in his career.
"I don't really think it about that much," said Kelly, 15-6 in his second season at LSU. "When you love what you do, you're not counting wins. You're thinking about, 'What do we have to do from a player development standpoint. What do we have to do to get better in this area'. If I was thinking about wins, I would have got out of his business a long time ago. I had no idea I would be in it this long."
LSU lists Kelly's overall record at 299-103-2. A victory over Army would make Kelly just one of 12 coaches in college football history at any level to win 300 career games.
The NCAA, however, lists Kelly's career mark at 278-102-2, after vacating 21 wins from Kelly's record during the 2012-13 season. They discovered that Notre Dame was guilty of academic fraud with Kelly as head coach and the school later lost its appeal in 2018.
NOTES: Kelly said he's hopeful of trying to get walk-on linebacker Shelby Lee Jr., a redshirt junior linebacker from DeSoto, Texas, into Saturday's game against Army. The 6-0, 230-poujnd Lee was formerly in the Army. "Outstanding walk-on, well-liked by the team," Kelly said of Lee. "He's worked his tail off. He has all of the traits you would expect a guy that mature and represented his country." … Kelly also said that outgoing Louisiana Governor John Bel Edwards, a graduate of West Point, will also be in attendance at the game … Offensive tackle Emery Jones Jr. (ankle) and defensive tackle Mekhi Wingo (back) are doubtful for the game, while wide receiver Chris Hilton Jr., who missed the past two weeks, has been upgraded to probable, Kelly said.