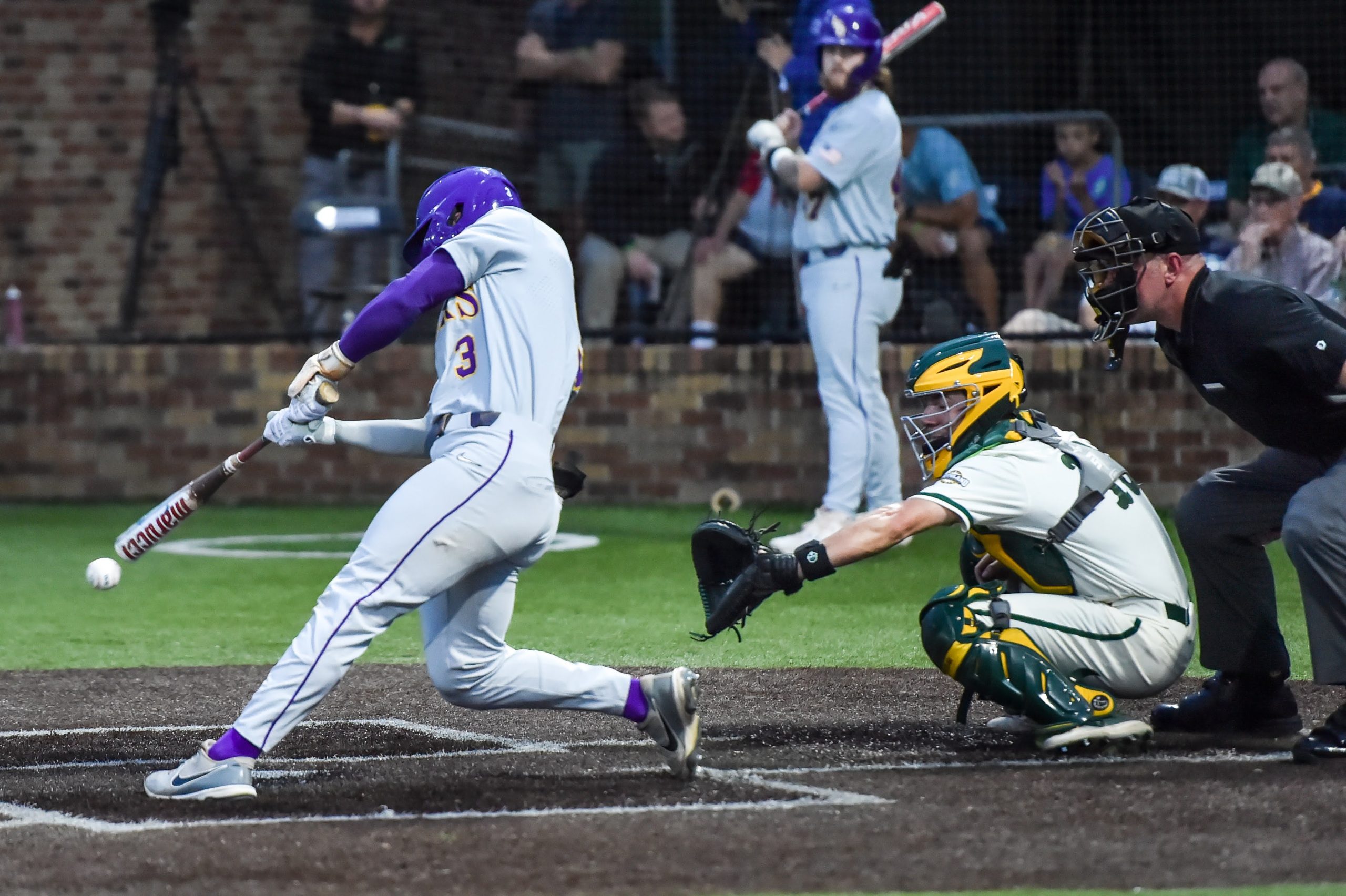 No. 1 LSU Tigers (36-8, 15-5 SEC) at Auburn (25-18-1, 9-12 SEC)
DATES/TIMES
Friday, May 5 @ 6 p.m. CT (SEC Network +)
Saturday, May 6 @ 8 p.m. CT (SEC Network)
Sunday, May 7 @ 1 p.m. CT (SEC Network +)
STADIUM
Plainsman Park in Auburn, Ala. (4,096)
RANKINGS
LSU – No. 1 in all polls; No. 3 in NCAA RPI
Auburn – unranked in polls; No. 35 in NCAA RPI
RADIO
· LSU Sports Radio Network affiliates, including 98.1 FM in Baton Rouge
· Live audio at www.LSUsports.net/live; Live stats at www.LSUstats.com
TV/ONLINE
Saturday's game will be televised on the SEC Network
All three games will be streamed on SEC Network +
LSU SERIES RECORD VS. AUBURN
· LSU has a 109-78 advantage over Auburn in a series that began in 1907 … LSU has won 21 of its last 29 games versus Auburn, including six wins in the past 10 meetings … Auburn, however, posted a 2-1 series victory at LSU last season … LSU has won seven of the last nine and 15 of the last 23 SEC regular-season series between the clubs, dating back to 1999 … Auburn's two series wins in the past nine series came in 2018 at Auburn and in 2022 at Baton Rouge.
QUOTING LSU COACH JAY JOHNSON
"Auburn can swing the bat as well as anybody. They have a really good lineup, really good top of the order. We're going to have to pitch and defend well. (Auburn left-hander Tommy) Vail has thrown really well on Fridays, and they have guys with very good stuff out of the bullpen. Auburn is another great opponent; to me, all 10 of these SEC weekends are the same, meaning you have to play really well to win one game, let alone win a series."
ABOUT LSU
LSU has won four straight games, including an SEC series sweep over Alabama last weekend … LSU's 36-8 record is its best through 44 games since 2015, when the Tigers were 37-7 … LSU's 15-5 SEC record this season is the Tigers' best conference mark through 20 games since the 2013 club was 16-4 in league play.
The Tigers have won seven straight SEC games and have posted consecutive weekend sweeps over Ole Miss and Alabama … LSU's seven-game SEC win streak is its longest in a single season since 2017, when the Tigers won eight straight league games from May 6-May 20 … LSU last Sunday completed back-to-back SEC sweeps for the first time since the 2017 Tigers posted consecutive sweeps over Auburn and Mississippi State to close the regular season.
The Tigers have recorded 18 come-from-behind wins this season, including overcoming a five-run deficit on April 29 vs. Alabama … LSU trailed Alabama, 6-1, entering the bottom of the third inning, and the Tigers rebounded for a 12-8 victory … LSU has staged comebacks from four-run deficits on four occasions this season – LSU trailed Southern, 4-0, in the bottom of the third inning on Feb. 21 (W, 18-4); the Tigers trailed Texas A&M, 4-0, in the top of the fourth inning on March 18 (W, 12-7); LSU trailed South Carolina, 7-3, in the top of the eighth inning on April 7 (W, 8-7); and LSU trailed Alabama 7-3 in the bottom of the fifth inning on April 30 (W, 13-11).
LSU enters this week at or near the top of several NCAA statistical categories … the Tigers are No. 1 in the nation in shutouts pitched (8); No. 1 in on-base percentage (.447); No. 2 in runs scored (440); No. 3 in slugging percentage (.573); No. 3 in scoring average (10.0 runs per game); No. 3 in strikeouts pitched per nine innings (11.4); No. 4 in hit-by-pitch (98); No. 5 in hits allowed per nine innings (7.33); and No. 10 in batting average (.318).
LSU centerfielder Dylan Crews is No. 1 in the nation in batting average (.486), No. 1 in on-base percentage (.633) and No. 1 in runs scored (73); Crews is No. 2 in walks (49) and No. 6 in slugging percentage (.851) … third baseman Tommy White is No. 1 in the nation in RBI per game (1.82), and he is No. 1 in total RBI (73) … right-hander Paul Skenes is No. 1 in the nation in strikeouts (124), strikeouts per nine innings (17.08) and WHIP (0.75) … Skenes is No. 3 in strikeout-to-walk ratio (10.33), No. 4 in hits allowed per nine innings (5.10) and No. 6 in ERA (1.93) … second baseman Gavin Dugas is No. 7 in the nation in hit-by-pitch (20).
Junior centerfielder Dylan Crews was named SEC Player of the Week on Monday after leading LSU to a three-game sweep of Alabama … he hit .545 (6-for-11) in the Alabama series with two homers, eight RBI and five runs scored … Crews blasted a three-run homer in the third inning of last Friday's game, increasing a 1-0 LSU lead to 4-0 in an eventual 8-6 victory … he was on base four times in five plate appearances last Sunday with two walks and two hits, including a solo homer, and he collected three RBI in the Tigers' 13-11 win.
Junior right-hander Paul Skenes defeated Alabama last Friday night, limiting the Crimson Tide to one run on five hits in 6.0 innings with no walks and nine strikeouts … Skenes increased his nation's-leading strikeout total to 124 this season, and he lowered his SEC-best ERA to 1.93 … Skenes also leads the SEC in innings pitched (65.1) and in opponent batting average (.159).
LSU catcher Hayden Travinski launched the go-ahead three-run homer in the bottom of the sixth inning last Saturday night, erasing a 7-5 deficit and lifting the Tigers to a 12-8 win over Alabama … Travinski provided a game-winning home run for the second straight weekend, as he provided a three-run blast in the ninth inning of LSU's 7-6 win on April 23 at Ole Miss.
Making just his third appearance of the season after recovering from Tommy John surgery a year ago, sophomore LHP Javen Coleman posted a relief win over Alabama last Saturday … he entered the game in the fourth inning and subdued Alabama's bats to allow LSU to execute a rally from an early deficit … Coleman worked 2.1 scoreless innings against the Crimson Tide with no hits, three walks and six strikeouts … last Saturday's win was Coleman's first since February 19, 2022, when he earned a relief victory over Maine.
Third baseman Tommy White and first baseman Jared Jones each homered twice and collected five RBI in the Alabama series … catcher Alex Milazzo hit .500 (3-for-6) in the series with three RBI and four runs scored … he also walked twice, posted a .625 on-base percentage and delivered a sacrifice bunt to drive in a run … Milazzo's two-out RBI single in the seventh inning last Sunday broke a 9-9 tie and lifted the Tigers to a 13-11 win over Alabama.
ABOUT AUBURN
· Auburn, which advanced to the College World Series last season, is 9-12 in the SEC and tied with Alabama for third place in the Western Division … Auburn is No. 7 in the SEC with a .289 team batting average, and the Tigers have hit 64 home runs with 34 steals in 41 attempts.
· Outfielder Bobby Peirce is batting a team-high .373 with seven doubles, two triples, five homers and 22 RBI … catcher Ike Irish is hitting .370 with 19 doubles, one triples, three homers and 52 RBI … Peirce and Irish rank No. 8 and No. 10, respectively, among the SEC's batting average leaders … Irish and Auburn outfielder Kason Howell are tied for the SEC lead in doubles with 19 … outfielder Bryson Ware leads Auburn with 18 homers and 52 RBI, and he is batting .347 on the year.
· Auburn's pitching staff is No. 13 in the SEC with a 6.38 cumulative ERA, and the Tigers have recorded 392 strikeouts in 385.0 innings.