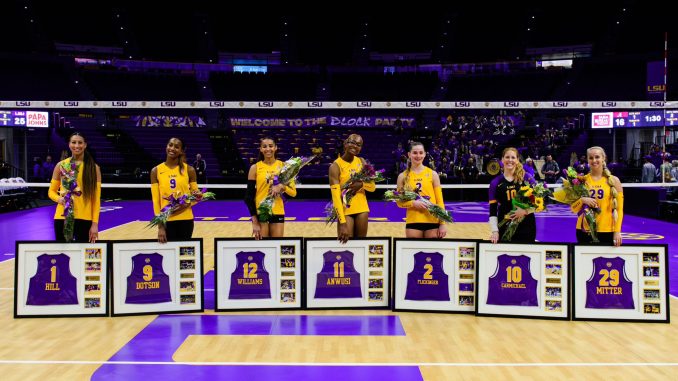 The LSU volleyball team honored its seniors and graduate students beforehand and then went out and defeated Alabama, 3-1, at the Pete Maravich Assembly Center on Sunday.
The Tigers (10-12, 5-7 in SEC) defeated the Crimson Tide (10-14. 0-13) for the fifth straight time by scores of 18-25, 25-18, 25-16, 25-16.
LSU, which visits both No. 20 Florida on Friday and South Carolina on Sunday, stands in ninth place in the SEC standings.
Freshman Jurnee Robinson recorded her fifth double-double of the season with 14 kills and 11 digs. She also added two aces and two blocks. Redshirt sophomore Ellie Etcher had a team-high 14 kills and helped the Tigers to a .261 attacking percentage and 10 service aces.
Senior Anita Anwusi, redshirt freshman Alexis Roberson and senior Jade Demps each had three blocks apiece, while Anwusi finished with nine kills and a career-best four aces. Sophomore Maddie Waak led the Tigers with 25 assists and nine digs, and senior Emily Mitter had 16 assists and eight digs and Eric Carmichael had a match-high 16 digs with seven assists.
LSU came back from a 1-0 deficit in the first set and found itself trailing 9-6 when it called a timeout. The Tigers responded with a 9-0 run for a 16-11 lead and pulled away with five of the final six volleys to win the set behind Robinson's six kills, Anwusi added five kills and Etcher added four.
The Tigers put together a 7-0 run to open a 9-2 lead before Bama answered to tie the set at 9-all.
LSU opened a 15-11 edge and expanded that to 18-12 and finished strong on a 4-0 run behind 12 kills in the set. Anwusi had three aces and Carmichael added two.
LSU were balanced in the final and deciding set with four players registering three or more kills, led by Dotson with seven and Etcher adding four.