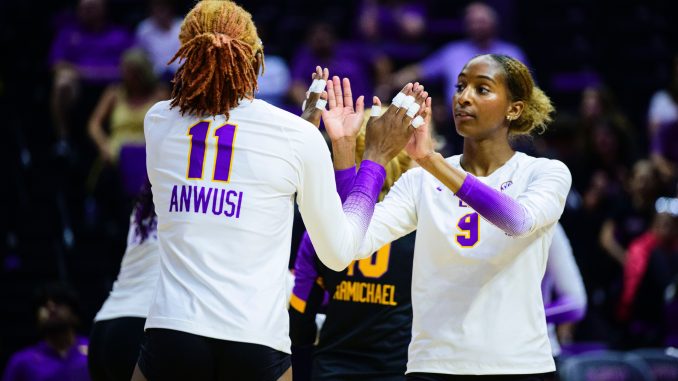 DALLAS – LSU won its second match in the SMU Invitational behind the hitting Jurnee Robinson that led to a 3-0 sweep of Texas Tech at SMU's Moody Coliseum.
The Tigers (5-5), who won 25-19, 25-16, 25-17 over Texas Tech, closed out play Sunday with a 25-19, 25-20, 25-17 setback against host SMU. Robinson had a team-high 11 kills.
Robinson turned in a match-high 18 kills behind a season's best .552 attacking percentage, fueling the Tigers' total of 46 kills in the match.
Middle blocker Anita Anwusi had seven kills and two blocks with Angie Lee picking up five kills and two blocks. Right-side hitter Jade Demps trailed Robinson with eight kills to go with 12 digs and an ace.
Setter Maddie Waak had 35 assists with five digs, while libero Erin Carmichael led all players with 16 digs.
LSU rallied from an early 10-8 deficit in the first set, reeling off five straight points for a 15-11 lead. They built that margin to 18-12, held off a run from the Red Raiders and followed Robinson's eight kills to victory.
The Tigers jumped out to a 10-5 lead and stretched that to 19-19 before Texas Tech made it 19-14 with four straight points and forced a timeout.
LSU traded points with Texas Tech before closing with a 5-1 run with Robinson contributing five kills, and Anwusi and Demps each adding three kills.
The third and deciding set was tied six times when LSU opened a 9-6 lead and built a 20-15 and went on to close out the match behind Robinson's five kills with Sanaa Dotson adding four of her six kills.