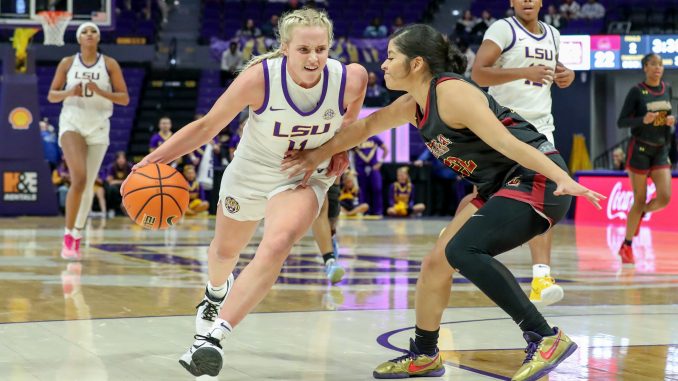 This year's LSU women's basketball team has heard the rhetoric.
Can an already star-studded team that won last year's national championship add two of the nation's glittering pieces from the transfer portal, and nation's top-rated high school signing class and develop into another elite level team?
No. 1 LSU will jump right into the deep end to begin defense of its title, facing No. 20 Colorado at 6:30 p.m. Monday in the Hall of Fame Series at T-Mobile Arena in Las Vegas, Nevada.
The game will be televised by TNT and carried locally by 107.3-FM.
"Everyone's hungry and you kind of stick out if you're not," LSU junior guard Kateri Poole said after the team's 121-36 exhibition win over Loyola-New Orleans. "I think we all push each other even on bad days. For the most part we all have the same goal."
During its national championship season LSU drew plenty of criticism for a non-conference that lacked teeth. The Tigers, which won their first 24 games last season, didn't face their first ranked opponent until a 69-45 road win over No. 24 Arkansas to open Southeastern Conference play.
Not only does LSU tip off against Colorado, which advanced to the Sweet 16 last season, but the Tigers will also host No. 8 Virginia Tech on Nov. 30 at 8 p.m. in the SEC/ACC Challenge.
"I would have liked to have eased into it, but it was an opportunity to challenge us early, humble us early and it's not something that's going to devastate us if we lose," LSU third-year coach Kim Mulkey said. "It's going to teach us. It's going to make the new ones understand. If you lose the game, you pick yourself back up, get right back to work and you improve."
Not only did LSU win the school's first national championship, but the Tigers left Dallas' United Center full-fledged rock stars after a record 9.9 million viewers tuned into their 102-85 victory over Iowa.
First team All-America forward Angel Reese, the Final Four's Outstanding Player, elevated herself into one of the game's most recognizable figures with her play on the court – she averaged 23 points and 15.5 rebounds. She's also been one of the highest earning athletes in all of college sports through Name, Image and Likeness, a vehicle that's also helped propelled sophomore guard Flau'jae Johnson, already a rap recording artist.
Throw in the additions of Louisville guard transfer Hailey Van Lith and forward Aneesah Morrow of DePaul – last year's Nos. 1 and ranked players in the transfer portal – and national observers questioned Mulkey's ability to meld a group of uber-talented players into another successful team.
"Nothing in the coaching aspect or in that locker room is any different," Mulkey said. "What is different is the outside noise, the outside world that we live in like divulging how much money they make with NIL, seeing them out TV. Inside that locker room, nothing is different. We coach just as hard. You don't see kids fighting over who makes more money.
"Coaching is coaching. Competitors are competitors," Mulkey continued. "They don't go in that locker room and think because they make money, or they're celebrities, that they're just going to walk out on that floor and win a basketball game. They do know when you're preseason ranked No. 1, they do know that when you're a defending national champion, that comes with a lot of expectations and it comes with a target on you. We're not going to go undefeated."
Mulkey believes her new-look team will have its hands full with Colorado.
The Buffs of coach JR Payne, who begins her eighth season, will be a formidable, seasoned group after going 25-9 a year ago and extending Iowa in the Sweet 16 before losing to Iowa, 87-77.
Not only was it Colorado's second straight 20-plus win season, but the 25 wins were the most since 2012-13 which was also the Buffs last appearance in the Sweet 16.

A year after being predicted to finish eighth in the Pac 12 Conference, Colorado garnered more respect this time around and was picked to finish fourth behind Utah, UCLA and Standford.
"Outstanding team. Very well coached," Mulkey said. "They run a Princeton offense that just gives teams fits. They have post play; they have the perimeter 3 ball. They have a guard (Jaylyn Sherrod) that's going to push it in transition. Mainly a man-to-man team but against Duke (NCAA second round opponent), their zone gave them fits. We have to prepare for their zone and what they like to do in their man-to-man."
The Buffs return seven of their top eight players, led by All-Pac 12 performers 6-foot-3 center Quay Miller (13.1 points, 8.9 rebounds) and 5-7 graduate guard Jaylyn Sherrod (11.3 points, 3.1 rebounds, 4.9 assists, 2.3 steals). Six-three junior center Aaronette Vonleh (12.2 points, 4.5 rebounds) and 5-11 senior guard Frida Formann (12.0 points, 3.5 rebounds, 75 3s) were also players that averaged double figures last season.
Colorado, which has seven players that are either graduate students or seniors, defeated Adams State, 81-57, in its lone exhibition game on Oct. 28.
"Colorado's more poised than us right now," Mulkey said. "Colorado is playing LSU at the right time. They're that good. We're still trying to move people in and out. I'm still trying to figure out who our defensive stoppers are. Colorado doesn't have the issue right now. When you have seven of eight returning players it's running a lot smoother in November than LSU is."
LSU overwhelmed both of its exhibition opponents by a combined, 220-62.
Freshman Mikaylah Williams, who started in both games, led seven players in double figures on Wednesday against Loyola-New Orleans with 20 points on 8 of 10 shooting. The starting group, that also included Reese, Johnson, Van Lith and Morrow, scored 42 points in the first quarter and shot 64% (27 of 42) for the game.
"I don't think we're ever going to settle," Poole said. "We're going to keep working towards being better for each other. The chemistry's definitely there and I think we're gelling pretty well."