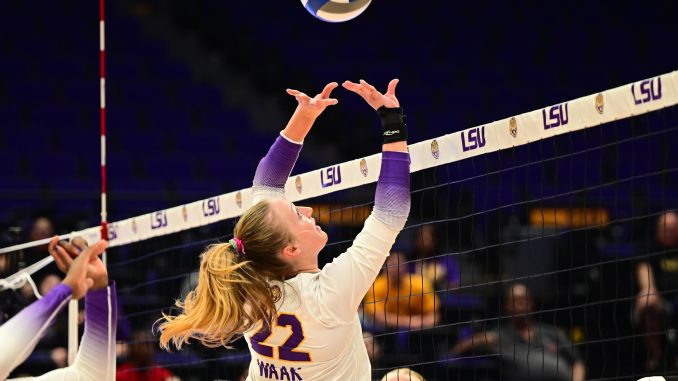 LSU's volleyball team evened its record on the season and in Southeastern Conference play with a 3-1 win Friday over Missouri at the Pete Maravich Assembly Center.
The Tigers (6-6, 1-1 in SEC) rallied from a 25-20 loss in the first set to defeat the visiting Tigers 25-14, 25-22, 25-19.
LSU hosts Mississippi State in league play against at 5 p.m. Sunday. The match will be televised by the SEC Network.
Freshman outside hitter Jurnee Robinson had a match-best 12 kills to go with three blocks and two aces. Middle blocker Anita Anwusi added eight kills and six blocks, while Angie Lee added a season-high eight kills with five blocks.
Outside hitter Sanaa Dotson, a transfer from Oklahoma, picked up the 1,000th kills of her career. She had six kills and a season-high four blocks in the match.
Setter Maddie Waak produced her fourth double-double of the season with 32 assists and 17 digs. Libero Bri Anderson added 12 digs.
Missouri (9-5, 1-2) snapped an 18-18 tie in the first set, finishing strong with four unanswered points.
LSU took a 7-6 lead in the second set and increased its lead to 16-9 after a 5-0 run. Dotson and Lee had three kills and Lee two blocks for the 25-14 win and evened the match.
LSU found itself tied at 17-17 but pulled away when Robinson had five of the team's 11 kills in the set. They jumped out to a 4-1 lead and held a 15-13 margin before building a 22-15 advantage with a 10-2 run. Anwusi had five kills and Lee added three, and Jade Demps added three of her six kills.