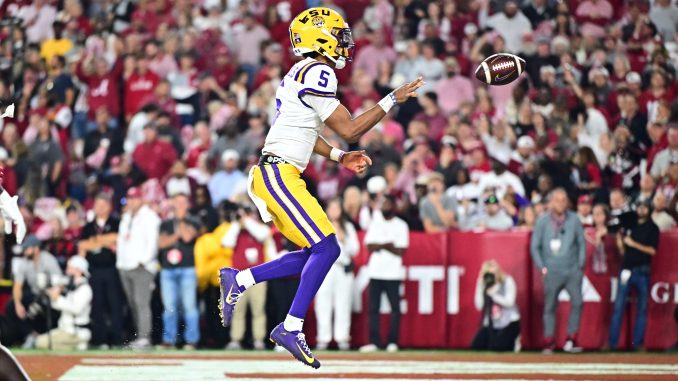 LSU football coach Brian Kelly said the status of fifth-year senior quarterback Jayden Daniels "is day to day" and his availability for Saturday's home game with Florida remains unresolved.
Daniels was the victim of a roughing-the-passer call against Alabama's Dallas Turner whose actions on a first-and-10 pass play in the fourth quarter, apparently did not rise to the level of targeting, according to SEC officials on the field and in the replay booth.
Daniels left for one play and returned when LSU was whistled for a false start. He then departed for the team's medical tent where he was examined for a concussion and was ruled out for the remainder of the game.
Alabama defeated LSU, 42-28, in a game Daniels totaled 382 of his team's 487 offensive yards.
Whether Daniels is back to lead the No. 18 Tigers (6-3, 4-2) against Florida (5-4, 3-3) in a 6:30 p.m. kickoff on the SEC Network is uncertain.
"I would consider him day-to-day," Kelly said Monday of Daniels during his weekly press conference. "He's going through the injury protocol, and he's made improvements, but this is a process that we'll have to see how it plays out from day to day. He's made some progress."
Redshirt sophomore Garrett Nussmeier replaced Daniels and completed 5 of 10 passes for 53 yards. He led the Tigers into Alabama territory once, reaching the 27-yard line when Nussmeier threw incomplete for Malik Nabers on fourth-and-seven with 10 minutes remaining in the game.
He's appeared in five games in relief of Daniels and completed 51.5% of his passes (17 of 33) for 196 yards and a touchdown.
"Every week's been important for him in terms of preparation," Kelly said of Nussmeier. "We're going to make sure he's ready. There's some things we've got to clean up and he knows it. He clearly recognizes there's some things he's got to do better during practice. He's up for it and I'm sure he's excited about it."
Kelly said after taking Monday off, the team will begin preparations on the field for Florida on Tuesday.
"We'll take Jayden's situation day by day," he said. "We're hopeful things continue to move in the right direction, but you always have to prepare yourself for the eventuality of both quarterbacks playing and we'll continue to do that. Garrett really knows there's some things he has to work on during the week, so I think it will be a lot more focused working kind of situation for him. He's one snap away from getting in the game."
Kelly said a video clip of Turner's forceful hit in which he drove Daniels to the ground was sent to the SEC's office of officials for further review.
"We want to protect the quarterback and certainly there was a penalty on the play," Kelly said. "Targeting is looked at by the replay officials. They had plenty of time. There was even a timeout there as well, so there was plenty of time to look at it. They must have felt that there wasn't targeting. We sent it into the league office because we felt like it checked all of the boxes. We want to protect the quarterback obviously."