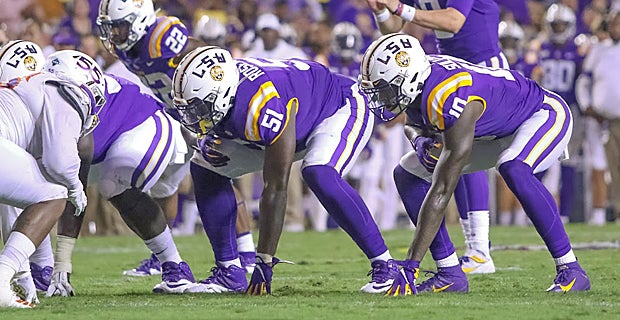 LSU offensive lineman Dare Rosenthal will get the start at left tackle this weekend as the Tigers travel to Starkville, Mississippi for a showdown with Mississippi State.
Orgeron made the announcement early on his final media appearance before the contest.
"Dare (Rosenthal) will start," Orgeron said. "Saahdiq Charles will be available, but I don't know if he's going to play."
Rosenthal gets the nod after taking first-team reps in practice all week.
That was about as newsworthy as the press conference got considering the relative lack of injuries the Tigers have dealt with going into their seventh game of the season.
Orgeron said wide receiver Terrace Marshall (foot) practiced with the team Thursday, and while he almost certainly won't play against the Bulldogs, the staff is hopeful that he might be ready for the Auburn game in Tiger Stadium next Saturday.
As for preparation, Orgeron said the Tigers piped "Who Let the Dogs Out" by the Baha Men in preparation for this weekend, and even joked that it had a good beat.
But the Tiger will be all business on Saturday, as Orgeron vividly remembers — and often reminded his team this week — that the last time LSU traveled to Mississippi State, it came back with a 37-7 loss to the Bulldogs.
"It's in my mind, for sure. no question," Orgeron said. "Our players have been reminded, our leaders have reminded our football team and they will be reminded again tomorrow night."