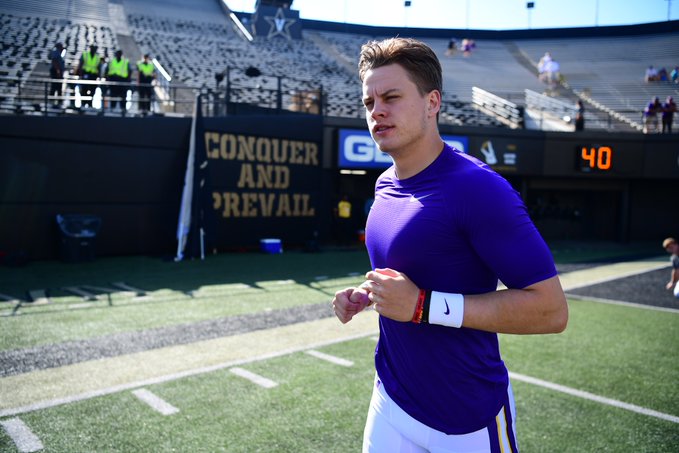 There's no more question about it: Joe Burrow has a legitimate shot at taking home the Heisman this year.
The senior grad transfer has taken the LSU world by storm this season putting up video game-like numbers on the football field, and his performance against what was considered a top defense nationally quelled any doubts critics may have had.
Against a team that entered the game allowing fewer than 10 points per contest and an impressive 276.3 yards of total offense per game, Joe Burrow and the rest of the offense put together what may have been its most impressive performance of the season.
42 points on 48 plays, no sacks, no turnovers and 511 yards of total offense, nearly doubling Florida's average allowed yardage entering the game.
Burrow completed 21 of 24 passes for 293 yards and three passing touchdowns. His performance this season and in the game also opened things up for the Tigers' rushing attack, as Clyde Edwards-Helare, Tyrion Davis-Price and Burrow himself rushed for a combined 217 yards.
Entering the game, Florida had the ninth best passing efficiency defense in the country, the fifth best scoring defense, a nation's best 17 turnovers and the second best defensive red zone percentage nationally.
Joe Burrow slashed the Gators in every single one of those categories.
He completed 87.5 percent of his passes, he nor any other Tiger turned over the ball, LSU scored seemingly at will and reached the end zone in each of its three trips to the red zone.
If there were questions about Burrow's ability to perform at his current level against top-level defenses, they were answered on Saturday night, and anyone who says otherwise is either blind or in denial.
"You know, I don't watch a lot of games other than the guys that we're playing," said LSU head coach Ed Orgeron. "But I believe he is one of the best quarterbacks in America. I'm not going to tell you he's the best yet. We still have a couple games left. But I love him being our quarterback. Joe just brings so much to our football team."
Orgeron's right. Despite already having two games against Top 10 teams under their belts, the Tigers are only halfway done with their regular season, and there are still plenty of challenges left on the schedule, including Auburn, Texas A&M and that big school northeast of here with a familiar head coach.
But at the midway point in the season, there aren't many players with the Heisman resume Burrow has accrued over the last seven weeks.
Joe Burrow leads the Southeastern Conference in yards per attempt (11.6), yards per game (356.5), total passing yards (2,157), quarterback rating (218.11), completion percentage (79.6 percent) and total completions (148).
The only meaningful passing statistics Alabama's Tua Tagovailoa has over Burrow after Week 7 is total touchdown passes, of which he has 27 to Burrow's 25, and interceptions, as he only threw his first pick this weekend against Texas A&M while Burrow has three to his name.
His number even dwarf Oklahoma quarterback and Alabama defector Jalen Hurts, who is also widely considered a Heisman favorite in a quarterback-heavy race for college football's top individual prize.
Burrow's trip to New York is far from set in stone, however. As many LSU fans surely remember, Leonard Fournette seemed like shoe-in for the award at this point in 2015, so much so that he was on the cover of national magazines that seemingly declared him as the early winner. Then the infamous Alabama game happened, the season fell apart and he didn't even get invited to the ceremony.
But this season, things feel a bit different. LSU feels like a legitimate contender for that national title at this point in the season, a statement only reassured by a brand new No. 2 ranking in the latest Associated Press poll.
In that sense, Burrow's not the only one separating himself from his respective pack. Despite questions about the hire initially, Orgeron himself has emerged as one of the nation's hottest up-and-coming coaches, a title usually reserved for coaches much younger than 58 years old.
But the Tigers' head coach has done little but improve himself since a disastrous stint as Ole Miss' head coach, and sense taking over the LSU program in a full-time capacity, he is seemingly on track to bring the Tigers back to the promised land.
Multiple national beat writers took notice after LSU's 42-28 victory against the Gators on Saturday night, pointing out that he has accumulated a 7-3 record against Top 10 teams since taking the helm of the program, including winning five of his last six contests against such opponents, the sole loss coming to Alabama last season.
That's the big bugaboo, isn't it? Not to look past Mississippi State or No. 11 Auburn in the coming weeks, but one gets the sense that the reputations of Burrow, Orgeron and this entire LSU squad will rest on the shoulders of one game on Nov. 9.
But that's a conversation for a few weeks from now. For now, LSU fans can enjoy the fact that they have a Heisman frontrunner at quarterback and a hot-as-can-be head coach facilitating on the sideline. And that's something Tiger fans should enjoy while they can, because seasons like this don't come around too often. ­­
Photo courtesy of LSU Sports Information