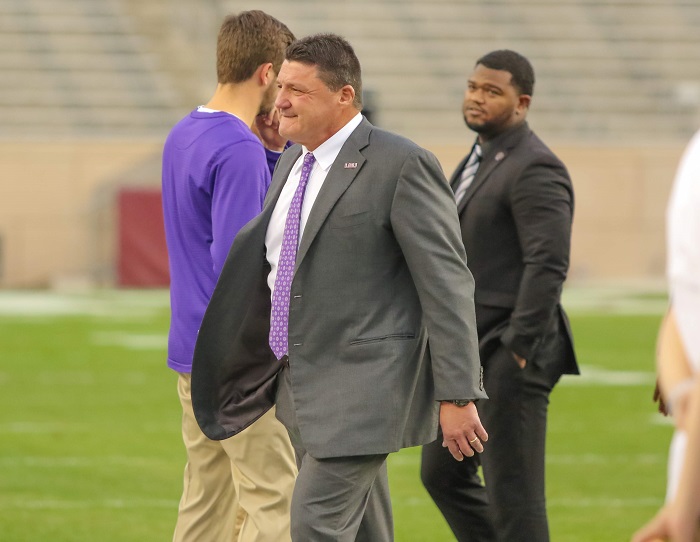 Editor's Note: This column appears in our 2019 Football Preview issue, which is now out on newsstands around Baton Rouge. Click here to find a newsstand location near your or here to order your own copy.
When this columnist arrived at LSU 42 years ago, anticipation for Tiger football was more tepid than the wild palpations that occur now. Coach Charles McClendon was entering his 16th season in 1977, and discounting two forfeits awarded to his team vs. Mississippi State in 1975-76, his teams had posted a record on the field in the previous three seasons of 15-16-2 with an SEC mark of 5-13.
Coach Mac had his imagination and his manhood questioned by the performance of his low octane offense of the mid-70s. Mac and offensive strategist Lynn Amedee responded to the challenge in '77, and the Tigers averaged 32.4 points per game with Charles Alexander rushing for 1,883 yards in 12 games. That resurgence primed the pump for Steve Myers and Steve Townsend to start a fledgling publication called Tiger Rag.
From that point forward, there was a rush of expectation each season until Curley Hallman trudged through 28 losses in 44 games from 1990-94. Gerry DiNardo briefly restored the Magic in 1996-97, but it was not until the arrival of the well-coiffed fellow from East Lansing, MI that the Golden Age of LSU football took hold.
Summer months in Baton Rouge now include a daily countdown to opening night. This year, the game vs. Georgia Southern makes Aug. 31 the start of another march to national glory in the minds and hearts of the faithful. In 1977, a non-descript opener was not played until Sept. 17, and it was a road trip to Indiana.
The Golden Age has elevated the program to a place of unprecedented significance to alumni and fans. Former Coach Jerry Stovall noted the devotion to LSU by not only graduates but also those who never attended a class in the Quadrangle.
"Most of the people in the stands at Tiger Stadium cheering on Saturday night are not graduates of Louisiana State University," Stovall surmised as he was inducted last year into the LSU Hall of Distinction. "They have adopted us."
Winning creates wannabees who are loyal until the next defeat. The skeptics have been kept at bay since LSU posted a 33-51-1 SEC ledger in the final eleven seasons of the 20th Century. Since then, LSU is 105-47 in the toughest conference in college football history and has lost three games in a row only once in two decades. The 2015 slide against Alabama, Arkansas and Ole Miss almost cost Les Miles his job.
The 21st Century has been highlighted by two national titles, four SEC crowns and 19 straight seasons of eight wins or more. The notable wrinkle in LSU's monolithic success is a devastating eight-game losing streak against Alabama. Some might refer to this factoid as the Elephant on the schedule.
The Crimson Tide has outpaced all others since Y2K with five national championships under the leadership of, the turtle-necked turncoat who directed the Tigers to their first NCAA football trophy in 45 years when his Bengals whipped Oklahoma on Jan. 4, 2004 in the Louisiana Superdome.
Two years earlier, Nick Saban piloted LSU to its first SEC title since 1988 when the Tigers routed Illinois in the Sugar Bowl on the same carpet. The arena was also the site of the Jan. 9, 2012 setback when Alabama chalked up 16 more points than LSU had first downs in a 21-0 bludgeoning two months after Miles and crew celebrated the Game of the Century with a 9-6 overtime decision.
John McKeithen, a linebacker of a man whose vision was completed with the construction of the Poydras Street palace, weeps from his grave over this appalling trend against LSU's most despised rival. The former governor has been turning in his tomb at Columbia, LA for more than seven of the 20 years since he interred at Hogan Plantation. It is time to provide Big John some rest and peace.
It has been 90 long months since 1-9-12 when the repugnant skid started against the Crimson dynasty with Purple and Gold patrons seeing Red as LSU pretends there are eight games of comparable importance before its Nov. 9 battle at Bryant-Denny.
LSU's record against Alabama since 1999 is a respectable 9-11. Once upon a time, the Tigers owned a 9-3 mark against Bama in the 21st Century.
Here are the records of the last three LSU coaches against the Tide.
Ed Orgeron 0-3 2016-18
Les Miles 5-7 2005-15
Nick Saban 4-1 2000-04
And here is the 21st Century record for LSU vs. Alabama by location.
New Orleans 0-1
Baton Rouge 4-6
Tuscaloosa 5-4
The Tigers prevailed at Bryant-Denny in 2001 and 2003 under Saban and in 2005, 2007 and 2011 under Miles. LSU usually plays Alabama better on the road than at Death Valley where Bama was undefeated between 1969 and 2000.
Here is how Alabama coaches have fared vs. LSU from 2000-18.
Nick Saban 10-3 2007-18
Mike Shula 0-4 2003-06
Dennis Franchione 1-1 2001-02
Mike Dubose 0-1 2000
Saban is 14-4 overall in the series with five more victories than LSU has totaled and three more than Alabama has captured in the same period. Obviously, the name of the coach makes a huge difference when this matchup is assessed.
The weight of the Tiger Kingdom is on the back of Ed Orgeron as he strives to join Saban, Miles and Dennis Franchione as the only coaches to win in the LSU-Alabama series in the current century. A victory at Alabama this year is paramount, or Orgeron could face the prospect for a death march back to Baton Rouge.
Bama for LSU is bigger than Army is to Navy and vice versa.
Many Tiger fans would rather live through a 1-11 season with the one win against Saban rather than post an 11-1 record with another defeat to the diabolical genius who stands 5-foot-6 while reigning over the SEC like Napoleon over Europe before that little big man's June 18, 1815 comeuppance at Waterloo.
Alabama is adjusting after losing the championship to Clemson by 28 points. Soon we will learn if Saban, who will be 68 when he coaches against LSU, has regained the touch of King Midas. Some observers are betting on Nov. 9 as the date for the Saban mythology to be trampled by troops from the Bayou led by 58-year-old Edward Jim Orgeron.
Coach O is about ten years younger than his decorated counterpart, and the brink of a new decade is a pivotal moment for the LSU coach in the same way a 48-year-old journeyman converted a program with eight losing seasons in eleven years into a national champion four years after his arrival in Louisiana.
When Nick Saban briskly rolled into campus on a memorable morning 20 Novembers ago, LSU had not defeated Alabama at Tiger Stadium in more than three decades. Saban was promoted from coach to king when the Tigers scored a 30-28 triumph over the Tide on Nov. 4, 2000 at Death Valley.
LSU is primed for eight preliminary dates before the main event in Tuscaloosa where Saban will either cement his rule over his former kingdom or surrender his crown to a Cajun prince. Orgeron is poised to puncture his predecessor's aura of invincibility and knows the score if he fails.