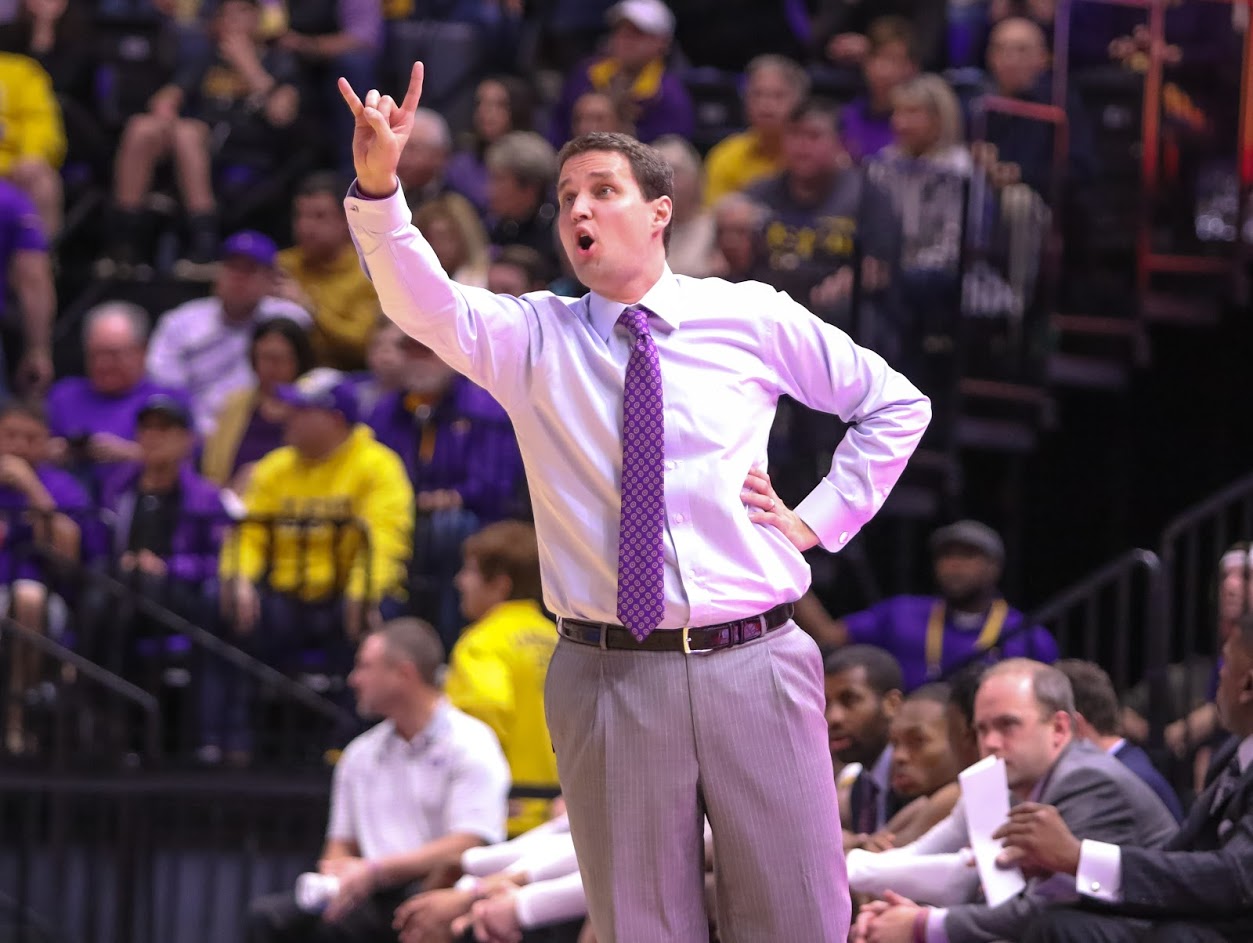 For the first time since he his 38-day suspension after a report alleging a "strong-ass offer" for Javonte Smart, LSU head coach Will Wade addressed media Tuesday morning at the Southeastern Conference spring meetings in Destin, Fla.
Wade opened the news conference by stating he could have handled the situation in a more productive fashion than he did and reinforcing that all allegations made against him were brought up in a meeting with LSU and the NCAA that led to his reinstatement on April 14.
"Obviously, this has been a difficult couple of months for LSU and for our basketball program," Wade said. "As the leader of our basketball program I'm here today to start the process of rebuilding trust."
Wade's biggest regret seemed to be how he handled the immediate aftermath of the Yahoo Sports report that cited an FBI wiretap that allegedly had Wade discussing with convicted college hoops middleman Christian Dawkins potentially improper benefits to a third-party related to Smart's recruitment.
He said multiple times getting lawyers involved slowed the process down when he thought they would be able to expedite things.
Instead, a more-than-month-long stalemate between Wade and the university ensued, ensuring Wade missed the Tigers' entire postseason.
"I wish I could go back to that Friday and change things," He told reporters.
Wade refused multiple times to discuss the wiretapped conversation between himself and Dawkins, stating that the confidentiality of the meeting between himself and administrators took precedence.
"What was said in those meetings was private and confidential," Wade said. "That was how the meeting was set up, so I can't get into the details, any of the details about the meeting. It was very, very thorough and covered any and all topics from various media reports to any and all aspects of our program. It was a wide-ranging meeting that covered everything. There was no limit of scope in that meeting."
Wade went back to that line of reasoning every time he was asked about the allegations detailed in the reports that led to his suspension.
He did, however, address allegations made by former Arizona assistant Book Richardson claiming Wade had a $300,000 offer ready for Naz Reid and had offered Richardson a job to help with his recruitment.
"It's absolutely false and it did not happen," Wade said of Richardson's claims. "I'm very proud to be the basketball coach at LSU. I'm very confident with how we've run our basketball program, and I look forward to starting my third season at LSU."
Wade said that he would like to one day be able to openly discuss the allegations made against him, but for the time being he feels that's just not possible.
"Eventually, when we move forward from this, I certainly want to get to a point where I can have full disclosure just like I did in that meeting with everybody in the public," Wade said. "But we're just not at that place right now."
Aside from the events that led to his suspension, Wade also discussed a number of topics that ranged from recruiting to his developing relationship with new athletics director Scott Woodward.
Wade said he's had multiple meetings with Woodward that he feels were positive in nature. He said that their relationship will be a work in process as they earn each other's trust.
"I've had good meetings with Scott (Woodward)," Wade said. "I don't know Scott. It's a trust-building process. I need to build trust with Scott, and that comes through action. Trust is followed through with what you say you're going to do. It's really just going to take time with Scott."
He also discussed his discomfort watching LSU compete in the postseason from his couch.
"I'm not a very good fan," he said. "It was tough. It was very tough to watch our guys. I was very proud of our guys. They were resilient all year. They had quite a few things that happened to us all season that were very tough to deal with. I was very proud of our guys and pleased with how they responded."
Photo Credit: Terrill Weil