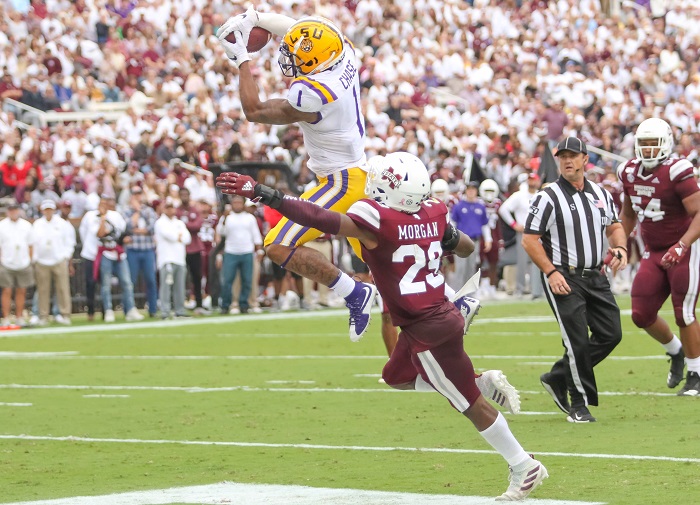 STARKVILLE, Miss. — All of the earmarks of a classic trap game were there.
LSU was coming off an exhilarating top-10 win over Florida and could easily have been caught looking ahead to Auburn next week. Sandwiched in between was a trip to face a Mississippi State team coming off a disastrous loss at Tennessee.
The script appeared to be playing out perfectly as No. 2 LSU found itself leading Mississippi State by a slim 9-7 margin late in the first half. Davis Wade Stadium clanged at maximum volume and a potential upset seemed to be brewing in Starkville.
Instead LSU calmly responded with 27 unanswered points to support an opportunistic defense and routed Mississippi State 36-13 on Saturday afternoon to continue their dominant run through the Southeastern Conference.
LSU posted season-lows in terms of points (36) and total yards (413), but a defense that had heard plenty of criticism this season held Mississippi State down until their offensive counterparts caught fire.
"We didn't play our best today, but I knew this day was going to come," LSU coach Ed Orgeron said. "I'm proud of our defense."

Quarterback Joe Burrow heated up after a sleepy start to throw for 327 yards and four touchdowns.
He's now thrown for 29 touchdowns this season, breaking the LSU single-season record of 28 previously held by Matt Mauck and JaMarcus Russell. It took him just seven games to do it.
Burrow and his receivers lit up the stat sheet, as they so often do, but it was an all-around dominant day for the Tigers.
The defense forced three turnovers — five if you count a pair of fourth-down stops — and pitched a shutout in the second half up until he final possession.
"The defense came to play today," Orgeron said. "The turnovers really helped us. They made it hard for their offense. They gave us a little time for the offense to get hot."
LSU (7-0, 3-0 SEC) had chances to blow the game wide open in the first half. JaCoby Stevens blew up a fourth-down run in the backfield to end the Bulldogs' opening drive. Michael Divinity forced a fumble on State's third drive and Rashard Lawrence recovered.
The LSU offense moved the ball with relative ease until it reached the red zone. Each of LSU's first three drives stalled in goal-to-go situations, resulting in a trio of chip shot field goals from freshman kicker Cade York (20, 23 and 25 yards).
"We just started off slow," Burrow said. "We were moving the ball, but we didn't execute the way we had been in the red zone. That's a credit to them. And I could feel a little less energy before the game."
Mississippi State (3-4, 1-3 SEC) came to life thanks to a brilliant drive directed by freshman quarterback Garrett Shrader. The rookie signal caller threw into tight windows to set up his own 12-yard touchdown scramble, which pulled State within two points.
That score seemed to wake up the LSU offense, too, and things got out of hand rather quickly from there.
Burrow found a wide-open Racey McMath on the first play of the ensuing drive for a 60-yard touchdown. There wasn't a defender within 20 yards as McMath made the catch and coasted into the end zone.
How did the 6-foot-3 McMath get so wide open? Mississippi State had been bracketing Ja'Marr Chase all game long, so LSU stacked McMath and Chase in the formation, and the sophomore ran down the field unchecked.
"As soon as they scored, I could hear on the headset, 'We're gonna respond. We've got you, coach. We're gonna respond,'" Orgeron said. "They did. I thought it was a great play call by (offensive coordinator) Steve (Ensminger)."

An incredible play from Stevens set LSU up to pad the lead before halftime. The safety sat in the middle of the field and reeled in a one-handed interception of Shrader.
Five plays later, Burrow hooked up with Chase for a leaping touchdown grab to make the score 22-7 heading into the break.
Burrow stayed hot to begin the second half. He avoided a sack and dropped one in the bucket to Derrick Dillon for a 37-yard touchdown in the back of the end zone, which tied the school record. Burrow set the touchdown record one drive later on an 18-yard scoring strike to Justin Jefferson.
"That just shows the amount of work we put in during the offseason," Burrow said of his historic night. "Obviously it's a great achievement for us, but we've still got five games left."
"I'm definitely excited for Joe," Jefferson added, "and he's going to have many more. We're only halfway through the season. This record is only going to get bigger."
Orgeron elected to pull Burrow with plenty of time left in the game. LSU's string of consecutive games scoring 40+ points came to an end, but the Tigers couldn't risk anything worse than a nationally-televised pantsing befalling their Heisman hopeful quarterback.
LSU will return home for a showdown with Auburn next Saturday at Tiger Stadium. That's the last hurdle remaining between LSU and taking an undefeated record into the pre-Alabama bye week.
Photo by Terrill Weil