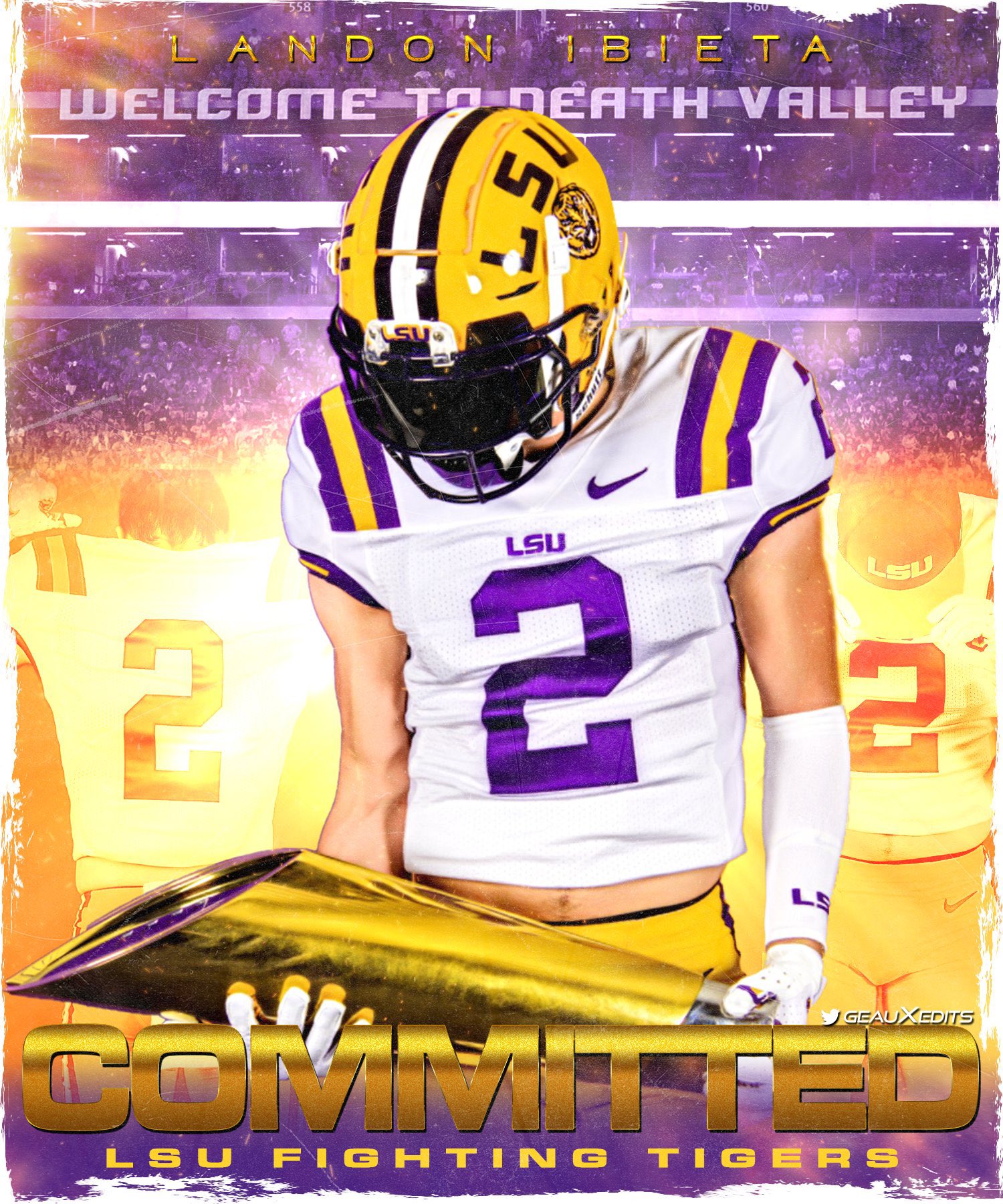 LSU experienced mixed results with a pair of prospects flipping schools on the eve of the NCAA's early signing period,
The Tigers gained the services Tuesday of long-time Miami wide receiver commitment Landon Ibieta of Mandeville High School. The three-star wideout, who took an official visit to Baton Rouge over the weekend, announced his commitment switch on his Twitter account.
LSU lost out on a long-time commitment in four-star cornerback JaDarian Rhym of Valdosta, Ga. to Auburn. He pledged to the Tigers under former head coach Ed Orgeron on Jan. 8.
The 6-foot, 185-pound Ibieta is the first high school player to commit to new LSU head football coach Brian Kelly, who was announced as the Tigers new coach Dec. 1.
"He is the most explosive player I have ever coached," Mandeville football coach Hutch Gonzales told Crescent City Sports. "He's at full speed in two steps. He is very, very, very special. Strong lower body, strong hips. He doesn't mind blocking. He's a tough kid."
Ibieta, the nation's No. 73 wide receiver and state's No. 27 player, gives LSU its 10th commitment going into the start of Wednesday's signing period. He's scheduled to sign his scholarship with LSU at 1:30 p.m.
Ibieta had been committed to Miami since June 20, but the Hurricanes recently underwent a change in head coaches when Mario Cristobal replaced Manny Diaz.
The speedy Ibieta, who has been timed at 4.38 in the 40-yard dash, took part in LSU's camp last summer but never received an offer until Dec. 9 after Kelly came on board.
Ibieta enjoyed a productive last two seasons with 70 catches, 1,448 yards and 20 touchdowns. As a senior, he caught 37 passes for 734 yards and 6 TDs, also rushed 31 times for 251 yards and 8 TDs and scored twice on punt returns.
Here's a list of times some of LSU's committed players and prospects are signing Wednesday:
8:30 a.m. – Neville's Will Campbell
9:00 a.m. – Madison Prep's Quency Wiggins
9:30 a.m. – Orlando's DeMario Tolen
1:00 p.m. – St. Thomas More's Walker Howard
1:30 p.m. – Mandeville's Landon Ibieta
2:30 p.m. – Lafayette Christian's Fitzgerald West, Jordan Allen
3:30 p.m. – Boonville, MO's DJ Wesolak
4:00 p.m. – Acadiana's LaTerrance Welch
4:30 p.m. – Newman's Bo Bordelon