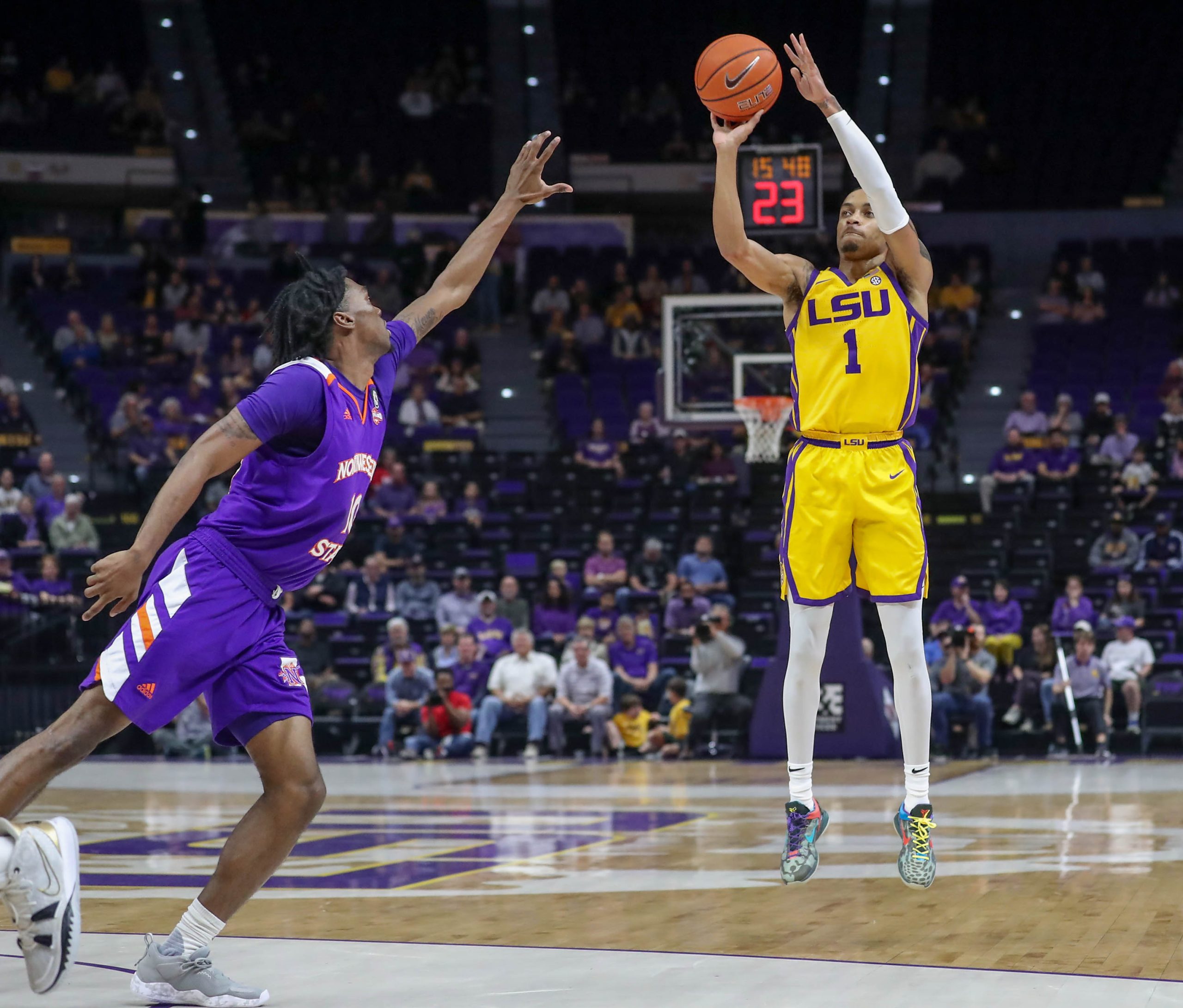 There's just about 15 days before 19th ranked and unbeaten LSU opens Southeastern Conference play against the league schedule from hell.
The Tigers' first six of seven SEC games are against top 25 ranked teams, including No. 6 Alabama, No. 13 Auburn, No. 18 Tennessee (twice), No. 21 Alabama and No. 24 Kentucky.
LSU head coach Will Wade also knows what's coming.
It's why with Tigers holding a 38-point lead with 11:02 left in an eventual 89-49 laugher over Northwestern State on Tuesday night in the PMAC, he yanked freshman forward Alex Fudge from the game and read him the riot act.
Fudge committed a no-no of allowing a Northwestern State player to score off an offensive rebound.
"Starting at the end of the first half, whoever missed a blockout I took out of the game," Wade said. "I'm tired of watching that crap. That's the only thing (being benched) they understand. They understand that."
A crowd of 8,904 watched the Tigers improve to 10-0, matching the starts of LSU's 1978-79 and 1917-18 teams. The school record is 14-0, held by the 1985-86 Final Four team and the 1919-20 squad.
"It makes us feel good, but it doesn't get us the goal we want towards the end of the season," said LSU point guard Xavier Pinson, a senior transfer from Missouri who scored 15 points to surpass the 1,000-career points barrier. "Like I tell (teammate) Tari (Eason), every week as much as we can let's make history as long as we keep winning. So, let's stay locked down on that."
The one constant that hasn't varied from game-to-game is LSU's defense. While the Tigers are far from an accurate shooting squad – they've shot under 50 percent for five straight games including 44.6 vs. Northwestern – and they turn the ball over too much for Wade's liking – their defense remains stout.
LSU led the nation in scoring defense (53.7) points and field goal percentage defense (33.9 percent) entering Tuesday's game. The Tigers held Northwestern (2-9) to 39 points including 15 in the first half and to 27.9 percent (17 of 61 from the field).
"We were 6-for-32 in the first half, we just did not get any shots down," Northwestern coach Mike McConathy said. "I cannot really be frustrated, we were trying. One guy (guard Jalen King) was 0-for-8 and he is trying. Another guy (guard Carvell Teasett) is 0-for-7 and he is trying."
Besides Pinson, the Tigers had three other players in double figures led by Eason's game-high 18 points. Freshman center Efton Reid had the first double-double of his college career with 15 points and 10 rebounds. Senior forward Darius Days added 13 points and 6 rebounds but hit just 2 of 8 3-pointers making 7 of 38 behind the arc in the last seven games.
Last season, LSU wouldn't have been able to win games with Days shooting that poorly. But as evidenced by the Tigers' start to date, they have an abundance of talent as well as the will to win.
It's why they understand why Wade coaches them hard every game, no matter the opponent.
"They want to be great, they know what we've got to do to win," Wade said. "They know what their margins are. They're very hard on themselves as well and that helps us coaches."
LSU has two games left before the start of SEC play. The Tigers travel to Bossier City on Saturday at 6 p.m. to play Louisiana Tech before hosting Lipscomb on Dec. 22.
Tech (8-2) lost in last year's National Invitation Tournament finals to Mississippi State. The Bulldogs are led by 6-7, 275-pound Kenneth Lofton Jr., a multi-skilled athlete averaging 19.1 points and 11 rebounds. Also, guard Amorie Archibald, a grad transfer from Texas A&M, is averaging 13 points.
Tech beat Northwestern State 83-64 on Nov. 19, so Wade has already gotten an eyeful of Tech watching its game tape vs. the Demons.
"He is a phenomenal, phenomenal player," said Wade of Lofton, who had 17 points and 12 rebounds in Tech's 86-55 loss at LSU last December. "He threw us around like rag dolls last year."