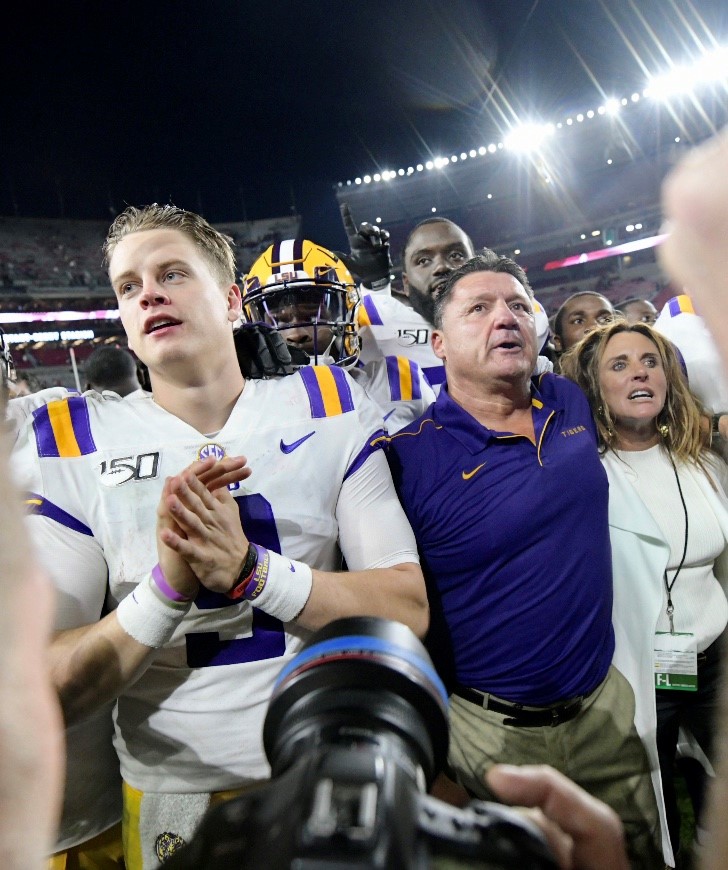 There's a record in the annals of college football that will never be broken.
Alabama has just lost one game in its illustrious football history.
That would be last season's national championship matchup, a 44-16 beatdown issued by Clemson so severe that most Alabama fans couldn't spew their normal excuses.
Which are officiating ("We hardly got any calls our way"), injuries ("Tua was playing on one leg") or the old standby "We just ran out of time."
Against Clemson, it was more like "we just got run out of town."
To the credit of Alabama coach Nick Saban and his players, they hardly ever make excuses for their rare losses. When they get beat, they usually say they get beat.
As they did after Saturday's 46-41 loss to LSU, Alabama's first home defeat after 31 straight wins in Bryant-Denny Stadium.
On the field, even with Alabama holding an eight-win streak over the Tigers until last weekend, there has always been a high level of respect between the coaches and the players of each program.
LSU coach Ed Orgeron has repeatedly called Alabama "the gold standard."
After Saturday's loss, several LSU defensive starters like safety Grant Delpit sought out Alabama quarterback Tua Tagovailoa. They gave him hugs understanding he played magnificently and courageously just 20 days after knee surgery.
On Monday, LSU quarterback Joe Burrow complimented the Bryant-Denny game day atmosphere.
"I think that environment was really cool to play in," Burrow said. "I want to say some good things about that environment, those fans and that team. They were a really good team and really good fans. That made it tough for us."
But the majority of Alabama's spoiled, arrogant fan base supports a marvelous program that loses so infrequently they act like defeats happen because of extenuating circumstances.
"If Tua had been 100 percent healthy, the game wouldn't have been close."
"We just ran out of time. Five more minutes and it's nine straight wins over LSU."
"LSU had to have a quarterback from Ohio to fall in its lap to beat us."
To which any LSU fan should respond:
"If the SEC office hadn't suspended LSU linebacker Devin White for the first half of last year's Alabama game in Baton Rouge for that bogus targeting call in the previous game against Mississippi State, Alabama wouldn't have led 16-0 at halftime."
"Five more minutes and Alabama would have been trailing by 12. Y'all scored 28 in the second half and could still never get the lead on us."
"Isn't Tua Tagovailoa from Ewa Beach, Hawaii. Is that close to Gulf Shores, right down the road from the Flora-Bama?"
And you wonder why the 13 other fan bases in the SEC can't stand Alabama?
It's not jealousy over the Tide's historical domination but rather the fact the phrases "humble winner" and "gracious loser" don't exist among Alabama fans except with a chosen few.
Let's be clear that the LSU fan base isn't perfect, either.
Its childish obsession of hating Saban because he left LSU and ended up at Alabama after two years with the NFL's Miami Dolphins is embarrassing.
Saban took an LSU program that had been trying to get and stay out the toilet for more than a decade and delivered two SEC titles and a national championship in five seasons.
Also, for the first time in LSU history, he created an expectation within the program that the Tigers should be a national championship contender every year.
Now that the Tigers finally beat him for the first time since the 2011 season, hopefully the Saban-haters can let go of some of that manufactured anger.
But not Alabama fans.
One loss to the Tigers and a fiery postgame locker room speech later by Orgeron, they have pulled out their sanctimonious verbal knives.
Rarely will you find coach so connected to his fan base as the Cajun born-and-raised Orgeron.
He IS the LSU fan demographic. Blue-collar, good-natured, loyal, loves any excuse for a celebration to make gumbo or boil crawfish and is fiercely proud of the "Ti-gahs."
His emotions erupted after Saturday's win, releasing the frustration of finally beating the program he considers the one everybody is chasing. Behind closed doors of the LSU locker room, a still pumped-up Orgeron screamed to his equally as excited team:
"We're going to beat their ass in recruiting, we're going to beat their ass every time they see us. You understand that? Roll Tide what? F-you!"
One of LSU's players posted it on social media and the uproar started. Indignant Alabama fans immediately claimed Orgeron had "no class." Others wanted an apology.
At his Monday press conference, Orgeron used 227 words to answer two questions about what he said.
None of those words contained the words "I'm sorry."
Good for him.
"The things that I say outside to the media, those are things that I want to get out," Orgeron said. "And if I wanted that to get out, I would have said that outside.
"But, you know, you get emotional, you talk to your football team it's your family, just like we all talk to our family, we talk around the dinner table we say some things that outside the family we don't say. And it was no means to hurt anybody or nothing like that, it was just a fiery moment, a very emotional moment with our team. That's all that was."
So, for all the Alabama fans holding your breath waiting for an Orgeron apology, don't let your face turn crimson before you pass out.
As far as questioning Orgeron's lack of class, the selective memory of the Crimson Tide faithful prevent them from acknowledging three of their classiest head coaching hires.
The first coach was someone who lied about having an affair with his secretary. He then admitted it was true, and the school paid her $350,000 to avoid a sexual harassment and sexual discrimination lawsuit. Alabama didn't fire him on the spot because he had 14 returning starters for the next season when the Tide won the 1999 SEC championship.
When he was fired after the 2000 season because he had a .500 SEC record through four years, he was succeeded by someone who lasted two seasons. Hamstrung by an NCAA probation incurred by the previous hands-on-his secretary coach, this coach told his players via teleconference was resigning his job to coach Texas A&M. He never returned in person to say goodbye.
That coach was succeeded by one who lasted six months and was fired before he coached a game.
The married father of three children had already been chastised for buying drinks for students at bars and propositioning female students, according to a Sports Illustrated investigative report.
But it was a night of out-of-state debauchery that got him fired.
He spent hundreds of dollars on drinks, tips and private dances at a Florida strip club. Then, he eventually ended up at his hotel room with two women from the club who apparently showed the 'ol coach an extended demonstration of double-team blocking.
There is no use in mentioning the names of these coaches. It is well documented. The anger and pain they caused themselves and those around them hopefully has faded in time.
It sure has in the collective memory of the Alabama fan base.
They are always quick on the draw to accuse an opponent of having no class, especially an elated coach after the biggest win of his career who used a common obscenity heard daily in every college and pro locker room in America.
Hopefully, if LSU keeps winning and again consistently challenges for national championship, Tigers' fans will learn something that the Roll Tide bunch either forgot or never had.
How to win and lose with grace.