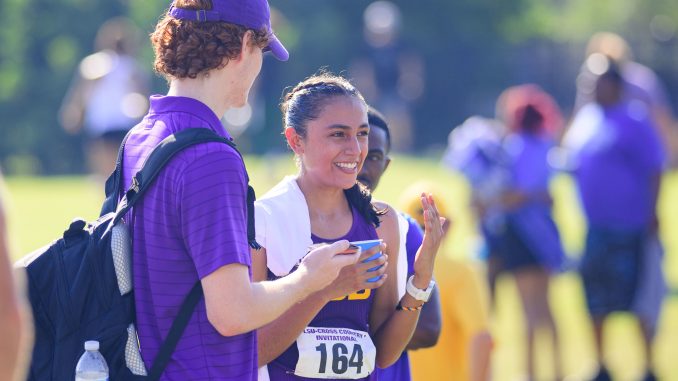 The LSU women's cross country program has produced two individual runners that have run in the NCAA Championships.
This season, the Tigers hope to surpass that and field their first team in the NCAA meet on Nov. 18 in Charlottsville, Virginia.
Returning all but one scorer from last year's NCAA South Central Region third place team, LSU boasts not only an experienced team, but one with greater depth going into the start of the 2023 season at the University of New Orleans on Friday at 6 p.m.
"Everybody's back," LSU coach Houston Franks said. "I think we should have a pretty salty team by the end of the year. I think going in we've got some good confidence. We've got a little bit of depth which is always good. We should have a good season."
Junior Lorena Rangel Batres and junior Michaela Rose helped LSU to within a spot of qualifying for the NCAA Championships in 2022 when the Tigers were third.
Rangel Batres finished in the top three of five races last fall, winning the LSU Invitational, and was 20th in a time of 21 minutes, 4.5 seconds in the regional. Rose, the NCAA's 800-meter champion in the spring, was 25th place at regionals (21:15.7).
LSU's depth includes graduate student Adele Broussard, senior Gwyneth Hughes, juniors Callie Hardy, Sophia Martin and Addy Stevenson and sophomore Ella Chesnut.
The men's team will be the polar opposite where senior Will Dart and junior Dyllon Nimmers will lead a young team with six of seven new faces being true freshmen. They also added Pittsburgh redshirt freshman transfer Alex Holbrook from the transfer portal.
"The exciting thing is we have talent," Franks said. "How well we do by the end of the year depends on how quickly the freshmen adjust to 5K in high school to 8-10K."
Dart, a native of Shreveport, ran in the shadows of top runner Jackson Martingayle in '22. He produced a pair of top 10 finishes at LSU and UNO but was 80th at the SEC Championships and 89th in the regional.
Franks is confident junior Jack Wallace and sophomore Tyler Stevens can carry over their success from the spring's outdoor season to the fall. Among the Tigers' top rookies are Louisiana natives Rob Buisson of Jesuit and Rhen Langley of Zachary.
"We're going to rely on Will and Wallace to lead the way a little bit," Franks said. "The freshmen are a good group of guys. We have 8-9 guys on any given day that could pull the sled."