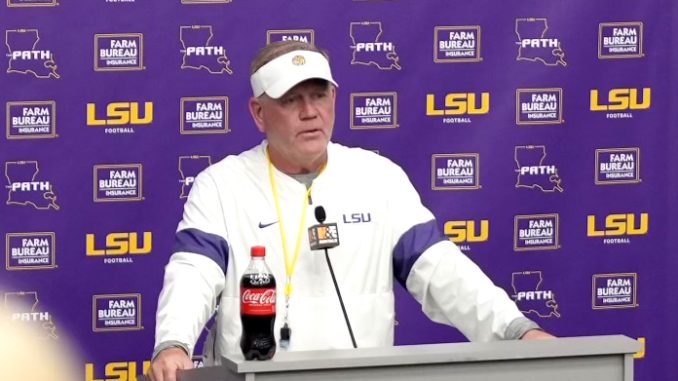 LSU coach Brian Kelly addressed the media following Thursday's practice session. The fifth-ranked Tigers open the 2023 season Sunday at 6:30 p.m. Central against eighth-ranked Florida State in Orlando.
Kelly said running back Armoni Goodwin is out with a hamstring injury. Josh Williams, LSU's sixth-year senior running back, remains probable and will dress and make the trip.
Fifth-year senior running back John Emery, Jr., who Kelly said Wednesday was "unavailable" but offered no explanation, elaborated as much he could today. He said Emery was in good standing with the program and has done everything he has been asked to do.
Kelly expects Emery to return to the field for Sept. 16 when LSU visits Mississippi State for the start of SEC play. Kelly could not elaborate any further, he said, without violating the Buckley Amendment, a privacy law that protects a student's education privacy.
Emery and defensive tackle Maason Smith, who is suspended by the NCAA for a violation, and Goodwin are the only two players on the roster who are unavailable for LSU against Florida State, Kelly said.
LSU is currently a 2.5 point favorite over Florida State. Kelly said LSU will leave for Orlando on Saturday.