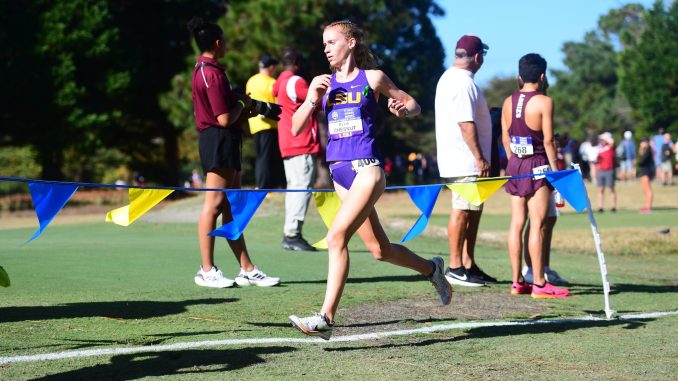 LSU's Ella Chesnut's had nearly two weeks to accept the reality that she's headed to Saturday's NCAA Cross Country Championships without her teammates.
By becoming the third female runner in the program's 40-year history, competing at this week's big stage in Charlottsville, Virginia will afford Chesnut the opportunity of a lifetime the sophomore from Houma's Vandebilt Catholic High will forever covet.
"I enjoy running a lot more with my teammates. It's a different mindset," Chestnut said. "You're running for them, too, not just yourself. I'll do the best I can to represent them and my school."
LSU finished third at the NCAA South Central Regional for the second straight year and one place short of the entire team advancing to this weekend's 6K NCAA Championship at Panorama Farms at 9:20 a.m. CST.
The meet will be televised live by ESPNU.
While the Tigers came up just shy in becoming the school's first team to run at the NCAA meet, Chesnut's fourth-place finish at regionals in Fayetteville, Arkansas provided a bit of solace.
LSU will be represented at the NCAA Championships for the second time in three years. Katy-Ann McDonald advanced in 2021, while Charlotte Maycock was the school's first NCAA qualifier in 1997 and her 62nd place remains the Tigers best finish.
The top 40 runners in the field of 240 runners earn All-America honors. Terry Thornton is the school's lone male runner to earn All-America honors with a fourth-place finish in 1989.
"We'd like it to be a little more common," LSU cross country coach Houston Franks said of sending runners to the NCAA Championships. "Katy-Ann kind of broke through that wall for us a couple of years ago for us. I think we have a couple of girls on the team capable enough to do it.
"We were hoping to get the whole team in there," Franks said. "We've been bridesmaids the last couple of years. Ella's come such a long way in the 1 ½ years she's been here. She's just gotten so much better in so many aspects."
Chestnut's been a constant in a lineup led by returning juniors Lorena Rangel-Batres and Michaela Rose.
When the aforementioned duo was held out of the team's first two meets Chesnut moved to the head of the pack and was second in the season-opening meet at the University of New Orleans. After being held out of LSU's Invitational, Chesnut was part of a 1-2-3 finish (behind Rangel-Batres and Rose) for a team championship at the Florida State Invitational on Sept. 29.
Chesnut was the team's best finisher in 35th over the 6K course at the Southeastern Conference Championships when Rangel-Batres dropped out with back spasms and the team wound up 10th.
"Just running each race this season, I learned more in practice running with my teammates each day," Chestnut said. "Going into regionals I was a little more confident in myself. It's awesome getting to train with my teammates who are talented girls. After the SECs, I know we were a little disappointed as a team. We just continued to work hard in practice. I never put too much pressure on regionals. I just wanted to help my team as much as I could."
With LSU back at full strength at regionals and primed to qualify for its first NCAA Championships, Chesnut did her part with a fourth-place finish with a time of 20 minutes, 18.4 seconds. Rose was 18th (21:03.7), Rangel-Batres 27th (21:22.1), Callie Hardy 42nd (21:50.0), Sophie Martin 47th (21:56.6), Montana Monk 68th (22:19.8) and Addie Stevenson 109th (22:59.7).
"That was a great race for her," Franks said of Chesnut. "I can't say that I was shocked by it. She did so good all year. She did a better job of getting the confidence of believing she needed to be up there. She's never been a great kicker at the end with great finishing speed. Yet in this race she's eighth or ninth place with about 800 meters to go and outkicked some high-level girls to get fourth. She's becoming a really well-rounded track/cross country distance runner."
Chesnut never lost her sense of team throughout her moment in the sun.
"Throughout the whole race I thought how I could help my team," she said. "It was never a goal of mine going in to qualify individually. I wanted to qualify as a team. I was more focused on what I could give that day to the team qualifying. It is a little bit bittersweet because I'd rather be going with all of my teammates."
Chesnut laid the foundation for a successful cross country season in the spring when she led LSU's outdoor distance corps when she topped the team in the 5,000 meters (16:16.87), along with both the 2,000 and 3,000-meter steeplechases, with times of 6:51.80 and 10:34.02, respectively. She was fifth on the team in the 1,500 meters (4:32.14).
Going into this cross country season the only thing on Chesnut's mind was the team advancing to the NCAA Championship.
"I'd probably wouldn't have believed you," Chestnut said, when asked whether she thought she would make the sport's signature event as an individual. "It was like a far-fetched goal. In high school I wanted to make a NCAA Championship, but I definitely didn't think I'd do it this year. It's super exciting.
"I'm just trying to focus on this opportunity," Chesnut added. "To make it there is really cool and I'm going to try and do my best and not put too many expectations on myself. I'm going to be very nervous and that's good sometimes because it means I care."
Franks didn't discount the mental challenge ahead for Chesnut, a team-oriented athlete who will have to warmup on her own and navigate the course by herself with a single-minded approach.
"It's a tough situation," Franks said. "Cross country's really a tough sport and it hurts the second half of the race. A lot of times at a team championship meet it's hard to give up. Not only can't you give up on yourself, but you also can't give up on your teammates. You've got to do it for them. The challenge when you get to these meets as an individual is really hard. It's just you and that's a challenge she'll face, and I think she'll do well with that. She's a tough, hard-nosed girl."