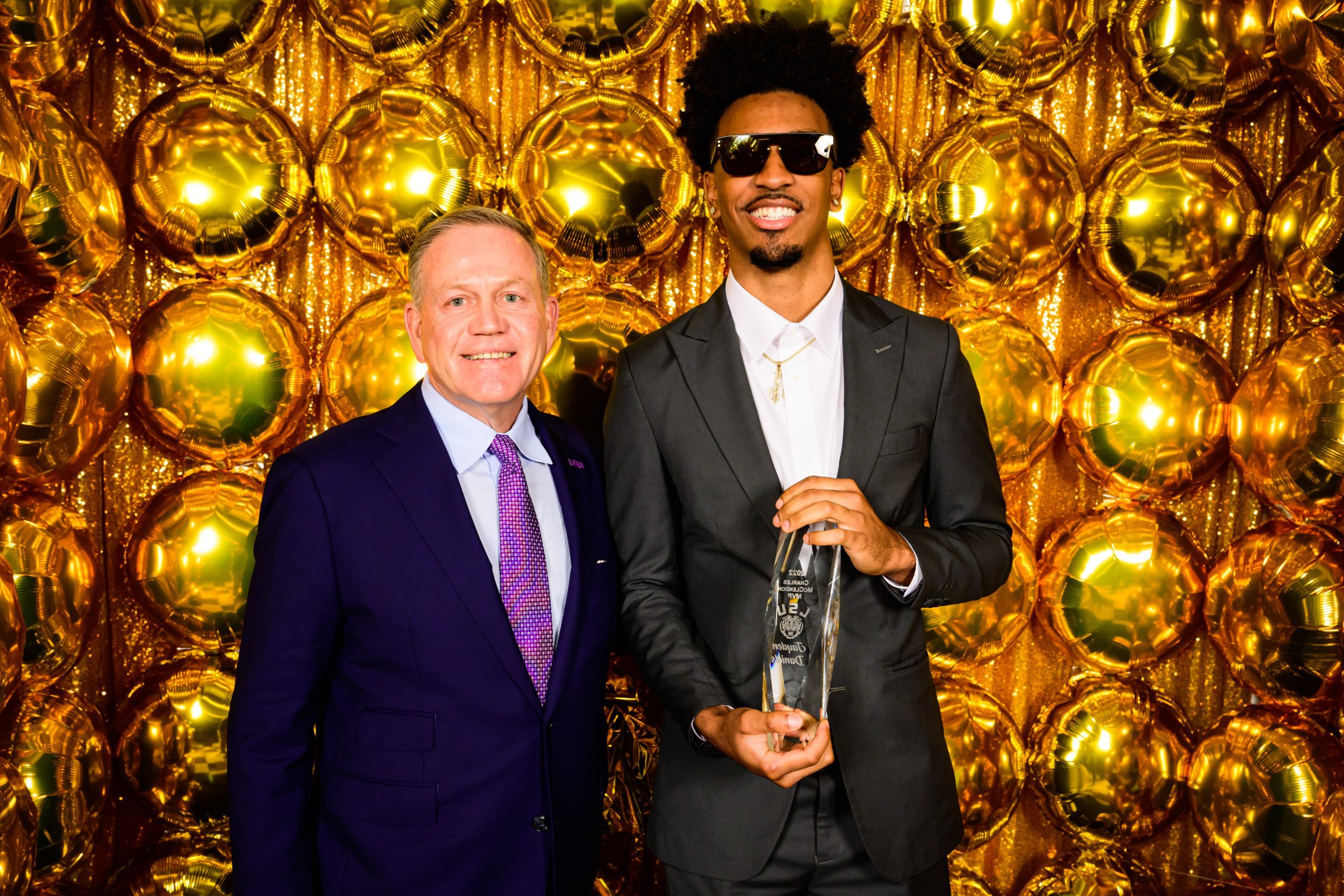 Elusiveness was a big part of Jayden Daniels' calling card in his first season at LSU.
The native of San Bernardino, California turned in the greatest season by a quarterback not named Joe Burrow with 3,798 total yards and 28 touchdowns in 2022. He helped the Tigers exceed most expectations with a 10-4 record, SEC Western Division title, trip to the SEC Championship Game and victory in the Citrus Bowl.
Instead of riding the momentum of a successful fourth collegiate season into the NFL, Daniels pivoted and surprised national observers Dec. 31 when he announced his return to LSU for the opportunity of winning a national championship and improving his draft stock.
"It's been a long time coming," Daniels said after Tuesday's practice. "Coming back and going through the whole offseason, I wouldn't change the process I went through this whole offseason for anything to get to this point."
A year after LSU began the 2022 season with lukewarm prospects, ranging between 6-7 wins and a last-place finish in the SEC West, the return of Daniels has the Tigers in a new realm.
LSU opens the season ranked No. 5 going into Sunday's opener against No. 8 Florida State at 6:30 p.m. at Camping World Stadium in Orlando. The Tigers were picked second to Alabama in the SEC West with most projections sending them to a minimum of a New Year's Day bowl with a highwater mark of reaching the four-team College Football Playoff.
Daniels, third nationally in career starts with 43, has high hopes for his final season, evident by his return to LSU.
"But ultimately, it was the best decision for me to come back and accomplish things in college I feel like I need to grow on," Daniels said. "I feel like I have unfinished business at college, so I wanted to come back and compete for a national championship."
A second season under head coach Brian Kelly is one of the prevalent storylines nationally for LSU to be a bigger player on the national scene this season.
Another is the return of Daniels among eight starters for an offense that will benefit from a second year of his dual-threat capabilities that have elevated him to among the nation's best.
After reigning Heisman Trophy winner Caleb Williams of USC, Daniels is listed as the No. 2 odds-on favorite to win the award that Burrow claimed in '19. LSU's offensive MVP in '22 has been named to four different national watch lists for either the nation's top quarterback or college football's player of year.
Daniels, who did not receive any national postseason awards a year ago, is the SEC's first team preseason quarterback in '23 and one of four teams captains selected by his teammates.
"It's a blessing to be a part of those types of discussions," said Daniels, who has 11,085 total yards (8,937 passing, 2,148 rushing) and 73 TDs in his career. "It's not something I focus on too much. My main focus is enjoying my last season here at LSU. Going through the process day in and day out with my guys, enjoying one last time with each other playing college football one last time. At the end of the season if we handle business, going with a 1-0 mentality, the individual accolades will come at the end of the year."
Kelly said with a year in offensive coordinator Mike Denbrock's system, it's obvious the gains Daniels had made in the offseason.
"We've seen his growth off the field in terms of his work in the community, his ability to lead," Kelly said. "He's been named captain. He's developed in a manner that when you see his work and practice, you see a more complete quarterback. And those are the things that we're mapping out. He's stronger physically. He's put on the right weight. He's healthy and all those areas now. It's about flipping that switch and going from all this preparation to performance. And my experience tells me if you prepare the right way and all of those facets, the performance kind of takes care of itself. So, now it's just a matter of waiting for that opportunity and then taking advantage of it."
Daniels is aware of the criticism attached to his reluctance to remain in the pocket longer and instead, pull the ball down and scramble. He's on board with Kelly's preference for an offense that will take more opportunities to throw the ball downfield with an eye toward producing more 'explosive' plays.
It could mark the difference in an offense being good or great.
"What coach is talking about is if I see it, just throw it. Trusting my arm," he said. "Throws that have tight windows. If you treat it like a fourth down, just don't throw any interceptions. He doesn't have to worry about the last part. Just going out there and being decisive with what I see and throwing it. If the receivers catch it, they catch it. If the DB makes a good play, he makes a good play. Just knowing that I'm still going to test them and give our guys opportunities to make plays.
"Run after catch, ball placement," he added. "When we get man coverage, throwing the receiver open. Give them a ball they can catch and run with it. Against man coverage ball placement is everything. That's something a quarterback and receiver work on in the offseason so when practice comes, you still work on those type of things and elevate from there."
Daniels completed a career-best 68.6% (266 of 388) of his passes in '22 and matched a career-high with 17 touchdowns. With three of his top wide receiver targets – Malik Nabers, Brian Thomas Jr. and Kyren Lacy – returning along with promising sophomore tight end Mason Taylor –those numbers are expected to improve.
Daniels will certainly benefit from stability up front where four of five starters return – anchored on either side by tackles Will Campbell and Emery Jones Jr. – and a group of talented running backs that are interchangeable and can compliment his game by shouldering the running load and catching the ball out of the backfield.
He compiled some of the greatest games in school history by combining in back-to-back wins over Ole Miss and Florida for six touchdowns apiece, the only time that's been done in regulation play.
Daniels had school records of 885 yards and 11 touchdowns rushing by a quarterback, rushing for 100+ yards three times with a career-best 121 against Ole Miss. He also passed for 200+ yards four times with a season-high 349 in the Ole Miss game and it was his two-point pass to Taylor that sent the Tigers to a 32-31 win over Alabama in overtime.
He completed 70% of his passes in eight games and suffered just three interceptions in 388 attempts.
"I've grown as a whole as a quarterback within the offensive system," Daniels said. "We have playmakers on the outside. Just giving them a chance, just let them touch the ball. I feel confident that nine times out of 10 they're going to come down and make the play. I'm excited. We put in the work during the offseason. How we were working in the dark, now it's time to go out there and it pay off at the end of the day."