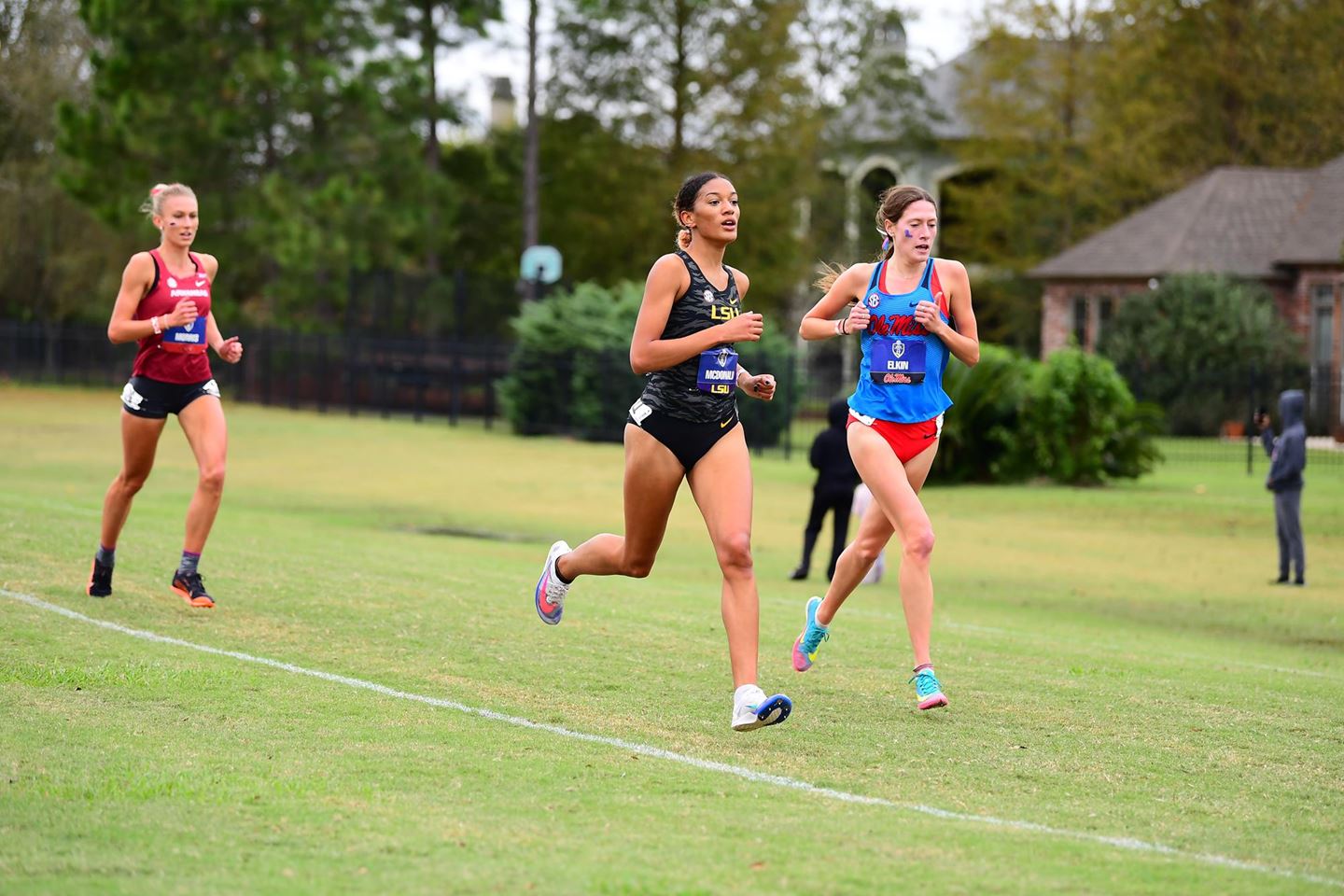 There wasn't any belaboring the point from LSU cross country coach Houston Franks.
It's been two weeks since his teams completed the Southeastern Conference championships with less-than-stellar performances with the women's team finishing 10th and men 12th.
"SECs was very disappointing, both teams are much better than we performed and we know it," Franks said. "It's always disappointing when you go into a big meet, and you have an expectation and you just don't execute the race the way that we planned.
"It just flat out didn't go well, and we've got to correct that," Franks said. "It was very frustrating for everyone involved. We were all disappointed. We're looking at it as a bad situation and getting better because of it. You're not going to get that one back but at least we can turn that into a learning experience and make us better versus making it a failure."
LSU's teams get the opportunity to get back up off the mat and compete in another high-level event when both the Tigers' squads take part in the 38-team South Central Regional meet at Cottonwood Creek Golf Course in Waco, Texas.
The women's 6K race is scheduled for 10 a.m., followed by the men's 10K at 11 a.m.
"We've had a good week practice," Franks said. "We were ready for the SEC meet and just didn't execute. We've got to execute better. It's as simple as that. We're not having to change fitness or do anything except execute the way we have all year except at the SEC meet."
The South Central Region, which is comprised of all Division I schools in Louisiana, Arkansas and Texas (minus Texas-El Paso), is one of nine regionals being conducted with the top two teams in each region securing automatic bids with the next 13 at-large berths going to the 31-team NCAA championships on Nov. 20.
Franks said only 31 runners from across the country qualify for the NCAA meet.
"The big goal going into this season and this region was top five on both sides and we still think that's attainable," Franks said. "If we do that, we'll walk away pretty happy at the end of the season. That would make up for some of the disappointment from SECs."
LSU's women are ranked fifth the region and led by senior Katy-Ann McDonald who was the team's highest finisher at the SEC meet in 20th place (20 minutes, 56.7 seconds). She was followed by Ashley LaJoices (39th, 21:35.4) and Lorena Rangel (53rd, 21:50.2), who earned a spot on the All-SEC freshman team.
For McDonald and Stamey, this marks the second regional competition of their careers with finishes of 14th and 42nd, respectively, in 2019. The meet wasn't conducted last year because of the COVID-19 pandemic.
LSU will also be represented by Alicia Stamey, Doria Martingayle, Gwyneth Hughes and Sophie Martin.
"Katy-Ann ran well at SEC but didn't have a good close and had finished better the past two years," Franks said. "Under the situation she did the best she could. Lorena ran in only her third cross country meet and is getting better and better."
LSU's men are ranked sixth in the region and were led by Davis Bove's 26th place finish at the SEC meet (24:18.3) which covered 8K. Eric Coston was next (37th, 24:47.0) and Jackson Martingayle (51st, 25:05.1).
"Davis didn't have a good meet, he didn't do a good job with his positioning early and kind of fought his way back into it," Franks said. "He needed to keep himself in it and give himself a chance at the end and I think he understands."
The Tigers have a total of six runners, including Garrett Hamilton, Cade Martin and Adam Wise along with Bove, Coston and Martingayle, that have experience running at the NCAA regional level.
Bove and Coston finished as high as 17th and 19th in the 2019 meet respectively with Martingayle 26th in '18. Will Dart will also be a part of the Tigers' regional lineup.
"Statistically it's by far the hardest championship to qualify for," Franks said of the region. "Only eight percent of the teams make it."