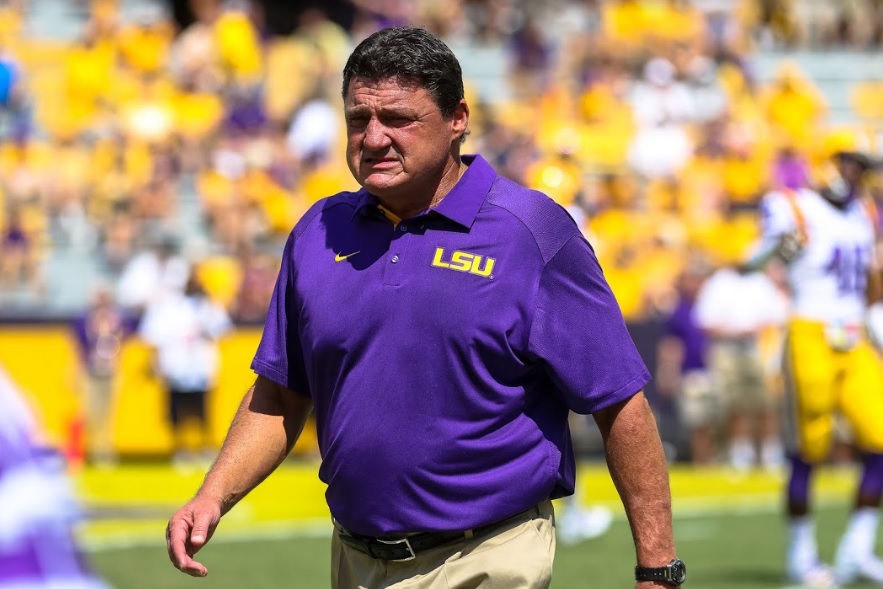 Some seven months ago Ed Orgeron entered his second season at LSU with his name atop most national lists of coaches on the hot seat.
That's no longer the case after a 10-win season as the LSU Board of Supervisors on Wednesday approved a two-year extension for Orgeron that bumps his annual compensation to $4 million.
Orgeron met with reporters Thursday evening and expressed both excitement and gratitude for the added security that comes from his new deal.
"I'm excited about it," Orgeron said. "I thank the players. They're the ones who win the game. I thank our coaching staff for working so hard. It's just a wonderful thing that the Board approved it. I want to thank them. I want to thank (LSU AD) Joe Alleva. He worked very hard."
While happy to receive an extension, one that many thought he'd earned coming off a strong 2018 season and recruiting class, the coach made it clear that the expectation level will continue to rise going forward.
"Our focus is always going to be on winning, man," Orgeron said. "You've got to win here at LSU. I know the expectations. We're just going to keep our nose to the grind stone."
Orgeron's original contract wasn't due to expire until 2021, but recruiting is seen as one of the primary motivations for extending a coach's contract long before it nears expiration. Players commit to coaches for four years, so if a coach isn't signed for four years, it can be seen as a liability on the trail.
The perceived lack of security was certainly used against Orgeron by other coaches recruiting against LSU earlier in his tenure, but he feels like those days are now over.
"I feel like it's good for recruiting to get a two-year extension, which I'm happy about," Orgeron said. "I'm happy to be the head coach at LSU. Yes, I'm happy to get some security, but after the season, during recruiting, people felt that I was going to get one. It wasn't as much of a factor in recruiting this year as it was the year before. So I think it helps solidify that I'm going to be the coach here."
LSU STEPPED UP TO KEEP BUSCH
The one-year extension and raise for Bill Busch proposed to and approved by the LSU Board was something of a surprising development, but Orgeron shed some light on why LSU gave the first-year assistant a new deal.
Other schools pursued Busch and offered him jobs this offseason, and LSU handed out a $50,000 raise to keep the safeties coach in the fold.
"Bill had a couple other schools come after him," Orgeron said. "He didn't publicize it or nothing like that, but I wanted to keep him here. So he had a couple offers from other schools, and I either matched it or raised it. That's the reason why."
Orgeron continued: "We feel that Bill Busch is a tremendous coach and has done a great job for us on the field coaching and also on the field recruiting. He got us Joe Burrow and Apu Ika and had a big hand in Marcel Brooks.
PERSONNEL NOTES
– Wide receiver Derrick Dillon is out for the spring after undergoing a procedure, Orgeron said. He's been spotted on crutches at practices this spring.
– Early enrollee Derek Stingley Jr. returned punts in practice on Thursday and did "well" in Orgeron's estimation. He'll continue to return punts Saturday when LSU holds a situation scrimmage.