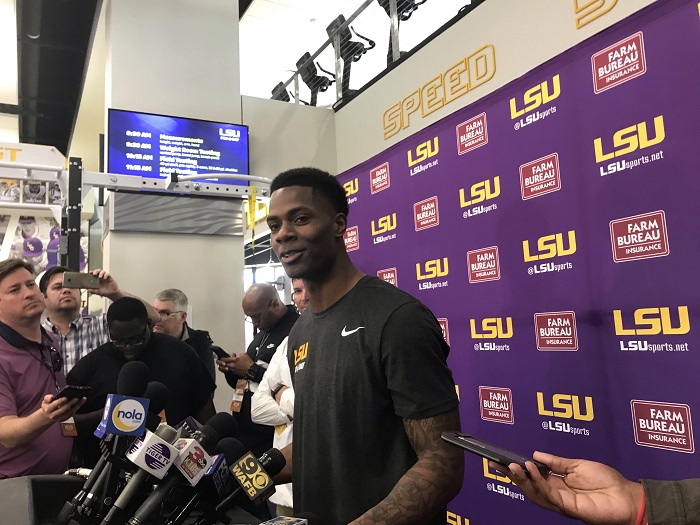 Mock drafts and scouting reports are by their nature subjective. Informed as they may be, they're opinions. Beauty is in the eye of the beholder, as they say. Even prestigious national awards are voted on by people with eyes and opinions.
But numbers never lie.
That's the short version of a long, brash answer from Greedy Williams to a question that he found borderline laughable: Do you think you are the best cornerback in the 2019 NFL Draft?
"What? What? I played two years at LSU and had eight picks," Williams said Friday after working out at LSU Pro Day. "The cornerbacks that're up there competing with me had seven, six, five … so the stats don't lie. I'm the best. They know I'm the best."
Williams continued: "Pull up the stat line and mine is better. I played two years. Other guy played four years. You do the math on who the best is and who you're going to take: a ball hawk or a guy who played four years and only had seven picks? So that's my theory on that. I am the best."
So who might Williams be referring to at the end there? Well George cornerback Deandre Baker, who beat Williams out for the Jim Thorpe Award, had seven interceptions in four collegiate seasons.
The two are widely considered to be the top two cornerback prospects heading into the NFL Draft, but Williams made no bones about what order they should come off the board.
Williams was nearly a consensus top-five pick when he declared for the NFL Draft in December, but his stock seems to have slipped a bit since then. He's steadily disappeared from the top 10 — and in some cases, the first round — of many respected expert's mock drafts.
"I don't pay attention to it," Williams said. "I know I'm the best, and like I said, it's statistically proven. I'll just go in there ready to compete at the rookie minicamp whenever I get drafted. My mindset is different. I don't really focus on who is the best. I know I'm the best."
There's a couple reasons why his stock has apparently fallen. For one, Williams didn't finish his workout at the NFL Combine due to muscle cramps.
NFL representatives told him they wanted to see him jump, lift and do positional drills, a challenge that he felt was answered with his Pro Day workout. There was no need to run another 40-yard dash after posting a strong time of 4.37 seconds in Indianapolis.
The more resounding knock on Williams relates to a perceived inability or unwillingness to tackle, a major red flag in an NFL that's become obsessed with bubble screens and quick passes. Even his coach acknowledged that it is an area that needs improvement at the next level.
"Greedy only played for us for two years," LSU coach Ed Orgeron said. "I do believe that he needs to improve on tackling, but I believe it'll be no problem. I believe he'll be a great pro."
Williams has taken to attacking the question of his tackling in the same brash nature he does most questions.
LSU almost exclusively deployed his as a man-to-man corner, and according to Williams, he didn't allow enough catches for him to be in position to make many big tackles. If he were to play zone, in his estimation, it would be another thing entirely.
"I'm not scared to tackle," Williams said. "I've just never been in a position to make a big tackle because I'm always in man-to-man coverage. Put me in a cover 2 when you draft me and I'll show you what I can do."
Williams is ready, willing and able to make that point to whatever NFL coach, scout of general manager wants to ask the question. He said he's heard from Arizona, Oakland and Tampa Bay, along with just about every other team with a top-10 pick.
Anybody who wants to meet with Williams, go ahead and call up his agent. Apparently said agents phone has been ringing off the hook throughout the pre-draft process.
"I'll meet with anybody," Williams said. "I don't really have no picks and chooses. In this business, people can trade and things like that, so I give everybody an opportunity to meet me. It's a blessing for somebody to call to have a meeting with you, so in my shoes, I don't pick and choose."
Near the end of his eight-minute not-so-humble brag from a podium in LSU's weight room, a reporter asked about the agent in question: did he advise you to be so confident in this public setting?
"I'll be myself," Williams responded. "He wants me to be myself. This is who I am. A guy who can talk and back it up. I've got that confidence in me, so if I say it, I've got to do it." For anybody who has covered Williams' rise from redshirt-freshman afterthought to All-American corner, that brashness is just Greedy being Greedy.